Hey everyone!
Purim is around the corner. Time to start planning! It's important to get creative with your recipes. Here are a bunch of yummy, easy and festive recipes that will enhance your Purim.
Xoxo,
Daniella
EVERYTHING KALE SALAD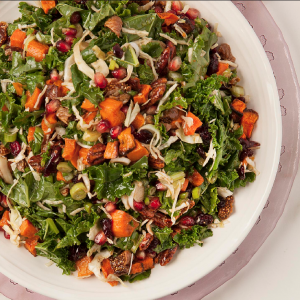 pareve, gluten-free, yields 10 servings
Every Shabbos, my good friend, Emily Hershtal, makes this delicious kale salad. We call it her everything salad because it combines just the right amount of salty, crunchy, and sweet for a satisfying mouthful.
Ingredients:
2 medium sweet potatoes, peeled and diced
1-2 Tbsp olive oil
kosher salt
freshly ground black pepper
1 medium bunch kale (about 1 lb/500 g)
1 pkg (16 oz/500 g) shredded green cabbage (about 4 cups)
¾ cup chopped dried figs
¾ cup dried blueberries or cranberries
1 cup pomegranate seeds
3 scallions, trimmed and thinly sliced
1 cup candied or toasted pecans (optional)
Dressing
⅓ cup extra virgin olive oil
⅓ cup balsamic vinegar
2 Tbsp maple syrup
2 Tbsp honey
2 tsp Dijon mustard
pinch salt
Method:
Preheat oven to 400°F. Line a rimmed baking sheet with parchment paper.
Spread sweet potatoes in a single layer on prepared baking sheet. Drizzle with oil; sprinkle with salt and pepper. Bake, uncovered, for 35-40 minutes, until golden and tender.
Meanwhile, wash and dry kale. Remove and discard tough stalks and center veins. Tear into bite-sized pieces. Massage kale with your fingertips until leaves have wilted, about 5 minutes. (See Norene's Notes, below.)
Place kale into a large serving bowl. Top with sweet potatoes, cabbage, dried figs, dried blueberries, pomegranate seeds, and scallions. Cover; refrigerate.
Dressing: Combine dressing ingredients in a glass jar; seal tightly and shake well. Refrigerate until serving time.
Toss dressing with salad shortly before serving. Top with candied nuts, if using.
Norene's Notes:
Variation: Instead of kale, use Swiss chard (red or green) or arugula. Instead of cabbage, use shredded Brussels sprouts.
Should you massage kale? A quick 5-minute massage transforms kale from bitter and tough to silky and sweet. After 4 to 5 minutes, taste it — if it's still bitter, massage it a little longer. Some people prefer to massage kale with olive oil and salt to break down the tough tissues and tenderize it. That's also O-Kale!
DELI HASH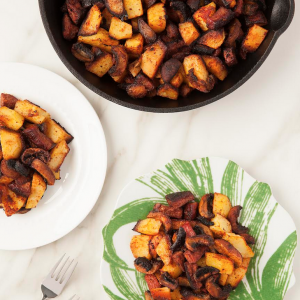 pareve/meat, Passover, gluten-free, yields 6 servings
Whether you're cooking for Sunday afternoon football fans or mixing things up and serving breakfast-for-dinner, this deli hash is irresistible and loved by all — especially guys! Roasted button mushrooms bring a depth of flavor to the salty deli and crispy potatoes. What an easy way to capture the spirit of comfort food.
Ingredients:
6 medium potatoes, peeled and diced
1 lb/500 g button mushrooms, sliced
3 cups diced salami, cut into about ½-inch pieces
2 Tbsp olive oil
1 tsp sweet paprika
1 tsp garlic powder
1 tsp onion powder
½ tsp cayenne pepper (or to taste)
Method:
Preheat oven to 400°F. Line a rimmed baking sheet with parchment paper.
In a large bowl, combine all ingredients; mix well.
Spread mixture in a single layer on prepared baking sheet.
Roast, uncovered, stirring occasionally, for 45-55 minutes, or until potatoes are crisp, golden, and fork-tender.
Transfer to a serving platter.
Norene's Notes:
Variation: Instead of potatoes, use 6 cups squash or sweet potato cubes. Some supermarkets sell them pre-cut, which is very convenient. (Don't use frozen.) You could also use baby potatoes, halved.
Serve this dish for special occasions, as deli is not the healthiest choice — but boy, does it taste good!
CHOCOLATE CHIP POPCORN BLONDIES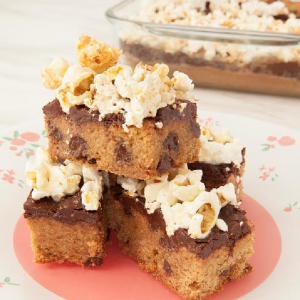 pareve, gluten-free option, freezes well, yields 3 dozen
A cookie, a blondie, and a popcorn ball, all rolled into one. This is a terrific treat to serve to dessert lovers, young and old. I have to exercise great restraint to avoid eating the entire batch myself! Easy to make, easy to freeze, and, in my experience, a prize-winning dish at bake sales!
Ingredients:
Base
¾ cup vegetable oil
1¼ cups brown sugar, lightly packed
2 eggs
1 tsp pure vanilla extract
2 cups flour (or gluten-free flour with xanthum gum)
1 tsp baking soda
pinch salt
1 cup chocolate chips
Topping
2 cups chocolate chips
4 cups popped lightly salted popcorn
Method:
Preheat oven to 350°F. Coat a 9 x 13-inch baking pan with nonstick cooking spray.
Base: In a large mixing bowl, combine oil, brown sugar, eggs, and vanilla. Mix until well blended. Add flour, baking soda, and salt; stir to combine. Stir in chocolate chips.
Spread mixture evenly in prepared pan. Bake for 20-25 minutes, until golden. (It will be slightly undercooked, but that's okay.)
Topping: Remove pan from oven and sprinkle with chocolate chips. Return to oven; bake for an additional 5 minutes, until chocolate chips have melted.
Remove pan from oven. Top chocolate evenly with popcorn; pat down gently but firmly, so it sticks to the melted chocolate.
Let cool completely. Cut into bars. Store in an airtight container at room temperature.
Norene's Notes:
Variation: Use 3 cups caramel popcorn instead of plain.
For added elegance, drizzle popcorn with an additional ½ cup melted chocolate chips at the end of Step 5.
These blondies are also good on their own. If preferred, omit popcorn topping.