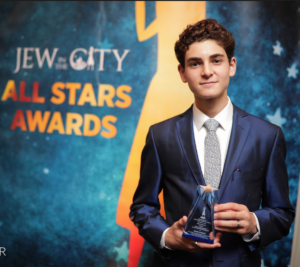 Sunday night was our 5th Annual Orthodox Jewish All Stars Awards Show and Premiere Party, which honored an incredibly accomplished and diverse group of individuals who have achieved great success in their respective fields while maintaining a Torah-observant lifestyle. A crowd of nearly 500 guests attended the red carpet event at Midtown Manhattan's Convene, along with this year's All Stars and previous honorees.
The VIP pre-party was packed with guests excited to meet the All Stars, including David Mazouz, teen star of Fox's Gotham, A. Zayat, owner and breeder of  American Pharoah, Neil Schloss, VP and CFO, Mobility, Ford Motor Company and the Honorable Ruchie Freier, the first hasidic female judge. The other current honorees included David A. Adler, best-selling author of the Cam Jansen books, Frayda Ginsburg, former Director of Legal at Burberry, Americas, Chaim Lebovits, CEO of Brainstorm Technology which is a pioneer in initiating a phase III trial in a treatment for ALS, and Sam Rascoff, former director of NYPD's Intelligence Analysis Unit. With food by NoBo Wine and Grill, a program directed by Disney Director and former All Star, Saul Blinkoff, and a Kosher Chopped All Stars competition presented by Kosher.com and hosted by Naomi Nachman, judged by Chanie Apfelbaum, Daniella Silver, Eitan Bernath, and Esty Wolbe, the premiere party and gala was attended by former All Stars including former Columbia University treasurer Gail Hoffman, Madison Square Garden Secretary, VP, and General Counsel, Lawrence Burian, Maccabeat Yonatan Shefa, and Wall Street Journal special reporter, Greg Zuckerman.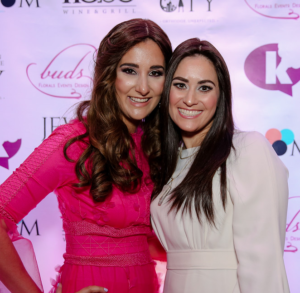 Here were my brief remarks: This is our biggest year yet with close to 500 people in attendance, which is an exciting milestone in our tenth anniversary of Jew in the City. As always, my heart is warmed to see Jews from all walks of life coming together to celebrate kiddush Hashem. People here tonight include All Stars from so many different backgrounds, family of All Stars, committee members, guests and American Service members West Point chaplain David Ruderman, United States Army and Chaplain Tzvi Teitelbaum, United States Army just returning from Afghanistan. Thank you for your service to our country.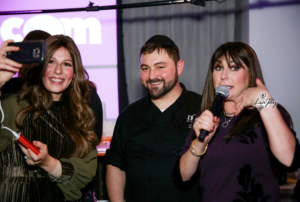 A few days ago, I started thinking about what I was going to say tonight, because I always leave speeches and most other things to the last minute, and I wondered what Jewish holiday we are near, as I've always found beautiful tie-ins to Jewish holidays and the All Stars Awards. I realized that we are near absolutely no holidays, and I wondered why on earth we made an event this time of year but it was too late to change it.
What could I possibly say during Cheshvan, the month that is empty of holidays? The month that is famous for nothing. As I thought about that emptiness, I realized it was a perfect tie-in to tonight's theme. Too many of our Jewish brethren are empty when it comes to knowing the riches of their heritage. While they may feel Jewish pride, as I had growing up, most Jews in the world today have never experienced the value that Jewish wisdom and practice can add to a life. To them, observance is a burden, not a privilege.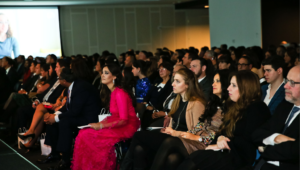 I used to think that the only Jews who felt like this were the ones who grew up secular, but unfortunately, over the years, I've come to see how many Jews who were raised with observance feel that emptiness too. But there is another element to Cheshvan – which is "mar" or "bitter." There are the Jews who grew up learning and observing but for them it was "mar." Somehow the system failed them and instead of the sweetness that Torah is supposed to add to their lives, religion became bitter. These are the people who inspired us to start Makom.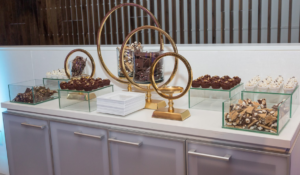 Tonight, and every day, our organization works hard to make it known that a Torah observant life is meant to be a full and sweet life. Instead of just telling the world this is so, which is not the most effective way to get across a message, we need to show the world that the bitterness some have experienced is not representative of Judaism as it should be, and how it can be practiced and lived. Who better to show the fullness and sweetness that Torah can bring to our lives than our esteemed honorees who sit here tonight?
I need to express my tremendous gratitude to each of the All Stars for answering my emails many months ago when we were strangers to one another. Most of you had been living as quiet Kiddushei Hashem. Suddenly, you found your name on a list of an organization called Jew in the City and we asked you if you would partner with us to make the Kiddush Hashem public. You could have easily ignored the messages, but instead you made time in your incredibly busy schedules to film interviews and take time off from work to be here tonight. Some of you traveling hundreds and thousands of miles. Thank you for going to great lengths to help make it known that a Torah Life is meant to be a sweet and full life.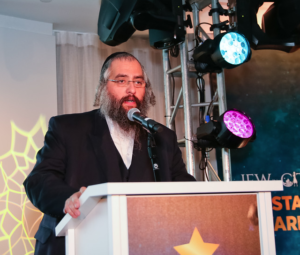 Thank you to our incredible corporate sponsors who made this event possible: Buds Designs, Azamra DJ, Royal Wine, Eden Wok, NoBo Wine and Grill, Baked by the Dozen, Candy & Cattle, Nahmias et Fils, Kosher.com, KosherTroops, Popinsanity, Teitel Creative, Lia Jay Photography, Prop It, The Designers Group, Kosher Catch, Kosher Culinary Center, Eli Lunzer Productions, Kamin Health, Executive Caterers, The Jewish Link and Monsey Print. Thank you to Li'more for the dress, Peace, Love, and Carats for the jewelry and Louise Lerman for the makeup.
If you wanted to join us, but couldn't be there that night, you can still take home some of the All Star experience! For a $72 donation to Jew in the City, we will mail you a Jew in the City swag bag, coffee cup, a copy of The Silver Platter and more, plus we'll send you the All Stars videos before we release them all to the public.
You can also enter to win one of our incredible All Stars Experience Auction prizes by purchasing $25 raffle tickets. With this auction, you can win a trip to Cancun, get a personal tour of the Wall Street Jounal HQ by All Star special reporter, Greg Zuckerman, a set of signed Cam Jansen books by All Star author, David A. Adler, and more! Winners will be announced by Mayim Bialik!
Stay tuned for more updates, video premieres and recaps to follow. We look forward to seeing you all at the 6th Annual Orthodox Jewish All Star Evening in 2018!
If you found this content meaningful and want to help further our mission through our Keter, Makom, and Tikun branches, please consider becoming a Change Maker today.
If you found this content meaningful and want to help further our mission through our Keter, Makom, and Tikun branches, please consider becoming a Change Maker today.