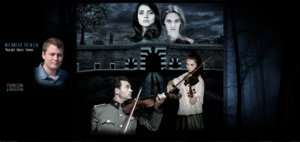 Why This Chic Bodysuit Is a Hit Among Orthodox Jews and Corporate Warriors 
Tamar Daniel, a former designer for Topshop, built her entire new label Tuxe around the bodysuit, reforming the polarizing garment into a chicly engineered item. Along with office professionals, the label has also found a niche among religious communities that follow modesty guidelines in clothing, including Orthodox Jewish and Muslim women. (Modest Jewish fashion designers and bloggers including The Frock and Fabologie's Adi Heyman have both collaborated with Tuxe.)
Cooking Kosher is Going Mainstream 
Cooking kosher is nothing new for Orthodox Jewish All Star celebrity and lifestyle expert Jamie Geller. In her book, "Joy of Kosher," she shares how her favorite dishes for families who keep kosher or really anyone who is into kosher cooking which is a hot trend right now. The Jewish mother of six is all about unplugging on Fridays for Shabbat.
J.R.R. Tolkien's Jewish Great-Grandson Has A Play On Terezin
Playwright and director Nicholas Tolkien, who makes his Off-Broadway debut this month with "Terezin," is the great-grandson of J.R.R. Tolkien, the author of "The Lord of the Rings" epic and its predecessor, "The Hobbit." Nicholas, who keeps kosher and observes Shabbat, and his sister are the only Jewish descendants of J.R.R. Tolkien, as he tells The Jewish Week in an interview.
When Secular Jewish Women Wear Long Skirts, Confusion Ensues
Over at The Cut, Lilit Marcus describes a very specific fashion and identity conundrum: because she's got a "Hebrew name" and is "drawn to things that might get defined as conservative — below-the-knee dresses, cardigans buttoned all the way up, tights in nearly every color of the rainbow, and especially those tissue-thin turtlenecks from J.Crew," she goes through life frum until proven otherwise.
This Woman Ran a Marathon While 7 Months Pregnant
Viral video sharing sensation, actor George Takei shared our coverage of Orthodox runner Beatie Deutch. With nearly 900,000 views, more people worldwide are discovering a side of Orthodox Jews they didn't know before.
The Lice Ladies of Brooklyn Go Corporate
For over three decades, Orthodox Jewish women in Brooklyn neighborhoods like Borough Park, Midwood and Kensington have used a decidedly low-tech approach involving a fine-toothed metal comb, drugstore hair conditioner and plenty of paper towels, onto which they smear the nauseating results of their labors. Nit-picking has since become a highly successful branded enterprise for them.
If you found this content meaningful and want to help further our mission through our Keter, Makom, and Tikun branches, please consider becoming a Change Maker today.