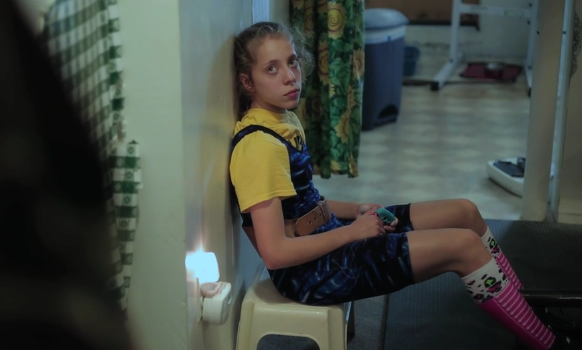 As the Sundance and Slamdance Film Festivals gets underway in Park City, Utah, the world's spotlight is turned to independent narrative films and documentaries. The Orthodox Jewish subject of filmmaker Jessie Auritt's "Supergirl" will premiere at Slamdance this Saturday. Auritt made her debut as a feature film director and editor in her documentary, which features 11-year-old Modern Orthodox powerlifter Naomi Kutin. At age ten, Naomi became a world record holder for the Women's Squat 97lb weight class bearing 214.9lbs. As an Orthodox Jewish pre-teen from New Jersey, this is unprecedented. Auritt launched a Kickstarter campaign in the spring of 2016 to fund the final stage for the film: completing the music score, finishing touches on the editing process, and various fees for film festival entrances, as well as legal fees. It has since debuted at the Hamptons Film Festival and at further festivals to great critical acclaim.
Auritt first contacted the Kutin family in 2013 after a headline about Naomi caught her attention. The novelty and seeming contradiction of such a young girl participating in a sport that is male dominated, while at the same time being a member of a family who practices the tenants of Orthodox Judaism, seemed to be a story worth considering. She wanted to answer the question: how did this Orthodox girl get involved with this sport?
This question would lead her on a 3-year journey with the family. When she first contacted the Kutins, she was not sure what to expect. While Auritt was herself Jewish and grew up in a Jewish family, and while they attended temple, she did not feel a strong connection to Judaism. She moved to Brooklyn as a young adult, and had her first introduction with Chasidic circles when she rode her bike through neighborhoods in Brooklyn, but she never felt as though she belonged. This exposure led her to be more naturally curious about Orthodox Judaism in general, but when she met the Kutins they were Modern Orthodox and her exposure to this group had been limited at best.
She met the parents, and found that they were very warm and welcoming to her as well as her film crew. "They're a very tight knit family, it really comes across in the movie." Auritt stated, while she was explaining how the family's religious practices were not the point of the film but rather one aspect of it. It is, however, an aspect that like most religious Jews tints their lives a certain shade. Naomi naturally cannot compete on Shabbos. Unfortunately, this poses a problem for competition as many competitions take place on Saturdays. The family has been able to negotiate so that Naomi may weight lift on a separate day, often the same day as the men. The required uniform for weight lifters is also not necessarily in line with their beliefs. To make the outfit more modest, Naomi wears a shirt under the usual uniform in order to fulfill her religious obligations.
Through filming, Auritt and her crew became honorary members of the Kutin family. They were invited for Shabbos meals, and Auritt was even present for Naomi's Bat Mitzvah. Through these experiences, she had a chance to learn more about Orthodox Judaism. "As I've gotten older I've come to appreciate my heritage as a Jew and the traditions involved." Auritt explained, "It's been a really great experience to feel, despite differences in religious beliefs and practices, to be involved." She was thrilled to discover that Naomi had the encouragement of not only her family, but also her community at her synagogue and at her Jewish Day school. "There was an amazing amount of support for her, and celebration for her accomplishments."
Jessie Auritt hopes that her film will open up discussions about what is possible for girls, and to allow people to learn more about the Orthodox Community. The Kutin family is certainly not the stereotypical image of what it means to be an observant Jewish family. For many in the audience, this could be the first time getting an intimate understanding of Jewish practice, and how it can fit into a modern society. "There are people who are more familiar, but not so familiar, and people are seeing this contradiction and questioning things. Either way, even if it's negative, at least it's opening up [a new perspective.]"
If you found this content meaningful and want to help further our mission through our Keter, Makom, and Tikun branches, please consider becoming a Change Maker today.
If you found this content meaningful and want to help further our mission through our Keter, Makom, and Tikun branches, please consider becoming a Change Maker today.