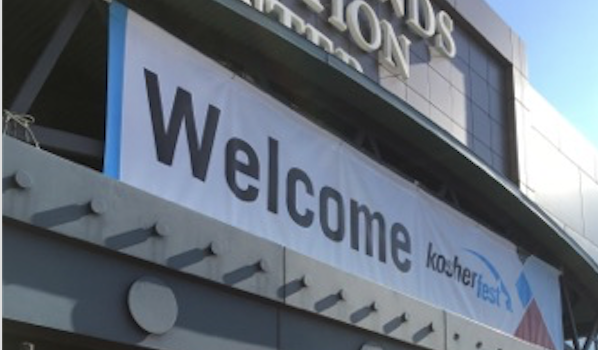 While kosher aisles stereotypically consist of borsht, jarred gefilte fish, and year-old matzah, the kosher aisles and markets in large Jewish neighborhoods are teeming with diverse and unexpected options. Kosherfest, which took over the Meadowlands Expo Center in Secaucus, NJ this week, sheds light on the next wave of new products. The annual trade show provides a chance for food and beverage items to debut among industry insiders who will best know how to promote and distribute them. The event hosted thousands of people from all over the world who came to connect, make deals, watch cooking competitions, enjoy product demonstrations and more.
With thousands of new products available this year, Kosherfest presented awards to the products it deemed noteworthy. This year's honorees included Parvella, a non-dairy Nutella-esque chocolate spread, which won the Best in Show award. (I'm already thinking of all the ways to use a parve Nutella for shabbos dessert!) The standouts this year, though, were the fascinating, odd, innovative and entirely new. These four products were the hits of Kosherfest and will soon debut at stores.
1. Ready-Made Matzo Pizza from Manischewitz
If you found this content meaningful and want to help further our mission through our Keter, Makom, and Tikun branches, please consider becoming a Change Maker today.