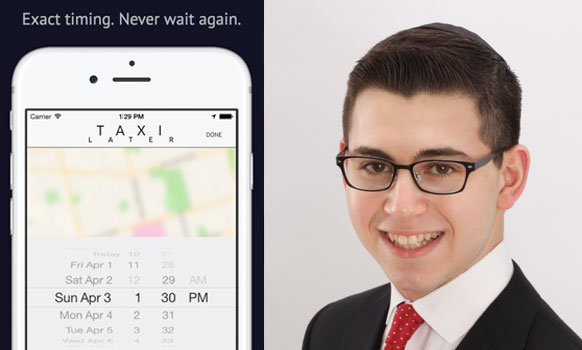 2014 Orthodox Jewish All Star Joshua Meier, born and raised Modern Orthodox in Teaneck New Jersey, may be one of the most accomplished twenty-year-olds you'll ever meet. Named one of CNN's "Eight Whiz Kids who are the Future of Medicine," in May of 2014, Joshua won fourth place in Intel International Science and Engineering Fair (ISEF) and first place in the category of Cellular and Molecular Biology.
A sophomore at Harvard University where he is studying Chemistry and Computer Science, Joshua is continuing the research that earned him the Intel award, doing new research using Artificial Intelligence (AI), has founded a nonprofit to help homeless kids, placed high in the Chidon HaTanach (international Bible competition), is interning at a financial tech company, and develops iPhone apps in his spare time.
Last week he launched a new app, TaxiLater, which is getting a whole lot of people excited. Free at the Apple App Store, TaxiLater allows a user to schedule an Uber pick-up in advance, something that up until now has been only a dream for most Uber devotees. Thus far, the app has been a huge success, averaging a rating of 4.5 stars on the app store and receiving some very positive press in Gizmodo, TIME, LifeHacker, Business Insider, and Mashable's "5 Can't Miss Apps" list.
Josh's dream was to create something that would be helpful to people in their everyday life. He noticed  that it is frustrating for people who use Uber frequently to have to wait to call an Uber at the last minute. TaxiLater is not the first attempt on the part of independent programmers to create an app to schedule an Uber. In 2015 TimeTravel was created, after Uber opened up access to their Application Program Interface (API), but was shut down due to violations of Ubers API Terms of use agreement. Joshua has worked closely with Uber to ensure that the same fate does not await TaxiLater.
When users download the app on their iPhone, iPad, or iPod touch, they must login to their Uber account. The app itself does not store user information, but rather uses its API Token to access the user account. Once logged in, the app looks like what users would be used to seeing from the Uber application. In the main part of the screen it shows the map with pins for your location, and beneath that you can choose your pick-up and drop-off points. What separated TaxiLater from the main Uber app is underneath—You can choose a date and time that you would like the ride, then what type of car (UberX, uberXL, UberBLACK or UberSUV), and then you select 'REQUEST UBER'.
You are not limited to one request, either. On the top right corner of the app there is a button that brings up a menu of 'Pending Requests' which are all future rides that you have requested. Which is, of course, convenient if you happen to forget when you ordered your rides.
What is truly remarkable about this app, however, is its creator. You might think that a commitment to Jewish belief and observance might slow a scientist and programmer down, but Joshua does not see it that way. "Obviously from a time perspective it will be harder," Joshua said about the challenges of balancing Torah observance with the coursework requirement of those in STEM. "There are many things that you're involved in. But I really do think that a lot of these observances help you stay focused. Like if I didn't observe Shabbat I'd be working 24/7."
Despite the challenges, he does not believe that scientific discovery and Torah study are inherently at odds with one another. In fact, he believes steadfastly that the inverse is true. It was his initial introduction to Judaism at his Jewish day school that helped him to develop an interest in science. He found that Judaism encouraged him to ask questions and explore, an aspect he deeply connects to in the sciences. "Science and Torah are about the same thing," he said. "We don't just want to know the answer. We want to make the world better, and we want to stay connected."