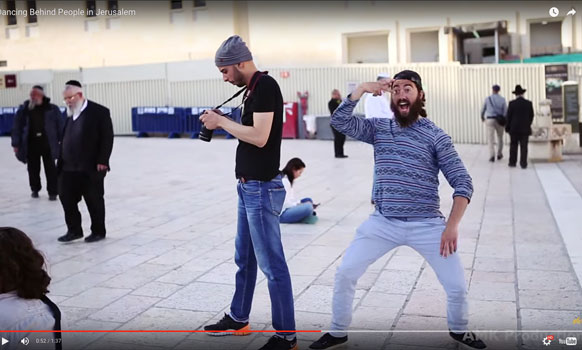 In his viral YouTube video "High Five New York," Brooklyn-born and New Haven-raised Hasidic Jew, Meir Kalmanson, runs around NYC high-fiving New York natives and tourists alike who have their arms extended an attempt to hail a cab. The video, set to upbeat music, has received over two million views to date. Since then, Kalmanson's YouTube channel, AMK Productions, (launched about a year ago) has grown to 19,000 subscribers.
The Crown Heights resident has always been drawn to the dramatic arts. As a child, he performed in school plays and at summer camps. While on shluchos (performing Jewish outreach) in Singapore, he began a program to help the children there connect with Pesach by creating an interactive story. He wanted to help the kids relate to their Judaism in a way that brought joy as well as purpose.
Today, he continues his own unofficial "shluchos" by spreading simcha and meaning to people through a medium made famous for cat videos. However, he brings more than just one dimensional comedy to the internet. Many of Kalmanson's videos have a common thread between them: reaching out to others. Two other of his viral videos follow a similar theme: one showcases Meir dancing behind unsuspecting strangers in New York City, the other is about a man (him) falling asleep on strangers in the subway.
All three scenarios involve doing unexpected things to strangers—making it tricky. "I wanted to stay true to my own voice." Meir has says of his work. In comedy it is easy to fall prey to more extreme pranks just for the clicks. Meir, though, has a higher purpose, "Just to realize that we're not that far from each other and that we can change someone's life and bring a smile to someone's face." For him, this means never crossing a line between being unexpected and making someone uncomfortable just for the sake of comedy. "I want to laugh with them, not at them."
In all of the aforementioned videos, it is near impossible to tell that Meir is a Chabadnik. Meir was surprised when he began receiving emails from fans saying that they did not realize that he was Jewish until they stumbled across a few of his other videos, such the "Evolution of Hasidic Dance." His personality, which comes through so clearly in his videos, provides a unique opportunity for stereotypes about Hasidic Jews to be broken down, letting the viewer see Orthodoxy in a new light. While it might seem completely out of place for a Hasidic Jew to run his own YouTube channel where he dances and high fives people in New York City, really he is doing exactly what Chabad and Torah has taught: to spread light and joy and bridge the gaps between people using our unique gifts.
If you found this content meaningful and want to help further our mission through our Keter, Makom, and Tikun branches, please consider becoming a Change Maker today.