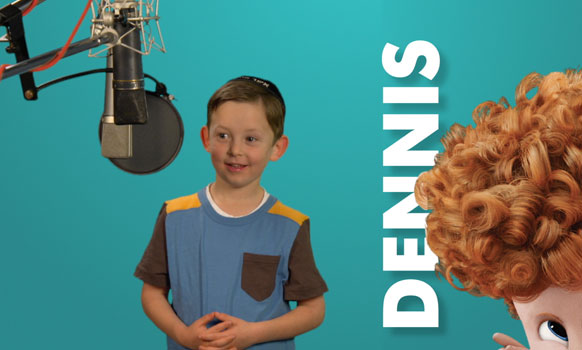 Two days after Yom Kippur on, Friday, September 25th, Sony Pictures's Hotel Transylvania 2 will premiere in movie theaters around the world. The first Hotel Transylvania had a star studded cast and was nominated for a Golden Globe. HT2 also boasts some serious Hollywood talent, including: Mel Brooks, Adam Sandler, Andy Samberg, David Space, Steve Buscemi, and Selena Gomez. And then there's Asher Blinkoff – a six and a half year old Orthodox Jewish kid.
You may remember Asher's dad, Saul Blinkoff, from our 2014 Orthodox Jewish All Stars. Saul is an animator and film director, and has been a part of some of Disney's most timeless pictures like Pocahontas and Mulan, while Asher's mom, Marion, has worked for many years as an Associate Producer for Disney and Nickelodeon. Asher, however, is practically new to show business. Though he did a feature in an ESPN fantasy football commercial when he was two and a half and a Huggies commercial as an infant, this is his first real speaking gig. We got to interview Asher firsthand to hear what it's like to be a regular Orthodox Jewish kid…who just so happens to star in movies.
While Asher's interest in the entertainment industry may have come from his mom and dad, he had to audition like everyone else. Sony really liked his read as 'Dennis,' the adorably cute half-human, half-monster grandson of Dracula. He then went to Sony for an in-person callback with (Jewish!) director Genndy Tartakovsky. They loved the unique sound of Asher's voice as well as his ability to take direction. One week later, his agent called to say Sony Animation wanted Asher as the voice of Dennis, and he was booked!
Next came long production days and hard work. Asher who had to work production around school and Shabbos and Yom Tov got lucky working with Sony. They were incredibly flexible and always made sure to schedule the Friday voiceover sessions to be over before Shabbos. And when Asher told them he keeps kosher, they were even sensitive enough to stock up on special snacks and drinks in the recording studio. One of the people working at Sony had held up an apple juice box from Trader Joes and asked "Is this kosher?" It was…and so were the Lays potato chips and mini Hershey's chocolate they provided. The only true conflict between being devoted to the movie and being a devoted Jew was when the premiere party fell out on a Saturday. Asher's mom asked if there would be another opportunity for him and his family to screen the movie and Sony responded with a "let's see what we can do." A few days later they received an invitation for Asher, along with his family and friends, to have a private screening of the film at Sony Pictures Animation studio – how generous!
Asher was always on his best behavior and never without his kippah and tzitzit (even on the behind the scenes footage on the DVD, a true kiddush Hashem). He also hopes to continue to work on more projects, and has already had the door opened to other voiceover jobs thanks to his role as Dennis.
We asked his parents if they had any advice for other Orthodox parents hoping to get their kids into this industry. Their advice? Know your kid! Make sure this is something they want, and that way you won't (as you shouldn't) have to push them. Also make sure that you are prepared to work; booking auditions, driving to studios, and working around schedules turns out to be a full-time job in and of itself! We can't wait to watch this burgeoning young star's career blossom! (Orthodox Jewish All Star 2025, anyone?!)
If you found this content meaningful and want to help further our mission through our Keter, Makom, and Tikun branches, please consider becoming a Change Maker today.
If you found this content meaningful and want to help further our mission through our Keter, Makom, and Tikun branches, please consider becoming a Change Maker today.