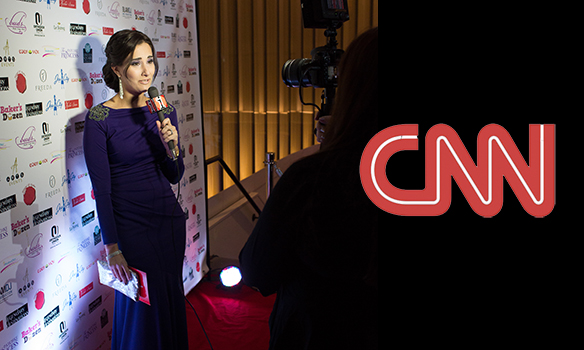 After months of hard work and planning, we finally had our amazing Orthodox Jewish All Stars Awards party last Sunday, on November 24 at the newly renovated Lincoln Square Synagogue in Manhattan thanks to the talents of Sarah Lasry and Chanie Waxler, the JITC team, and our wonderful sponsors (like Ruth Fischl and Freeda Wigs).
Several Orthodox Jewish All Stars from this year and last year were in attendance, including Sarah Hofstetter, CEO 360i US, Rabbi Issamar Ginzberg, Inc. Top 10 Entrepreneur (who flew in from Israel for the event!), Anne Neuberger Director NSA/CSS, Dr. Laurel Steinherz, Director of Pediatric Cardiology at Memorial Sloan Kettering and co-founder of Camp Simcha, celebrity chef Jamie Geller, The Maccabeats, and pro-boxer Dmitriy Salita. "Survivor" winner and pro-soccer player Ethan Zohn was also at the party as well as Hasidic alt-rock girl band Bullet Proof Stockings.
Our guests mostly spent the evening enjoying the delicious Thanksgivukkah feast provided by Legendary Destinations and Eden Wok as well as the open wine bar by Le Soreq while Olam DJ by Uri Abramov cranked out fun, funky Chanukah themed songs and Brooklyn Jazz Warriors gave an awesome concert. But we wanted the evening to have a message as well, so we heard some insightful thoughts from one of this year's All Stars (branding expert Sarah Hofstetter) about the Orthodox Jewish brand and how we must each strive to be a Kiddush Hashem and some words of wisdom by Rabbi Daniel Cohen (spiritual leader of Agudath Sholom in Stamford, CT and one of Senator Joe Lieberman's rabbis) about being a light unto the nations. We showed a short video interview I did with Senator Joe Lieberman (one of last year's Orthodox Jewish All Stars), and then I spoke. Here's an excerpt from my speech:
Some of you might be wondering how a regular person and an amateur blogger like me was able to convince a United States Senator to sit for an interview and participate in our All Stars video. To tell you the truth – I STILL wonder it myself at times! I had had in mind that I wanted to do a video with Senator Lieberman, but how exactly do you get a U.S. senator's attention? I didn't actually know, but, as it turned out, in February 2012, the Senator was being honored at a dinner where I was receiving a social media influencer award and my big plan was to arrive to the party early, wow the senator during the cocktail hour and get him to agree to participate. But as fate would have it, I got incredibly lost while using GPS!
And by the time I got there, Senator Lieberman was going up on stage, giving a speech and he noted that he was leaving immediately afterwards. I turned to my husband and asked "does he mean IMMEDIATELY after this speech?" My husband said "let's see if he sits down or walks towards the door." The speech ended and sure enough Senator Lieberman headed towards the closest door, so I picked myself up and headed towards the door closest to me, trying to intercept him in the hall.
But another woman got there first and intercepted my interception and I was like "lady, hurry up, there are YOUTUBE videos to talk about." And then, there I was, giving Senator Lieberman an elevator pitch, literally, in front of an elevator as the doors were closing, "Hi Senator Lieberman, my name is Allison Josephs and I run a website called JITC which breaks down stereotypes about Orthodox Jews, we'd love for you to be in our upcoming video." I handed him my card and he smiled and responded, "Sure, any time, call my office." as the doors closed.
Enthralled, I ran back to my husband  and screamed "we got Lieberman!"  He told me "any time, call my office." My husband, ever the more in touch with reality side of our relationship informed me, "He says that to everyone – he was just being polite," But sure enough, I called his office the next day, submitted a proposal and was told a few weeks later we had made it into the "yes pile!"
There is a recipe for success that I've discovered, with some trial and error along the way: It's equal parts audacity (some might say, ignoring the limits of what's considered possible!), perseverance, and Hashem putting the pieces together that made this plan to land Senator Lieberman work and that explains how all of Jew in the City's successes have come about.
The Maccabees employed this formula, too. No sane individuals would ever believe that a small band of fighters could vanquish the collosal Greek army. But because they didn't let reason stop them from fighting for what they believed in, never gave up hope, and, most importantly, had Hashem's help – they did.
Jew in the City's mission is to re-brand Orthodox Jews and Judaism to the world, but no one in their right mind with no funding, no experience, and no connections would even attempt something so grandiose. And they certainly wouldn't quite two jobs while their husband was still in law school to do it. And yet…somehow, here we are. We — our team of volunteers, our advisors, our sponsors, and our loyal followers — actually ARE reshaping society.
There are many ways to measure success in the social media-slash-PR world — media mentions, page views, Facebook fans — and we continue to grow by leaps and bounds in all of those metrics. But I want to focus tonight on the individuals whose lives we've changed.  We get so many messages from our viewers, but here are just a few examples. From a man on YouTube: As a Jew myself.. I am guilty of assuming the stereotypes of the Orthodox community. Very enlightening! I think a lot of people…even myself ..thought of the entire orthodox community as being very seclusive.
From a woman on Facebook: I am so excited after reading some of your articles and watching a few videos to get started in my path to becoming more observant. I am going to put in a call into our local Orthodox rabbi's wife to come and help me to have a kosher kitchen. Thank you so much.
From a teenager girl via email: I'm fifteen years old and about 6 months ago I was online and I was searching along the lines of what Judaism is about. I was raised secular so I knew nothing really about Judaism. Anyways, I came across JITC and I stayed up all night watched all of your videos and on your website. I was starting to get really interested in our faith and realized how extremely beautiful it is and how finding G-d can change your life. I just started on my spiritual journey, and my life has changed so much. I go to a secular school, live in a non-kosher home, I keep shabbos by myself, been starting to dress modestly. My family is noticing a change and I think they think I am someone who is weird and has lost their mind, when really I am just a girl who is finally happy because I found purpose to life. Thank you for all you do, its amazing. These are just a few examples of the profound impact we are having on people's lives every day — with each of your help.
The more noise we make, the more headlines we create, the more people will get a chance to see our community in a new light and a chance to explore our tradition (should the interest be sparked). And speaking of making headlines, we thankfully have made many from this party! We had a TV crew from the Hallmark Channel's "The Better Show" filming our "modest red carpet." We also have this awesome video from CNN and a longer, but truly inspiring video below it featuring four of our female Orthodox All Stars from Vos Iz Neais. (Check out our press page for even more party coverage!)
Thank you to our other sponsors: Natural and Kosher Cheeses, Arts Events, OU, Kosher Scene, Not 2 Shabbey, Baker's Dozen, Breezy's, Great Kosher Restaurants, and Gift of Life
Click here to view our playbill.
If you found this content meaningful and want to help further our mission through our Keter, Makom, and Tikun branches, please consider becoming a Change Maker today.