---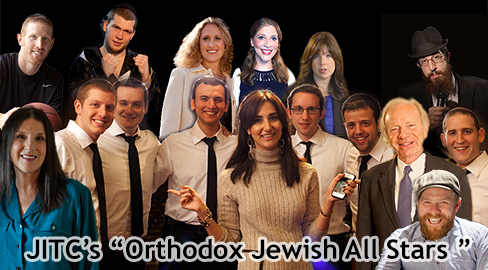 JITC's Orthodox Jewish All Stars!!

United States Senator Joseph Lieberman,  Billboard Top 10 Recording Artist Alex Clare, NYtimes best-selling author Faye Kellerman,  professional boxer Dmitriy Salita, basketball star Tamir Goodman, former HBO senior writer/producer Jamie Geller, YouTube a capella sensation The Maccabeats, former U.S. Supreme Court law clerk and founder of non-profit breast cancer support group Rochelle Shoretz, comedian Mendy Pellin, and Rhodes scholar Miriam Rosenbaum are among 10 individuals featured in our newest JITC video: "Orthodox Jewish All Stars." This is the inaugural class of JITC's Top 10 Orthodox Jewish All Stars—individuals who have reached the pinnacle of their respective fields while maintaining a religiously observant lifestyle.
This list showcases ten of the most successful Orthodox Jews in recent times, of both sexes, in a variety of professions, which we hope will help debunk the myth that all Orthodox men are rabbis and that all Orthodox women are homemakers who are prohibited to work outside the home. For the people who know that Orthodox Jews are allowed to have "regular" jobs, many of them don't realize how far a person can excel professionally while still observing Jewish law.
While choosing celebrities and especially successful individuals is an automatic way to create buzz around a project, the truth, is that these incredible individuals are representative of thousands more who are balancing professional success and religious observance every day, often out of the spotlight. That's really the inspirational message we want people to take from the video—you too can lead a spiritually committed life without sacrificing professional success. In fact, in America, today there doesn't need to be a trade-off between religious observance and professional success.
As a child growing up – there were many lessons my parents taught me in terms of how to be successful in school, career, family, etc. But there was never talk of how to be spiritually successful. We hope that these Orthodox Jewish All Stars will serve as role models to people of all religious backgrounds as to how professional success and spiritual success need not be mutually exclusive.
We decided to release the video during Chanukah because the theme of this All Stars award and video–holding strong to Jewish tradition–is one of the main ideas we commemorate on Chanukah. In the times of Chanukah, it was the Greek Hellenists who tried to keep Jews from continuing our heritage. In today's world – the biggest battle we're fighting is against apathy. We hope these All Stars will inspire some of our Jewish viewers to take a second look at their Jewish heritage if they never took the time to explore it in a deep and meaningful way before.
One final thing to note about this group: we tried to find people who come from across the spectrum of Orthodoxy. Most people outside the Orthodox Jewish world don't realize how diverse our community is. But we wanted viewers to see that there are professionally successful people throughout the Orthodox Jewish world, so the all stars are a combination of Hasidic, Centrist, Modern, and Yeshivish Orthodox Jews. It is also interesting to note that seven out of the ten people we chose have been Orthodox their entire lives.
Want more great content like this delivered to your inbox? Sign up for our weekly newsletter here: