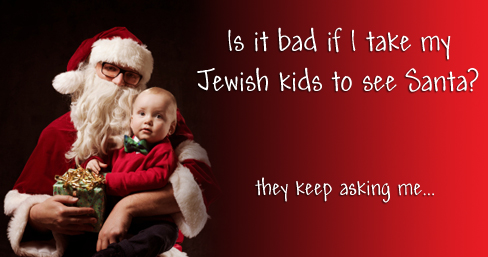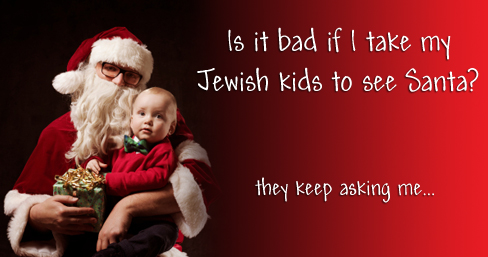 Dear Jew in the City,
Is it bad if i take my Jewish kids to see Santa? They keep asking me.
Thanks,
Michelle from Bethesda, MD
Dear Michelle,
Great and very timely question! How much exposure to non-Jewish holidays should we give our Jewish children? My kids have some curiosity about non-Jewish holidays since we live in America and it's the predominate culture, so if they're watching a video on the computer and a non-Jewish holiday themed episode comes on, I don't always make them turn it off  because I don't want them to feel like it's this forbidden thing that they can only learn about if they sneak around. Since our philosophy is to live as observant Jews in the secular world, they need to have a basic knowledge of the culture and religions around them. When these episodes come up, it gives me a great opportunity to discuss with them why we believe what we believe and don't believe what other religions believe.
However, I would not take my kids to an event centered around a non-Jewish theme because I believe that's far too actively engaging in something that's not ours. Why not take them to the local Chabad Chanukah lighting in your town instead? I looked up what your local Chabad has planned, and there'll be a "Chanukah Candyland" lighting with music, a magic show, latkes, donuts, and cotton candy! Meeting Santa might be fun for them, but there are certainly many ways to make their own holidays exciting and meaningful.
But don't stop with just extra effort for Chanukah. What the interest in Santa seems to indicate is that they're not being fulfilled by their own heritage and so they're taken in by someone else's. I think the best response for the long terms is to find ways to make Jewish tradition so much a part of their lives they have no desire to look elsewhere. Were my kids curious this year when trick or treaters came out on Halloween and we gave out candy? A little bit, but they get tons of candy every Shabbos, Simchas Torah, and Purim, so the curiosity came and quickly passed.
Being more involved in Jewish holidays and especially Shabbat will give them Jewish things to look forward to. A weekly Shabbat dinner where you make their favorite foods and desserts, turn off all technology and give them the extra attention that most kids don't get when the technology is on would be a perfect start. This looking towards other religions with curiosity or even envy is something you want to nip in the bud. Since we are a minority in a predominantly non-Jewish world, the best chance for Jewish continuity is to build a strong, positive Jewish foundation for them while they're young which will, with God's help, carry through into adulthood. Just as we pass the light of one Chanukah candle onto the next, so too may your children merit to pass the torch of their heritage onto future generations. Good luck and Happy Chanukah!
All the best,
Allison (a.k.a. Jew in the City)