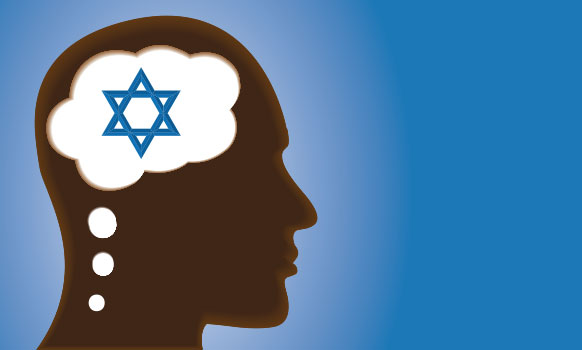 Dear Allison,
I really enjoy your articles and Q&A's. I was hoping you might be able to lend some insight to my conundrum. I come from an interfaith family (my mother is Catholic and my father is Reform). Since my mother was far more religious, they decided I would be raised Catholic. We still celebrated Jewish holidays and fasted for Yom Kippur, etc., but I was very much raised within my mother's religion. I never felt comfortable in Catholicism, so I started to explore my Jewish roots as soon as I moved away for college.
Now, eight years later, I have just returned from a five-month MASA program in Israel and I am in love. I feel so "right" as a Jewish woman. I have become more observant and would very much like to marry someone Jewish and raise a Jewish family. The problem, of course, is that I am not considered a Jew by Orthodox standards and often find myself shunned even in Reform circles. I am very seriously considering an Orthodox conversion, but I was hoping to hear your thoughts about whether I want to convert for the right reasons.
The strongest reason I want to convert is because I don't want my children to go through what I went experienced. I was the lost gentile relative within our Jewish family circle, but I was the "Jewish kid" in Catholic school! I identify as a Jew, whether the OU recognizes it or not, but that's not enough for acceptance in many circles. I don't want my children or husband to have to face the issues I have. I want to finally be an official member of the "club," and put questions of my legitimacy to rest.
I also feel my ancestors pulling me, begging me to keep the tradition alive in our family. My great grandfather, who came here from Poland and then saw nearly his entire family murdered in the Holocaust, was very religious and was a classmate of David Ben-Gurion's. Now, just two generations later, his grandson, my father, cannot read Hebrew, does not pray or attend shul ever, and wanted to blow out the Shabbat candles I lit because he thought the wax would harm the candlesticks.
Something has to give! If I don't keep our beautiful traditions alive, no one will! The only disclosure I want to make is that I don't ever think I will be completely Orthodox. I am probably more of a Reform-ative girl (versus Conserv-adox, etc). I try to fulfill as many mitzvot as possible, but I know I will never fulfill all 613 to a T. So, after that long e-mail, my question is, do you think my reasons for conversion are valid? Or am I just kidding myself? Thanks so much for any thoughts or advice you might have! I really absolutely love your site. It has been so inspiring and helpful!
Sincerely,
TS
Dear TS,
Thank you for your question and your kind words about the site. In terms of what's considered a valid reason to convert, the fact that you feel your ancestors "pulling you, begging you to keep tradition alive in your family" is one of the most compelling reasons there could be in becoming Jewish.
From what you describe, it sounds like you have a pintele yid – a spark of Jewishness within your soul. Why else would a girl brought up in Catholic school feel such a pull to keep a tradition from dying out when, as you point out, that very tradition doesn't even fully accept you as a member of it?
However, we must discuss your "disclosure" – the fact that you see yourself ending up somewhere between Reform and Conservative and not fully Orthodox. I know you gave the OU (Orthodox Union) a bit of a dig when you said that they don't recognize you as a Jew even though you identify as a one, but we have to take a moment to understand why the OU and Orthodox Jews in general have such standards.
Orthodoxy doesn't have high conversion standards in order to needlessly exclude people or deny them acceptance into something they feel a part of. As I mentioned in my post about Amare Stoudemire's Jewish status, traditional Judaism sees the act of converting as the point in which a gentile, who's only obligated in 7 commandments, decides to take on the responsibility of 613 commandments.
But you should keep something in mind about that obligation. No one keeps all 613 mitzvos nowadays and some mitzvos are done only once in a lifetime (like marriage, hopefully) or infrequently (like holidays). Also, no one – even those of us who are born Jewish and live as Orthodox Jews – keeps every mitzvah that's required of us. However, one of the defining characteristics of being an Orthodox Jew is that although we may not being actually doing it all, we strive to be doing it all.
So I guess my question to you is – is your saying that you will "never fulfill all 613 to a T" the same thing that I'm saying – an acknowledgement of man's shortcomings by nature – or, is it something else? Are you throwing in the towel and admitting defeat before you've even tried?
If it's the latter and not the former, than that would be an issue in terms of converting, not only for technical reasons (i.e. you need to be sincere about accepting the commandments when you take them on as an obligation), but for practical reasons as well.
See, the very thing that motivates you to grab the torch of Jewishness and reclaim our beautiful tradition is that you've witnessed how much was lost in the space between your very religious great-grandfather and your intermarried Reform father who "cannot read Hebrew, does not pray or attend shul ever, and wanted to blow out the Shabbat candles."
You have to understand, though, that what happened in your family and my family and most other Jewish families in the last couple generations is that Jews stopped striving to keep the whole Torah and simply started picking and choosing the commandments they found personally worthwhile.
There are many wonderful Reform and Conservative Jews. I was one of them – many of my family and friends still are. But if Jewish continuity is what you seek, you need only look at the intermarriage and assimilation rates in these communities to understand that something is not working when it comes to passing on Judaism to the next generation. I think one of the main reasons for this failure is that when you're raised to be "a picker and a chooser" it's very easy, over time, to just pick and choose less and less until you're left with nothing at all.
I try to demonstrate on JewintheCity.com that you can be normal, funny, open-minded, educated and still be an Orthodox Jew. I understand that making such a drastic lifestyle change seems, well, drastic. But if you want to not only take hold of tradition but also successfully impart it to future generations, the best chance you have of doing that is by living your life as a committed Torah Jew who strives to keep all of Jewish law. It's only through a sincere and empassioned example of Jewish living that you can hope to convey to your children why they should bother passing the Jewish torch on to theirs.
If you have any issues with specific mitzvos that you're having trouble envisioning yourself keeping, please feel free to be in touch again.
Best of luck on your journey,
Allison
If you found this content meaningful and want to help further our mission through our Keter, Makom, and Tikun branches, please consider becoming a Change Maker today.