Sukkot is the harvest holiday that commemorates the booths that the Children of Israel sat in during their exodus from Egypt. It is a time of gathering and enjoying time with family and friends, something tech giant Meta knows a few things about. This year, they're merging technology with the holiday and encouraging the public to gather to their halachic sukkah in Manhattan, which has an Augmented Reality (AR) effect by artist and digital creator Yarin Lidor.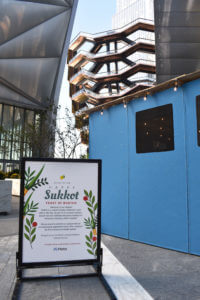 The sukkah is located on Hudson Yards' Public Square and Gardens, between 10 Hudson Yards and The Shed, and is open to the public from October 6th-19th.
Alex Luxenberg – a Modern Orthodox Jew and Ramaz graduate – is a Client Partner and Global Lead of Jews@ Meta, one of many Meta Resource Groups (MRGs) in the workplace community. He is the brainchild behind the installation.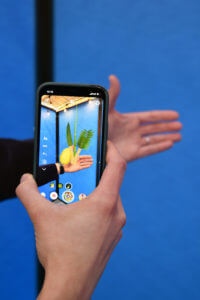 "This sukkah is a testament to how deeply Meta cares about inclusivity and diverse perspectives," he says. "We included an AR component to liven up your sukkah or extend the sukkah experience for those who may not have one." It features traditional symbols like the schach with decorations, the ability to take a photo in front of a decorated wall, and a virtual lulav and etrog that you can "shake" with your hand.
The sukkah is open to the public with the exception of a few instances in which Meta will be holding private events. There is also a sukkah on their HQ campus in Menlo Park, CA, for Jewish employees.
MRGs' scope and influence extend much further than this public installation, and is a tremendously valuable system that provides community support at Meta — creating a space where employees feel seen and heard and have a sense of belonging. These groups focus on characteristics shared by people in traditionally underrepresented and marginalized spheres. They help participants become catalysts for ensuring a fully inclusive and open environment and provide opportunities for everyone to contribute to Meta's success. And they thankfully include Jews in this community.
As the Global Lead, Alex explains that the Jews@ community represents all those who identify as Jewish and allies of the Jewish community, and spans a diverse range of cultures, languages, and cuisines. Jews@ works on a broad range of projects from providing kosher food to employees, to cultural events like a Jewish tour of the Lower East Side in NY, to an educational series focused on combating antisemitism. "We have a wide range of programming to accommodate the wide variety of ways in which Jews experience their peoplehood," he details. "We've had speaker series, cookbooks, ideas salons where we discuss Jewish text, pre-Passover kosher wine tastings, walking tours, and even a Shabbat dinner for interns! We run a program called kosher@ which provides kosher food for employees who opt in."
A number of leaders from Jews@ also work on diversity, equity, and inclusion projects that impact the entire company. For example, the Jewish community member who leads the kosher opt-in program also helps friends within the Muslim@ community get access to halal food. They accommodate the Jewish calendar when holding events as well. The acknowledgement of Sukkot when many non-Jews aren't even aware of the holiday's existence is a prime example of positive Jewish visibility.
"At Meta, we give people the power to build community and bring the world closer together, and that is what Sukkot is all about," he explains. "The Talmud says that the entire world should sit under one sukkah, which is why we have left our sukkah open to the public. This week alone we've welcomed guests from around the world who have wanted to learn about our sukkah and our augmented reality experience."
He offers a quote that has been on his mind as the team has been working on the sukkah project: 
A narrow view of the facts will tell you that Jews do not constitute one people. The Yemenite and the American Jew, the Russian Jew and the Bene Israel of India, the German Jew and the Jew from China, are completely different types. What matters is that they share a common history or aspiration or faith. These things cannot be measured and established as hard facts. Yet Judaism accepts that all Jews are one people, that they constitute Keneset Yisra'el. As in the sukkah, we accept the principle of lavud: even if there are gaps, and discrepancies, and big holes, and lacunae of all kinds, we assume that they are solid, attached, covered up. The Jewish people is one people. (Norman Lamm, Festivals of Faith: The Illusions We Live By)
Although we share the same origins and are one family and people, the cultural and spiritual expression of Jews is as varied and unique as there are people in our nation. Yet contradictorily, not only are Jews treated like a monolith in the media, but we regularly face discrimination in a society that celebrates ethnic diversity.
However, Alex's experience at Meta seems to be overwhelmingly positive. "Meta is an exceptionally inclusive company, and my perspective as an observant Jew is welcomed and encouraged," he says. "The fact that Meta supported us in building this sukkah in a public place is a true testament to how deeply Meta cares for its employees and Meta resource groups. I've been at Meta for nearly 5 years and in my ways, it is the institution that has enabled me to express my Judaism in a way that is most true to myself — and that even includes time spent within fully Jewish institutions."
The welcoming environment doesn't only encompass the Jewish community's comfort within the company — which is incredible in itself — but is also built on strong foundational relationships within the intra-Jewish community.
"Our community is a place where people come for everything from life cycle events ("what song should I play at my chuppah?") to work challenges (one-off coaching sessions as issues come up) to communal initiatives ("how do we best commemorate the Holocaust?")." These are not issues regarding interaction with a non-Jewish world, but the ability and trust to look to Jewish colleagues as confidantes. "I am so proud to play a small part in facilitating these deep connections across our diverse global Jewish community."
Photo credit to Greg Lang
If you found this content meaningful and want to help further our mission through our Keter, Makom, and Tikun branches, please consider becoming a Change Maker today.