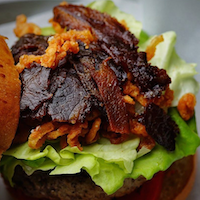 Coronavirus is taking a toll on most of planet earth. Along with many industries, the hospitality business, and the restaurant business in particular, has taken a huge hit from the new reality of the Covid-19 pandemic. Upscale kosher restaurant, NoBo Wine and Grill's beautiful ambiance has not been enjoyed since Bergen County rabbis shut down all in-house seating at Teaneck restaurants two weeks ago. Executive chef and owner Josh Massin spoke with Jew in the City to discuss the changes that the crisis is causing the restaurant to undertake. "We're struggling like everyone else. I'm just trying to cover payroll."
Massin isn't sitting still and letting Coronavirus end his business. He is launching a new concept, one that he hopes will aid in the hospitality industry's fight against Covid19 but also allow local community and restaurant workers to mutually benefit. "We created a delivery system. We instituted online ordering through our point-of-sale company." Massin says they will basically deliver anywhere, but farther distances require a larger order. "All the food is made from scratch…with the same values that we always cook with." People have been calling from as far as Stamford, CT. While they aren't doing door-to-door delivery to far locations, Massin would rather get customers their food quickly and still warm.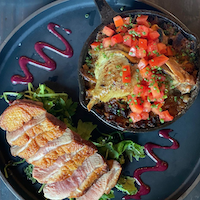 Although the world may have changed, the menu offers the innovation that customers might be looking for more at a time like this. "People weren't going to be as interested in treating themselves to a steak and perhaps were looking for something that was going to be a home replacement meal."
With a better price point for comfort food you don't have to cook yourself (the restaurant is no longer making a profit) the concept has many early fans. From fried gravy balls to charcuterie "fully loaded" fries with lemon-based Kupiei Japanese mayo, their innovation has delighted their fans and followers. House-made kimchi, sauerkraut and pickles are all probiotic and Massin hopes it will help customers stuck at home to enjoy something other than carbs.
Among other items, "duck tacos are very popular. You get a little bit of our cured, pan-roasted duck breast and a little bit of our duck confit, along with a classic pico de gallo with fresh high-quality tomatoes, sweet onion and a splash of vinegar." A half-roast broiler chicken poached in a flavorful vegetable broth is another new item of which Massin is very proud. "Our chicken is made with fresh herbs and garlic and citrus…we are still trying to add the value there the same way we always did for as long as we can."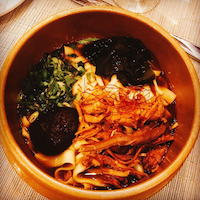 Massin is also well-known for his ramen bowls, a food that has skyrocketed in popularity in recent years. With fresh noodles, khombu seaweed, poached mushrooms and more, they are still as popular as ever, especially as they serve as comfort food in addition to being a foodie delight. While some desserts aren't as easy to present to-go, "The peanut butter brownie and chocolate torte are available." Massin is even happy to prepare food for Pesach on a pre-paid basis for clients in advance. "It seemed to be seamless for us. I can't compete with supermarkets and caterers…but I can compete with customization, quality and customer service."
While this isn't a contingency he planned for, Massin keeps a positive attitude. "To summon the faith to move forward and at the same time to realize you have no control. Today you could have a lot of orders, tomorrow we [may not]." Massin's faith was tested, but he let it inspire him. "It sounds cliche but, when you let go, that's when Hashem catches you. I had to do my hishtadlus. To me, the most important thing was not letting my people down. I went home and instead of crying myself to sleep, I came up with a menu based on some of the things we had on hand." His main takeaway from this entire change of events is "realizing you're not in control and just doing your best."
Massin cites the reason for his innovation as support for his loyal customers and also for the workers who have been with him through thick and thin. He could have just fired the staff, closed the restaurant, and waited out the storm. But Massin couldn't do that. Their need to feed their own families has inspired Massin and keeps him going. "You're always a representative of the Ribono Shel Olam. Wherever you go, you're a representative of Hashem… I am not doing this for any particular reason other than that I think its what God wants from us." Massin hopes it makes a very positive impression. "The other day I was making flatbread…one of my guys came over to me and said to me in Spanish, 'did you make the blessing? Did you take the ball of dough and make the blessing?' He stood there and listened to me while I made the blessing and said amen." Massin is humble and hopeful. "If I make a positive example, that's great. I just hope we all survive."
Email josh@nobowineandgrill.com to place an order for Pesach. Slider photo by David Zimand.
If you found this content meaningful and want to help further our mission through our Keter, Makom, and Tikun branches, please consider becoming a Change Maker today.