New York is currently buzzing with glitterati, who were treated to a range of beautiful modest ready-to-wear at this week's shows featuring upcoming Spring fashion. With so many tznius looks to choose from, we centered in on the most wearable fashion trends. Whether you integrate them into your Yom Tov style or wait to wear them come Spring, these are the top modest trends from Spring 2020 Fashion Week.
1. Primary Colors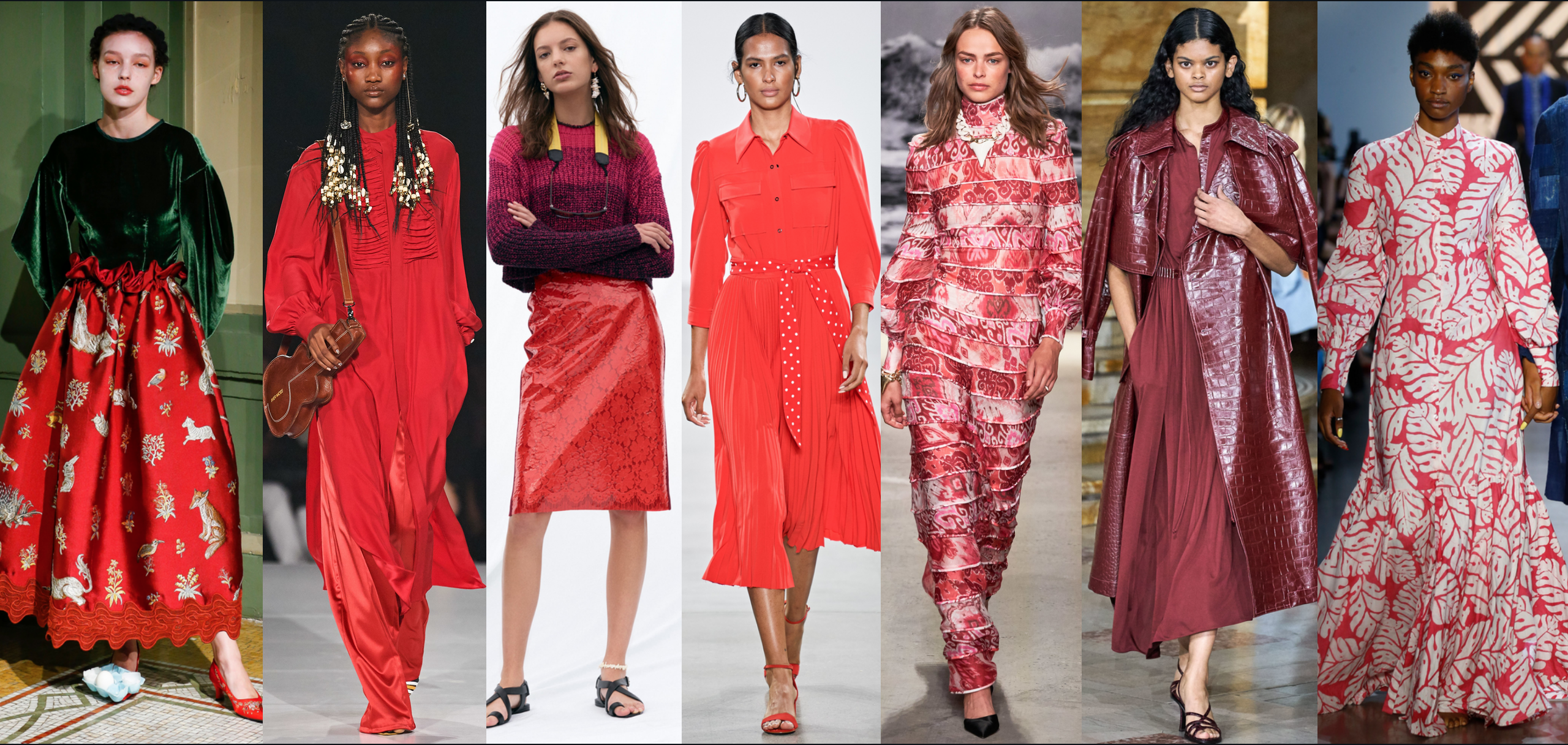 Whether rah-rah red…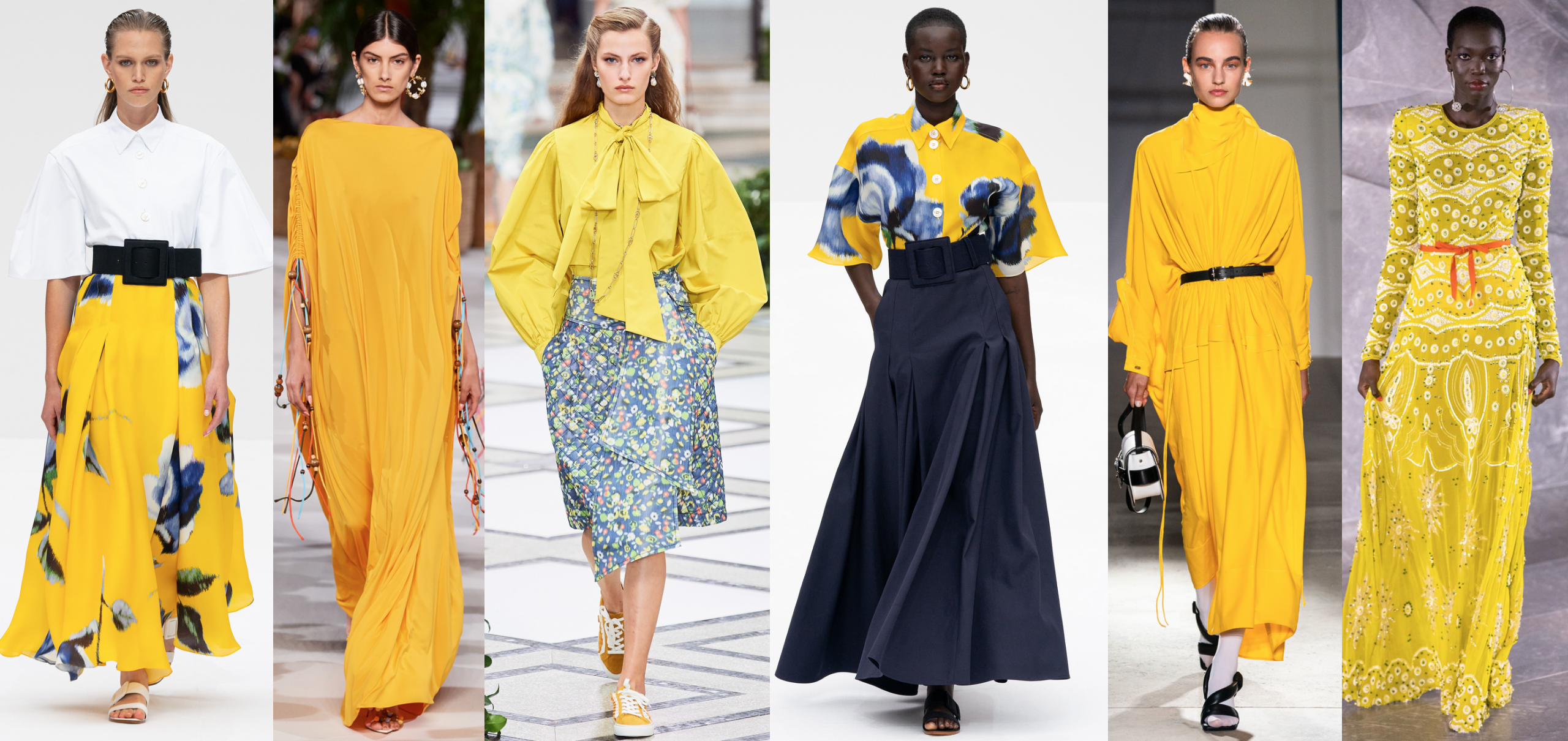 Golden yellow…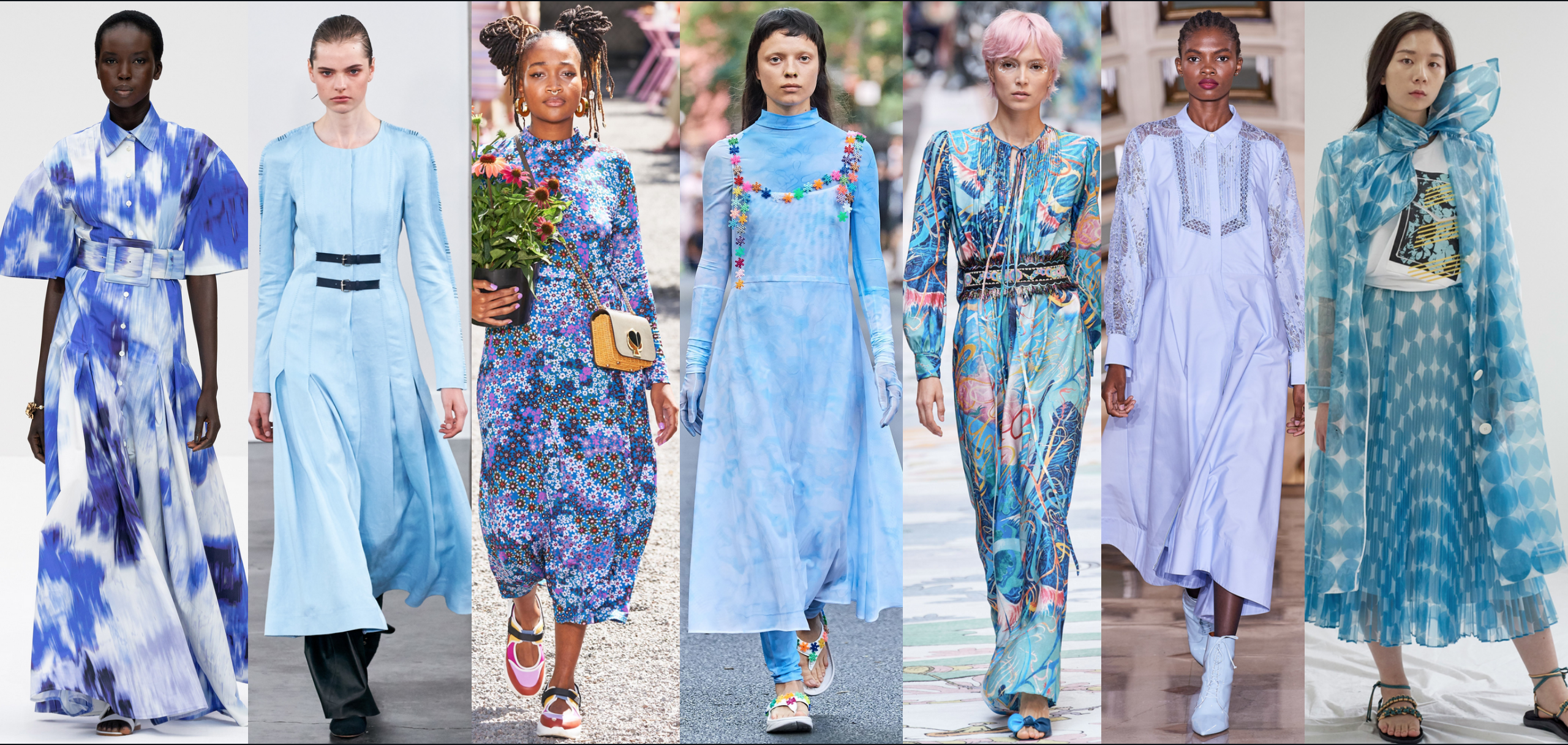 or Deep Azure Blue…
Pantone's colors for Spring 2020 get back to basics with a schoolroom-friendly primary palette, and designers have taken note. Bright red, canary yellow and powder blue are the strongest trending colors on the runway, with nearly every designer featuring at least one in a stunning and modest way. While head-to-toe looks can be intimidating to some, try to add in a bold blouse or a skirt with a neutrally matching bottom or top to start.
2. Interesting Sleeves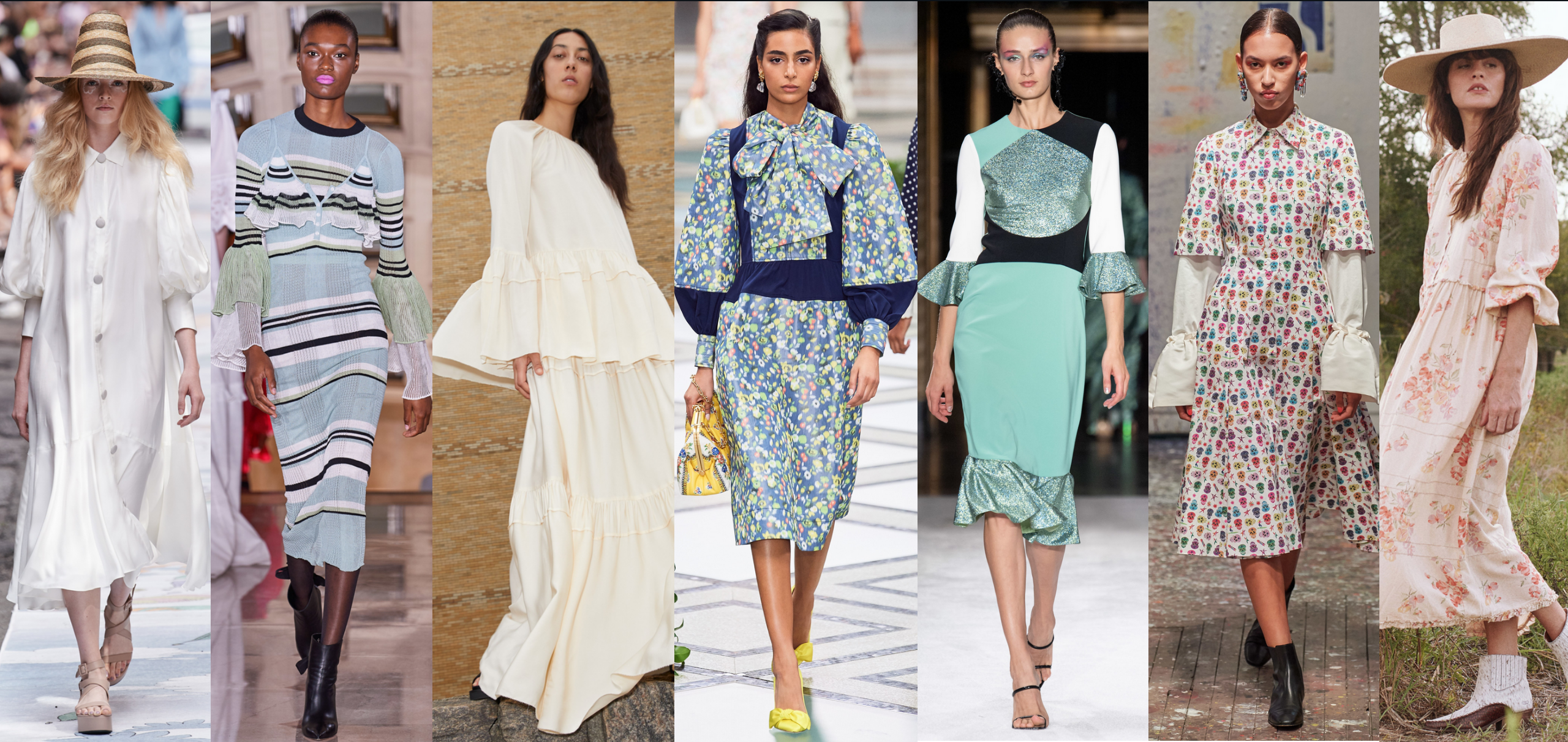 Sleeve details are in, from bell to poet to cathedral to renaissance-inspired flare. Some are gathered at the wrist and some feature puffed sleeves, but almost every designer featured a take on this look, in addition to statement sleeves being the hottest street-style look at the shows. While not conducive to yom tov cooking, throw on these flowy, fringed frocks just in time to greet your guests to add a flattering, graceful touch to any outfit.
3. Utilitarian White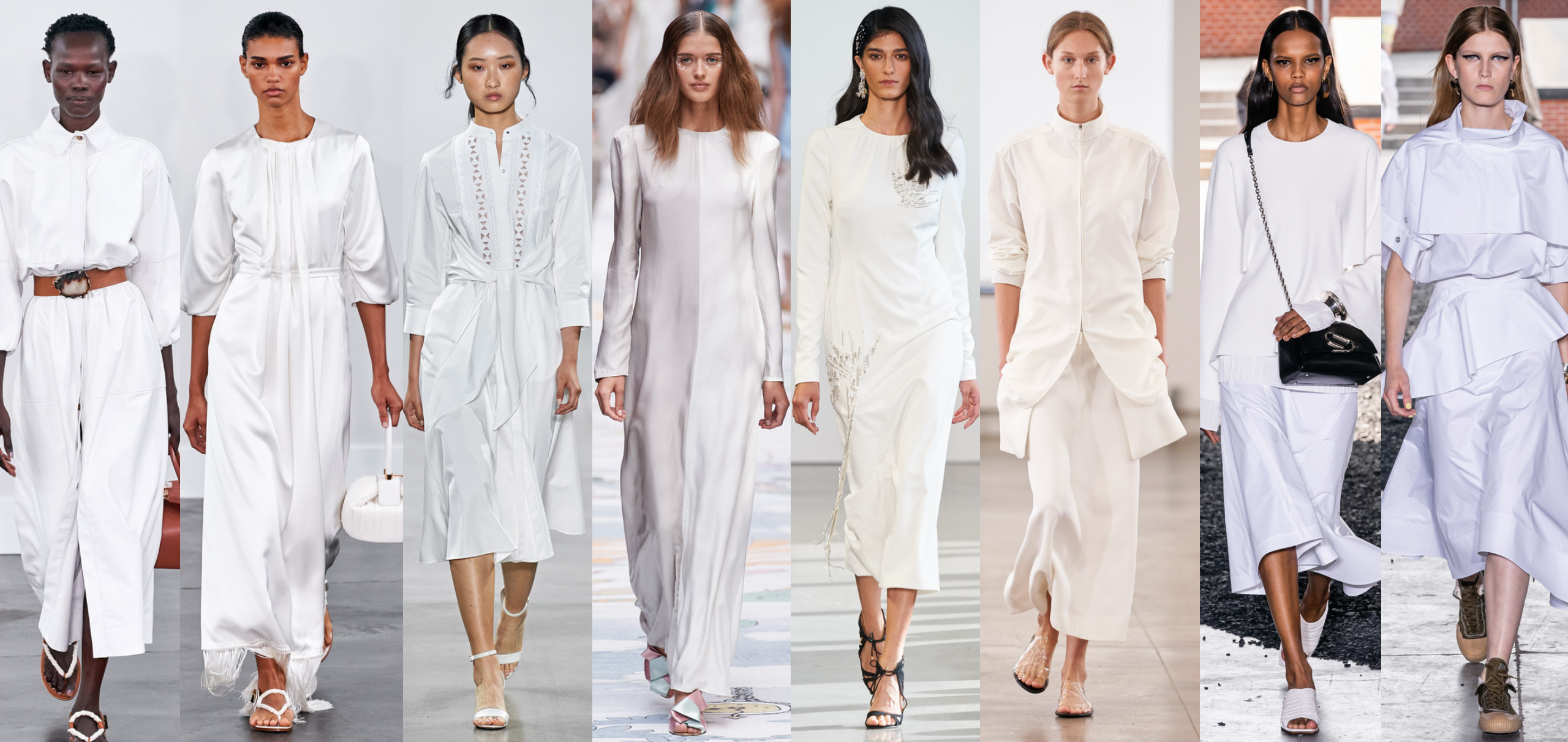 While all-white looks beautiful any time of year, it is especially trendy in the Spring. This year's light looks featured a futuristic vibe, with inspiration from worksuits and jumpsuits. Feminize them with delicate accessories or play up the modern look with bold jewelry. Either way, these simple looks work hard to make a big impact.
4. Exaggerated Details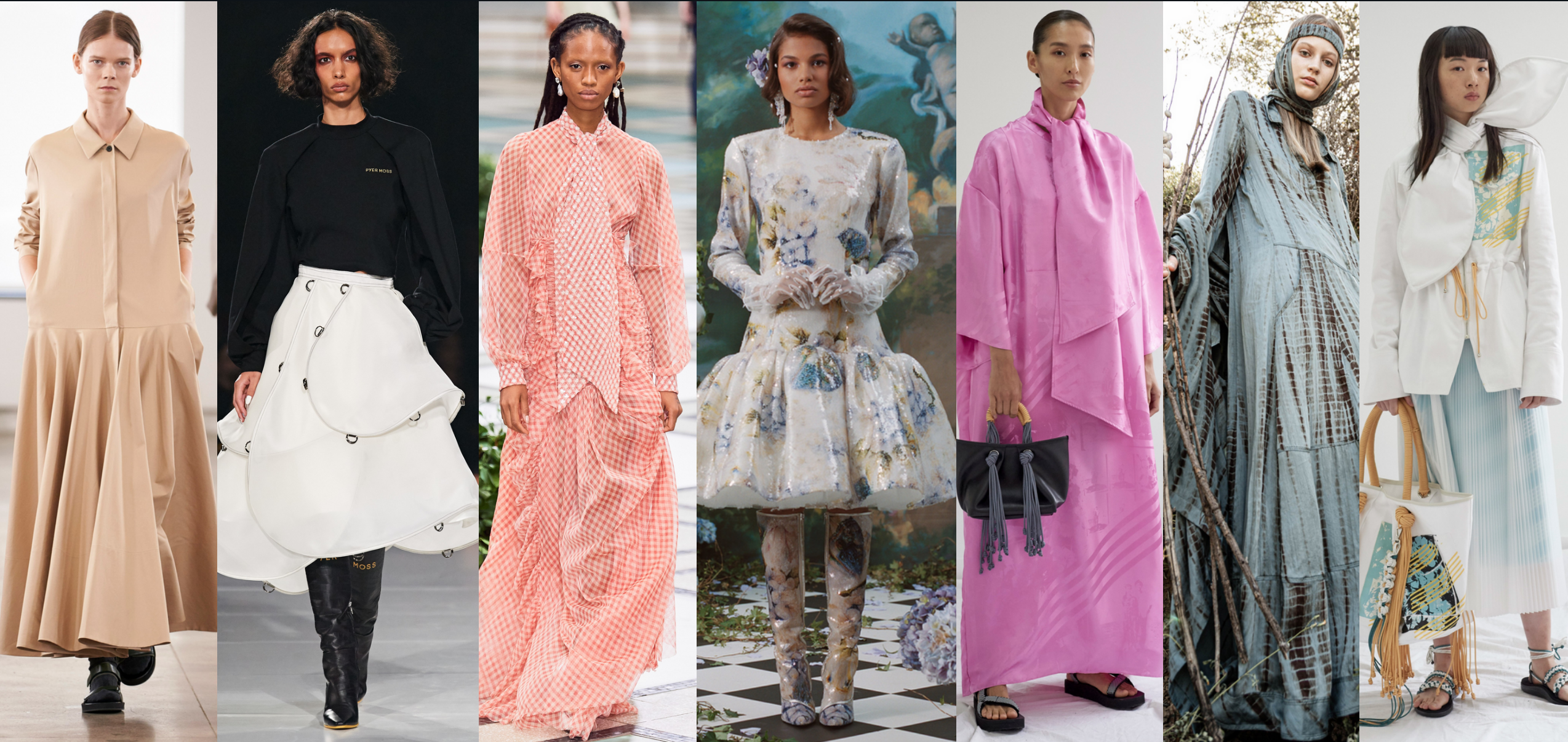 Oversize is in! From long and larger-than-life bows and giant skirts to wide sleeves and collars, over-the-top sizing is making designer's hot lists. Volume on sleeves is for beginners, but this trend amps up the overall look with bold details. While this trend may not translate for every day, try a dress with a wider sleeve, a structured scarf atop your blazer or a fun poufy or ballgown-style skirt for a simcha.
5. The New Florals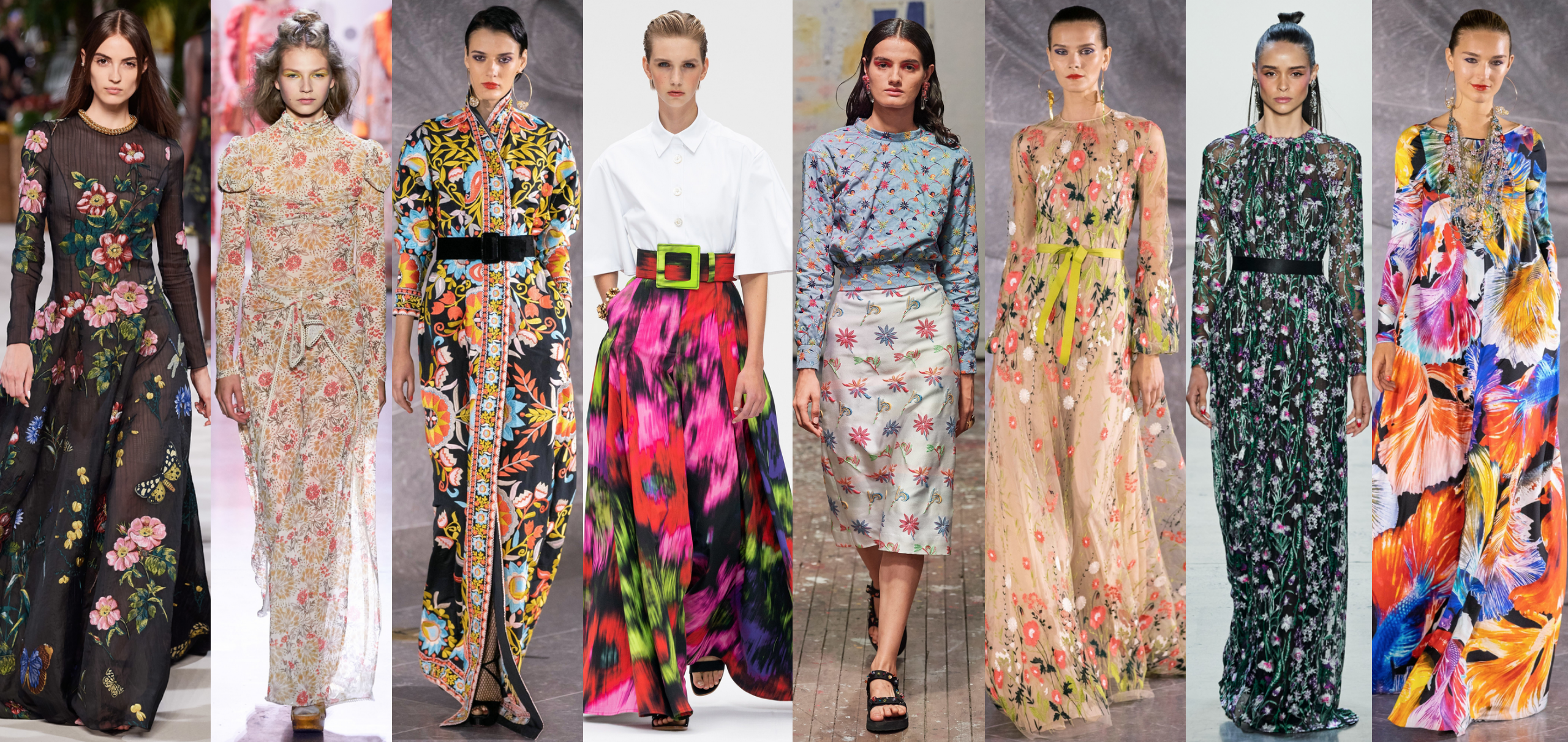 Spring is a classic time to showcase florals, but their Spring 2020 update puts them into two camps: the ditsy / small floral and the graphic / oversized one. Pair a flowery cardigan with a dress for a matched look or try a large floral maxi with a crisp white shirt. With unexpected pairings and bold flowers, these modest styles depict gardens and bouquets in fresh, new ways.
6. Dot to Dot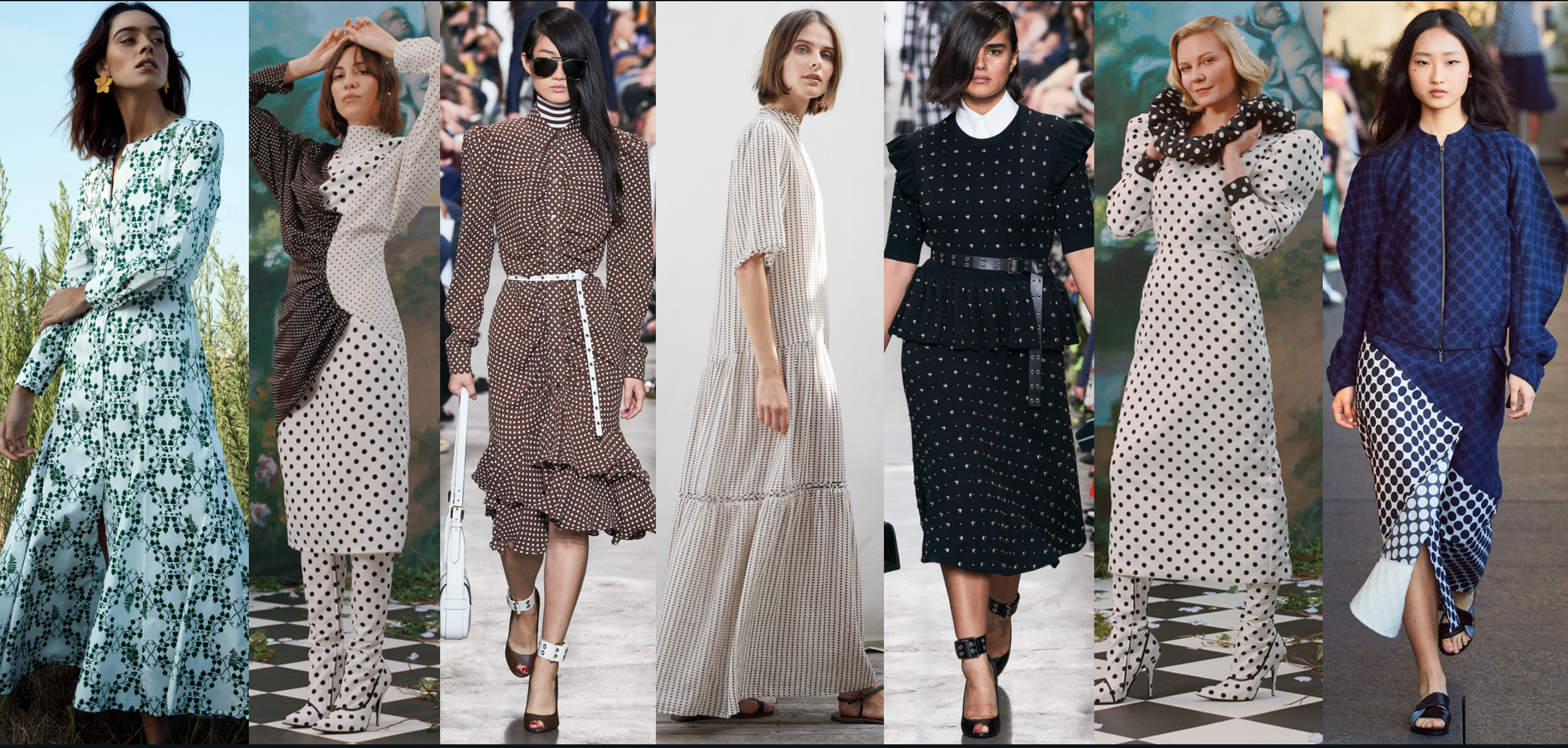 Polka Dots have had a resurgence lately and they aren't going away anytime soon. You won't evoke Minnie Mouse with these chic looks, which update dots and circles for 2020 by playing with their patterns, sizes and shapes. Always a ladylike staple, dots and dot-like motifs are all over the runways now, and won't be going out of style anytime soon.
7. Silvery Metallics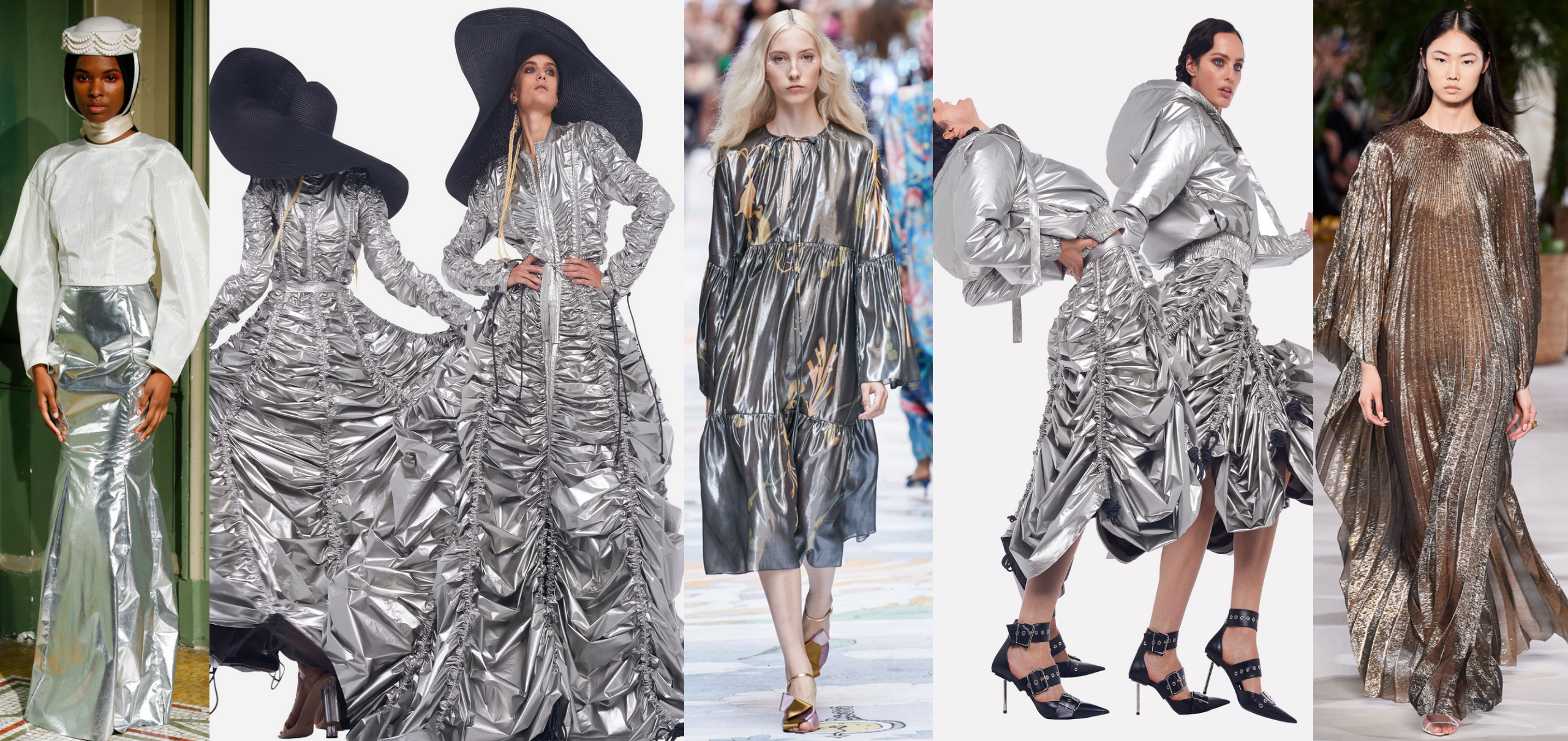 The futuristic looks continue with the chrome, liquid silver and platinum fabrics that have been gracing the runway. While ruching, pleats and interesting stitching create volume and texture, shine still takes center stage with a festive, dressy look that doesn't require the upkeep (or sensory overload) of sequins. With fabric technology as advanced as ever, these melted metal styles play with texture and shape to create a look that's both modern and memorable.
8. Game…Set…Match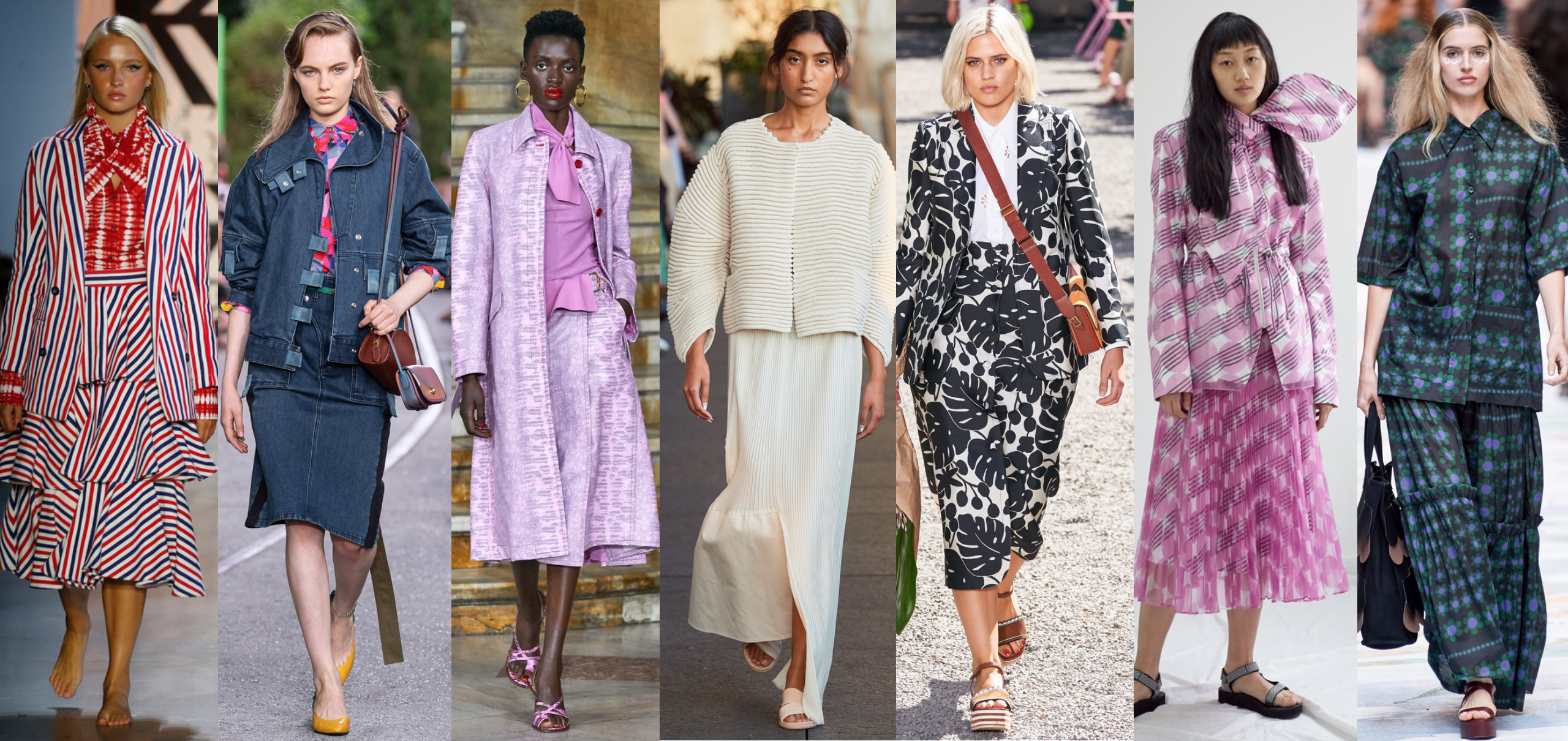 The new suiting pairs pieces for 2020 with the element of surprise. Even accessories are getting in on the action. From hats that match dresses, to gloves that match a blouse to boots that match a dress, coordinated looks are now pulled together in entirely new and innovative ways. While some of these styles are wear-to-work, others join in striking ways to elevate both your yom tov and everyday wear.
9. Pattern Play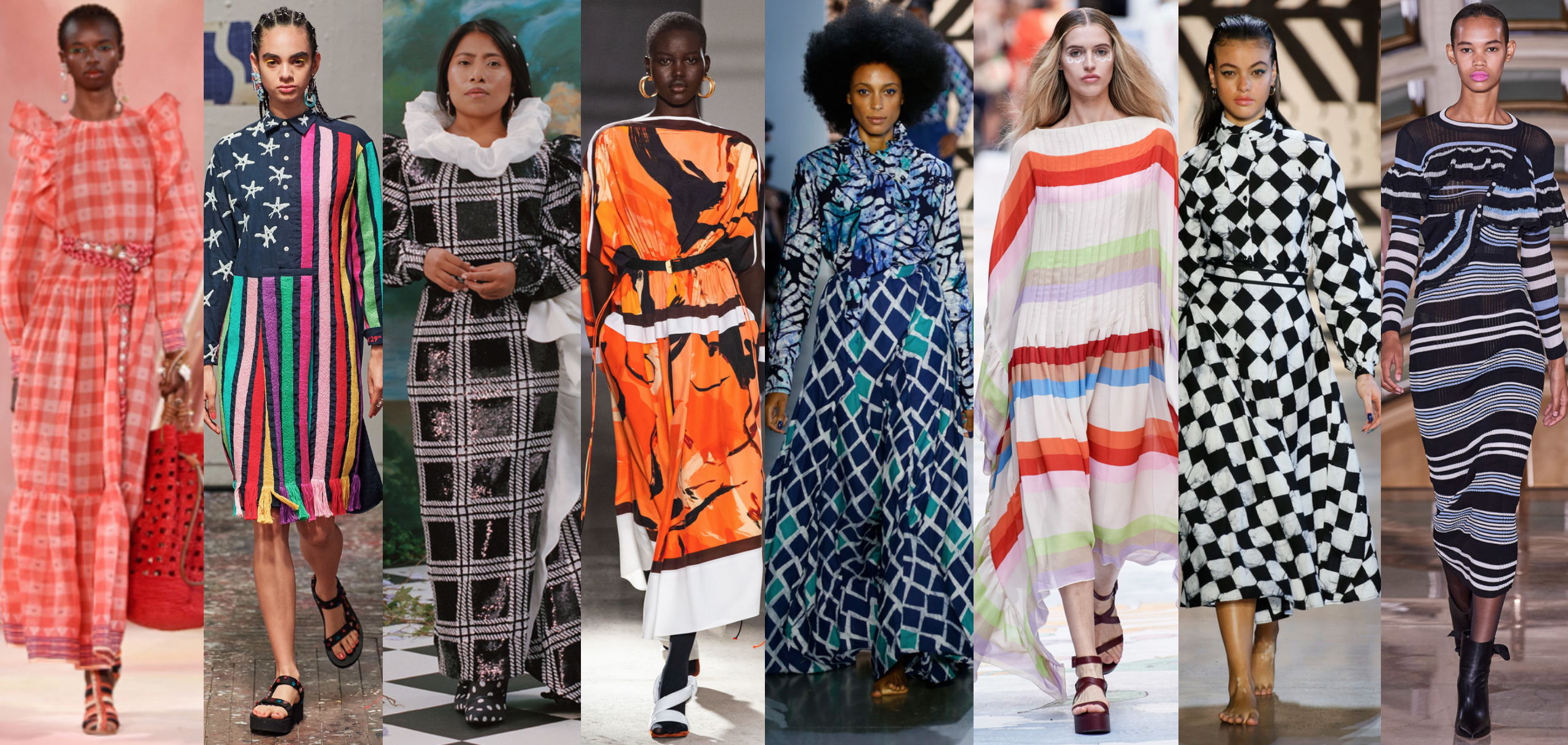 Mixing patterns or extra-bold patterns serve as optical illusions, and continue the larger-than-life theme of exaggerated details and liquid silver trends. These seemingly clashing looks may overwhelm the eye at first, but then serve to highlight the beautiful cuts and shapes of the clothing. While checks and gingham are a Spring staple, here they mix with bold color, contrasting patterns and billowing sleeves. Try a new dress in a visually-interesting fabric to see how this trend fits your style.
10. Green Day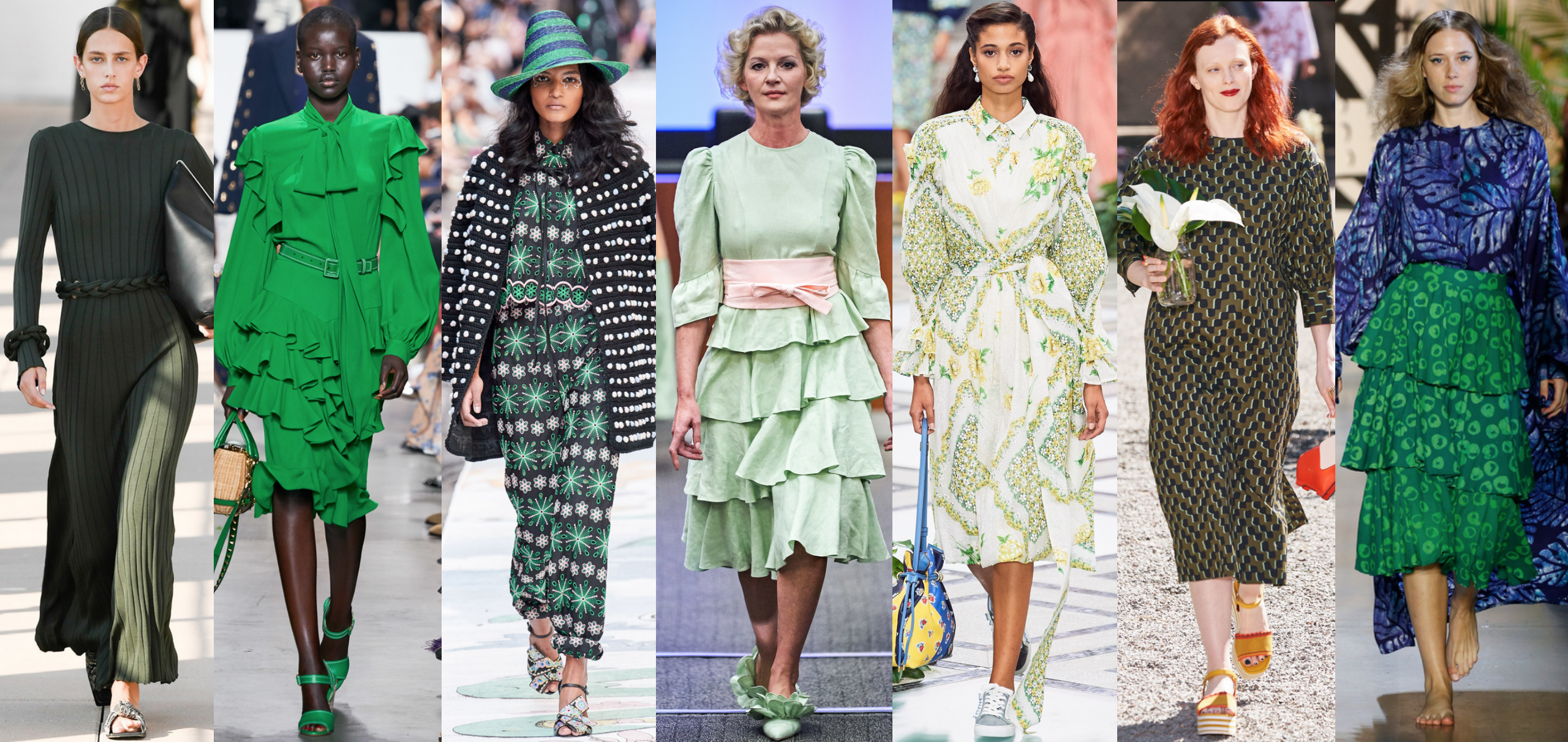 While not quite as ubiquitious in every designer's collection as the primary colors above, green in all of its incarnations are also hot for Spring 2020. From lime to pistachio to forest and olive, this shade is the perfect transition for Fall as well. Find a frock now that you can wear into Spring, or choose bright green to accessorize any of the above-mentioned looks. The fresh new growth of this upcoming Spring trend is sure to carry you through the season ahead in style.
If you found this content meaningful and want to help further our mission through our Keter, Makom, and Tikun branches, please consider becoming a Change Maker today.