Whether you're a healthy food lover, on a diet, gluten free, becoming a clean eater or need to change your  habits for medical reasons, the kosher food industry is offering hot new products with you in mind. Debuting today at Kosherfest, the annual convention for the kosher food service industry, these are some outstanding, innovative and delicious new potential contributions to the health food options at kosher markets. Many of the owners of these companies came to make health food because of a personal need and were inspired when they saw how many others it could benefit as well. For most, obtaining kosher certification was essential, while some realized that it was a market that they were excited to try. While not everything here has distribution yet, speak to your local kosher provider to order and enjoy the coming deliciousness.
SAVORY & MAINS
Apura Farms Easy and Wine Based Veggie Burger Mixes
Wine in your vegan burger? Wine not? With a mung bean base and organic shiitake mushrooms, pink himalayan sea salt and simple spices, this mix just needs water before it goes on the grill in patties of your choosing. Add in grilled onions for additional crunch. This Florida-based company is rolling out to Whole Foods Markets soon under the Organic K.
Honey Smoked Salmon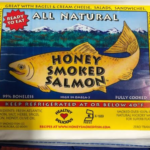 Ready made from Aurora, Colorado and available at Costco, these beautifully prepared whole sides of salmon come in four different flavors. Ranging from spicy to sweet, these fish are prepared without any nitrates, nitrites or other preservatives. Their smokey scent and taste is so authentic, it caused one food service industry professional to remark "I feel like I'm at a bris!"
Heaven & Earth Instant Vegan Meals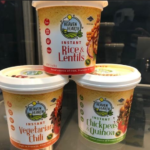 Move over noodle soup in a cup. This protein-packed meal is a game changer for healthy kosher eaters traveling far from kosher amenities.  With Chickpea & Quinoa, Lentil & Rice and Vegetarian Chili varieties, consumers can switch up their meals or serve this as an easy side with lunch or dinner. These will soon be available at kosher markets everywhere.
Healthier Way Organic Veggie Noodles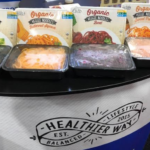 These frozen "zoodles" come in zucchini, beet, butternut squash and sweet potato varieties and are an easy way for those on Paleo diets, gluten free eaters and more to enjoy their veggies. thaw them in the pan with eggs for the easiest latkes ever, or sautee with garlic and parmesean for dinner.
Tropic Max Plantain Croutons and Tostones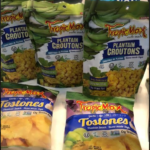 These simple crispy veggies were a new product winner at Kosherfest and are delicious on their own or as a topping on salads. Tostones, a smashed, baked plantain is just as delicious as the diced crouton variety. Vegan, Gluten Free, Non GMO and under the OU, these crunchy chips are flavorful and addictive.
Esti Greek Hummus and Mezze Spreads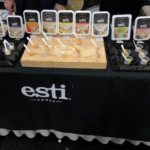 With no preservatives, this all-natural line of dips and spreads is a truly special new addition to the refrigerated aisle (find it at Shop Rite!) Their lemon hummus is so creamy and lemony, you might even mistake it for yogurt. Light, refreshing and delicious, their products must be enjoyed quickly due to the lack of preservatives, but they won't last in your fridge anyway!
SWEETS & TREATS
Mom Pops Mini Pops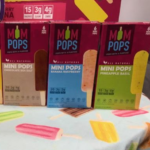 These pops are the perfect size for kids and anyone counting calories, as that they are low in sugar and use fruit, agave and coconut milk for a base. With fun packaging and interesting flavors (chocolate sea salt, pineapple basil) these would be great at a party, kiddush or camp as an all-natural alternative to igloos and other less-healthy options. While these don't have distribution yet, we're sure that won't be for long.
Holy Cacao Chocolate Bars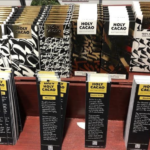 With stunning packaging which incorporates Hebrew letters into each design and a great pun for a name (Holy caCAO?!) these chocolate bars are minimally processed and insanely good. The 100% Cacao bar is a decadent delight for serious chocolate lovers only and contains just one ingredient (how's that for clean eating?).
Happy Cookie Cookies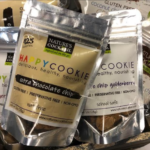 When owner Janie was suffering and sick a decade ago, her diet needed to change. She started eating healthily and asked her husband, who was in the food industry, why there weren't more options with clean eating in mind. She created her delicious baked goods accordingly. Packed with superfoods and with flavors like Chocolate Chip Gooseberry, these cookies come in small bags that can be (will be) eaten in one sitting.
Genesis Macarons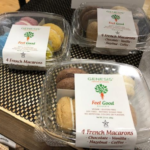 These Israeli delights are all-natural. That's right, even the brightly-colored ones are made with natural colors. These gluten free gourmet cookies are as impressive in taste as they are in looks. With eight different flavors to choose from, ranging from Coffee to Raspberry, there is a variety to please any vegan, gluten free and refined sugar free eater.
Metaball Energy Bites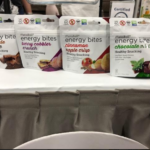 Packed with protein, these addictive breakfast bite balls are portioned into snackable bags, making it a veritable smoothie in your palm. In Berry Cobbler Crunch, Chocolate Brownie, Chocolate Mint and Cinnamon Apple Crisp, their options are all simple and natural. While several companies were showing similar offerings, the ingredients in these were hard to ignore in their simple deliciousness.
COOKING AID
Betterine All Natural Cooking Bar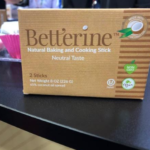 Can you imagine a margarine without any guilt involved? These bars are made from pure and natural coconut oil, making it a healthful alternative for anyone looking to have their cake and ahem, eat it too. Now parve baked goods and more can have the appeal of butter, without the ingredient list of margarine on their conscience.
If you found this content meaningful and want to help further our mission through our Keter, Makom, and Tikun branches, please consider becoming a Change Maker today.