While authentic Pad Thai is a rare commodity in the kosher foodie world, Pho Men on Troy has it down pat. Right in the heart of Crown Heights, Pho Men sits in a redesigned storefront, just a few doors down from Izzy's Smokehouse. A large smoked glass word cloud alerts you to the flavor possibilities that await. The warm, dark wood tables and chairs are bare-bones but add an Eastern flare rarely seen outside of non-kosher Asian restaurants. Additionally, the golden fans, Japanese fabric banners and tableware with a modern Japanese flair contributed to the vibe.
We were immediately served cucumber-infused water in beautiful cherry-blossom inspired ceramic cups. Our waiter was happy to accommodate the gluten free eaters among us (the pad thai was an easy sub for gluten free soy sauce), and recommended dishes which might please our pickier eaters. Those who do not keep kosher will be impressed, as will adventuresome kosher keepers.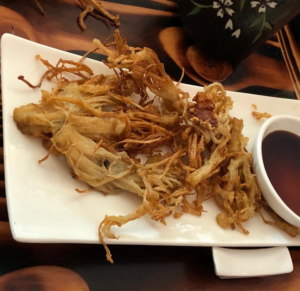 To start, a panko-crusted chicken, fried rice cake atop yakitori shredded beef and fried enoki mushrooms, clinging together like alien life forms, arrived with a dipping sauce. While the chicken could have been schnitzel with slightly more Asian flavors, the other two were special and unique. The enoki mushrooms especially were a huge hit and were subsequently polished off by the pickiest eater among us. The rice cake was thick and not all of it got seared in the pan. Still, the beef and curled carrots that it sat upon were flavorful and mouth-meltingly soft.
While there was no one else there at 1pm on a Sunday, we were thrilled to have the place to ourselves. The waiter surprised the kids with fruit-flavored boba tea, one strawberry and one mango. The tapioca bubbles at the bottom of each glass kept the kids occupied for the better part of the meal, as they took turns trying to fill their straws with as many as possible.
When the noodles arrived, the two of us who ordered gluten free pad thai found that it came with all the chicken and vegetables but no noodles. Although this may be perfect for those on a Keto or Paleo diet, they were the reason we ordered the pad thai in the first place. The kitchen made a quick correction and we were thrilled with the result. We had asked for the dish to be made less spicy than usual and are glad that we did. While the rice vinegar flavor was a bit strong, the flavorful fresh vegetables, crunchy peanuts and noodles cooked to perfection made up for it.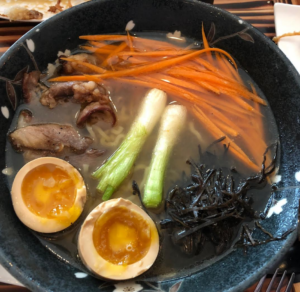 The ramen bowl came out huge and with plenty of smaller bowls for all who wanted to share. These noodles were a far cry from the instant soup containers with bricks of machine-made permed noodles and a soup mix packet. They were the real deal: thick, with an al dente texture in a moderately salted broth. The eggs were the perfect combination of soft boiled (and sous vide-ed at that), and the meat was thin and bursting with flavor. While it easily won the attention of our seasoned ramen fans, we were pleasantly surprised that the more adventurous of our young foodie-in-training set was so impressed that seconds and thirds were demanded!
While the menu also included Vietnamese street food staples (and trending kosher food items) pho noodle bowls and bahn mi sandwiches, we didn't try them this time. The Pho is made with rice noodles, though the broth is made with traditional soy sauce, which may not work for everyone who is gluten free.
All in all, we will be making the trek to Crown Heights again, and recommend it to noodle fans everywhere.
If you found this content meaningful and want to help further our mission through our Keter, Makom, and Tikun branches, please consider becoming a Change Maker today.