Even in the heat of summer, fashionistas are gearing up for cooler temps, as stylish fall couture fashion displays are sweeping across France and Italy. With so many different high-necked and long-hemmed styles, tznius keepers have so much to enjoy. Haute couture's Fall 2018 gorgeous modest eye-candy provides plenty of inspiration from head to toe. As both midi and maxi styles are very much en vogue, trends are focused on Suiting, Metallics, Palest Pink, Texture, Capes, and Bold Color.
MONOCHROME / SUITING
With collar to cuff in the same shade, this look brings a sleekness to any style. Suits with a modern edge would befit the Duchesses Cambridge and Sussex, just as well as a shul kiddush.
METALLICS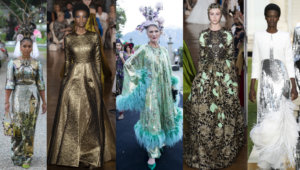 Not just for simchas, the light-catching fabrics and gold-flecked designs were seen by designers across the board. From brocade to sequins, this effect dresses up any look.
MILLENIAL PINK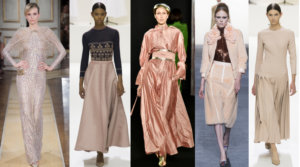 Soft and delicate, this shade is usually a Spring fixture, but is naturally flattering in any season. Nearly every show featured copious amounts of this ultra-feminine shade.
TEXTURE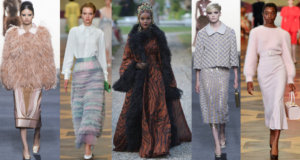 From fluffy to frilly, laces to fringe, the 3D effect is still going strong. Fuzzy sweaters and faux fur jacket cuffs are just the beginning, as skirts are the new texture playground.
CAPES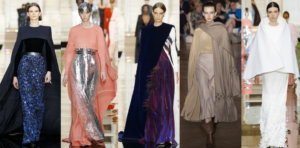 Instant-modesty for any outfit, this layering look has been seen all spring and summer, showing no signs of stopping. Add a touch of fairy tale whimsy and practical cold-blocking with a cape.
BOLD COLOR

Wearing black may be an Orthodox Jewish tradition, but that doesn't mean a bit of flair is off limits. Try a dress in a signature shade or amp up your usual go-to tone.
If you found this content meaningful and want to help further our mission through our Keter, Makom, and Tikun branches, please consider becoming a Change Maker today.