It's the Nine Days, when simple, nutritious dairy and parve foods take center stage. Don't go cooking all the starchy foods – try different fish recipes, quinoa, spaghetti squashes and more! Lots of great healthy and easy recipes can be found in both of my Silver Platter cookbooks.
xo,
Daniella
SPINACH CHEESE BITES
dairy, Passover option, gluten-free option, freezes well, yields about 18
These delicious cheese balls are packed with flavor (and iron-rich greens, too!) and pair with just about everything. A cheesy alternative to toast, serve these with eggs for breakfast. They also make a hearty addition to tossed salads at lunch and are a delicious side dish for fish dinners.
Ingredients
1 (10 oz/300 g) pkg frozen spinach, thawed, drained, squeezed dry (see Norene's Notes, below)
⅓ cup melted butter
1 small onion, finely diced
2 eggs
⅓ cup grated Parmesan cheese
½ cup shredded mozzarella cheese
½ tsp garlic powder
1 tsp kosher salt
¼ tsp pepper
1 cup unseasoned panko crumbs (gluten-free or regular)
Method
Line a rimmed baking sheet with parchment paper.
In a large bowl, combine spinach with butter, onion, eggs, cheeses, garlic powder, salt, pepper, and panko. Mix well.
Roll mixture into 1½-inch balls; place onto prepared baking sheet. Refrigerate for 20 minutes, while oven is preheating.
Preheat oven to 350°F. Bake for 25-30 minutes, until golden and piping hot. Serve hot or at room temperature.
Norene's Notes:
Thaw with Ease: A quick way to thaw frozen spinach is to microwave it in a glass bowl, covered, on high power, for 3 minutes.
Variation: Instead of mozzarella, use Swiss or Cheddar cheese. If you like these gooier, then double up on the grated cheese.
Passover Option: Use Passover panko, matzo meal, or cracker crumbs.
Freeze with Ease: Mix and shape in advance, then freeze in a single layer. Transfer to a resealable plastic bag. When needed, bake frozen, adding 3-4 minutes to the baking time.
ASPARAGUS WITH LEMON BUTTER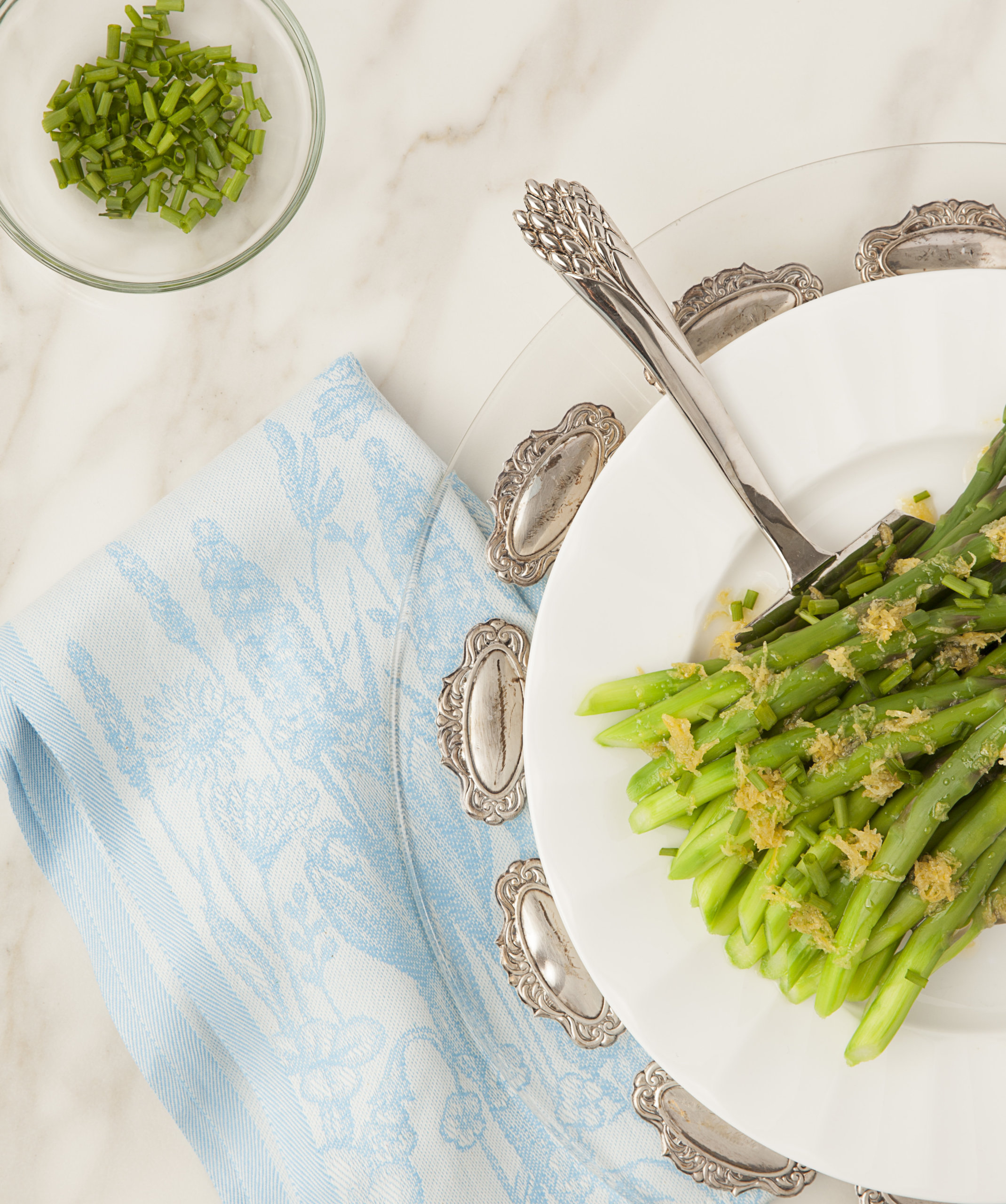 dairy, pareve option, Passover, gluten-free, yields 4 servings
Once you try this dish, you may never want to eat asparagus any other way. Perfectly blanched crispy asparagus spears are tossed in a warm lemon-butter sauce — every bite is heavenly. Simple and elegant, this dish is easy to double for company.
Ingredients
1½ cups lightly salted water (approximately)
1 bunch asparagus (1 lb/500 g) (tough ends snapped off and discarded)
1 Tbsp olive oil
3 Tbsp salted butter (see Norene's Notes, below)
zest and juice of 1 lemon
¼ cup thinly sliced chives
Method
Heat water in a large, deep skillet until bubbling. Add asparagus; cook for 1-2 minutes, until tender-crisp. Drain asparagus; then place into a bowl of ice-cold water for 5 minutes. Pat dry.
Wipe skillet dry with a towel. Add oil, butter, lemon zest, and lemon juice; heat over low heat until butter has melted and sauce is piping hot.
Add asparagus and chives to skillet; toss with the sauce. Serve immediately.
Norene's Notes:
If you prefer to use unsalted butter, add salt to the finished dish.
Pareve Option: Omit butter; increase olive oil to 3 Tbsp. (Note: Butter contains about 20% water, so you don't need to use the same amount of oil.) If desired, stir in 2 cloves of minced garlic along with the asparagus and chives.
CHEESY POTATO LEEK SOUP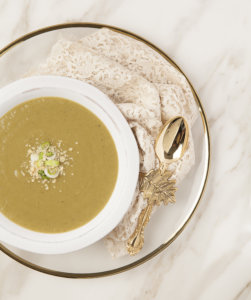 dairy, pareve option, Passover, gluten-free, freezes well, yields 8 servings
Naturally thick and creamy, this potato soup is a perfect any-weather get-together soup. An easy way to enhance its elegance is to garnish each bowl with some sautéed leeks. Serve with a thick-cut slice of toasted French baguette. Bon appetit!
Ingredients
1-2 Tbsp oil (forgotten in recipe)
1 bunch leeks, trimmed and sliced, white and light green parts only (from about 3-4 leeks)
4 cloves garlic, minced (about 2 tsp)
3 stalks celery, trimmed, sliced
6 medium potatoes, peeled, cut into chunks
6-7 cups water or vegetable broth
2 bay leaves
2 tsp kosher salt
freshly ground black pepper
1 cup grated Cheddar or Parmesan cheese, for sprinkling
scallions, thinly sliced, for sprinkling
Method
Heat oil in a large soup pot over medium heat. Add leeks and garlic; sauté for 6-8 minutes, or until softened.
Add celery, potatoes, water, bay leaves, salt, and pepper. The water should just cover the vegetables. Bring to a boil.
Reduce heat. Simmer, partially, covered, for 35-40 minutes, or until potatoes are tender. Stir occasionally. Remove from heat; cool slightly. Discard bay leaves.
Using an immersion blender, process soup until smooth. If soup is too thick, add a little water or broth. Adjust seasonings to taste. Garnish with cheese and scallions in each bowl.
Norene's Notes:
Variations: Instead of potatoes, substitute 4 large sweet potatoes. For a lower carb soup, use half broccoli or cauliflower and half potatoes.
Pareve Option: Omit cheese. Still very delicious!
Potato Leek Soup, a classic French dish also known as Vichyssoise, usually contains cream and milk and is served chilled. The hot version is called Parmentier.
How to Clean Leeks: Trim off most of the green part of each leek. Make 4 lengthwise cuts almost to the root so that each leek resembles a broom. Fill the sink with cold water and swish leeks back and forth to remove any sand or grit. Dry well. Cut off and discard root end.
KRISPIE PEANUT BUTTER TREATS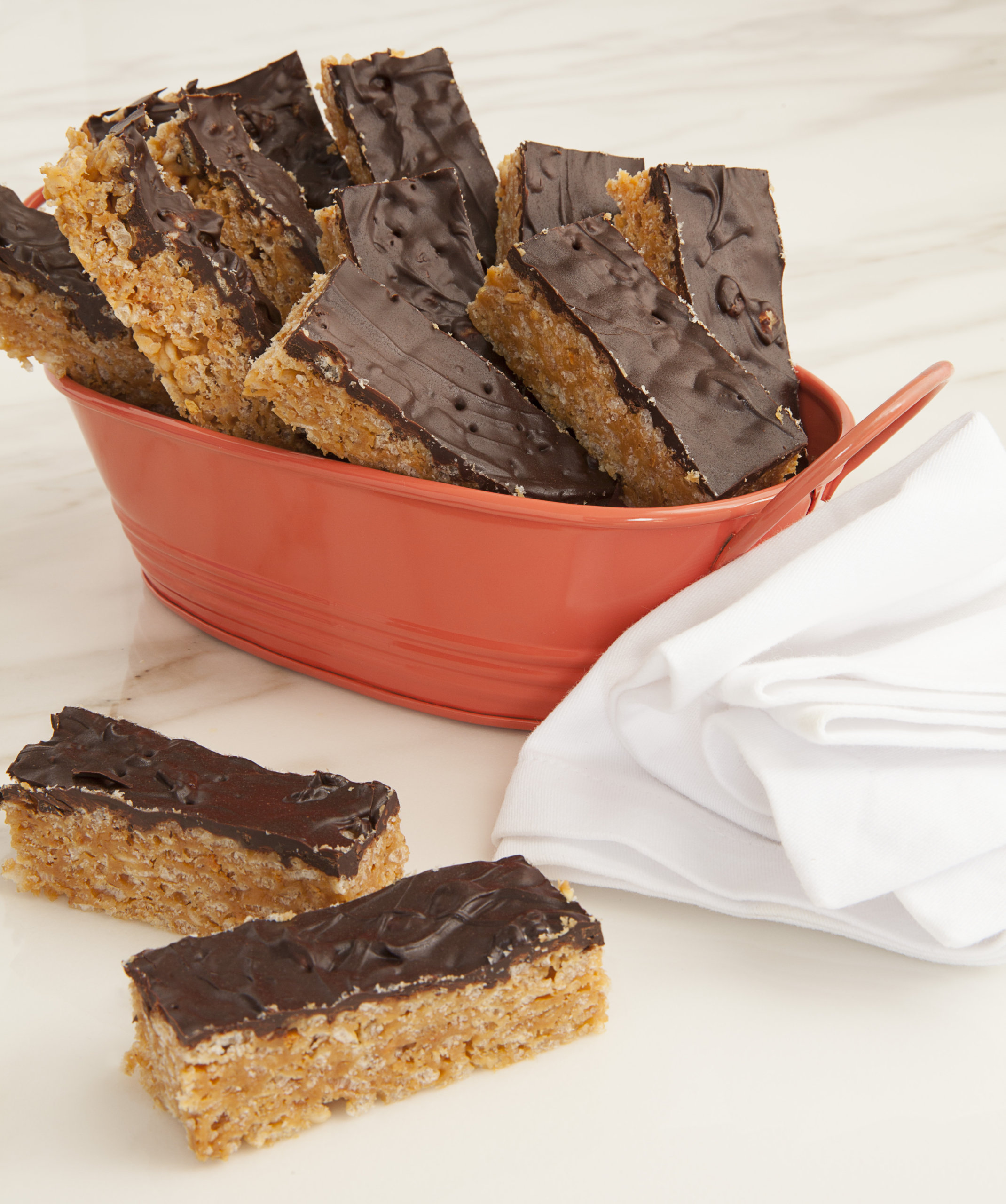 pareve, gluten-free option, freezes well, yields about 2 dozen
From bake sales to birthdays, rice krispie squares are a classic North American treat. I've amplified this simple (and slightly guilty) pleasure by giving it a chocolate bar twist. It comes together in minutes — all you have to do is let the chocolate firm up.
Ingredients
¾ cup honey
1 cup peanut butter or Wow butter
1 tsp pure vanilla extract
1 cup coarsely chopped peanuts (optional)
4 cups rice krispie cereal (gluten-free or regular)
1 cup chocolate chips, melted
Method
Line a 9 x 9-inch baking pan with parchment paper.
Combine honey and peanut butter in a large saucepan over medium-low heat; stir until melted.
Add vanilla and peanuts; mix to combine.
Stir in cereal; mix until combined.
Spoon into prepared pan; spread evenly. Spread with melted chocolate.
Refrigerate for 20 minutes; cut into squares. Store in an airtight container in the fridge or freezer.
Variation: For those with peanut allergies, use any other nut butter. Almond or cashew butter work well.
You can melt chocolate chips in a Pyrex measuring cup in the microwave, but check and stir every 30 seconds, especially if you have a newer microwave oven that is more powerful. Microwave time is 1-2 minutes.
If you found this content meaningful and want to help further our mission through our Keter, Makom, and Tikun branches, please consider becoming a Change Maker today.