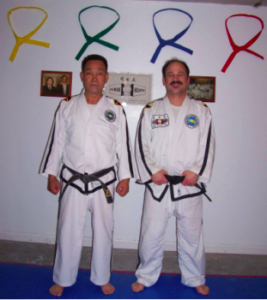 While most people associate Orthodox Jewish men with black hats and suits, for Taekwondo Master, Rich Marinelli, it is his belt which is black. He holds a 6th Dan black belt in Taekwondo, after training with world legends over the last 40 years. How did a nice secular Jewish boy grow up to be an Orthodox Jewish Taekwondo Master?
It all started when Rich Marinelli's parents sent him to Hebrew school at age 7. His home was not particularly observant, and up until that point he had very little Jewish education. His Hebrew School required that he attend Junior Congregation at the local Conservative Synagogue, and young Marinelli found himself falling for spirituality. He became more religious as he got older, as best as a young person living in a secular home could manage, and by the age of 15, he was fully observant.
What Marinelli found most appealing were the songs sung during davening. The shul he attended incorporated a great deal of music, and he felt that it allowed everyone to work together as a team in order to connect to Hashem and pray for the needs of the Jewish community.
It was through the Jewish community that ultimately led him to study Taekwondo. "When I was 10 years old, a Korean man came and taught Taekwondo every Sunday night to our youth group." But it wasn't until Marinelli had an opportunity to study from the founder of Taekwondo himself for two weeks in Montreal, that he really felt fully connected to the martial art.
For Marinelli and his six children (who are all trained in Taekwondo), this martial art isn't just permitted by halacha, it enhances his Judaism. It's well-established that the body needs a balance of physical, spiritual, and mental health in order to be fully cognizant during prayer and study. "A healthy body is a healthy mind," as the saying goes. Marinelli sees explicit connections to self-defense in Jewish texts as well, like the verse in Tehillim (Psalm 144) which says, "Who trains my hands for battle, my fingers for war," in which King David is offering a prayer of thanks for the gifts of self defense, both for himself and the Jewish people.
Marinelli wanted to share his passion for this martial art with the rest of the Jewish community and has taught Taekwondo for over twenty years both in Israel and the U.S. He and his son Mickey, who holds a 4th Dan black belt in Taekwondo, co-teach at their studio, Human Weapon Taekwondo, serving the Monsey and Teaneck Jewish communities. Their students range from modern Orthodox to hasidic. The schools offers both separate men's and women's classes, so all religious levels can feel comfortable. They even have  a female instructor, Rachel Katz, who is a 3rd-degree black belt.
The father and son team believe that Taekwondo teaches more than just basic martial arts. "It trains you to multitask," explains Mickey, "So if someone is struggling with focusing at school, it can help." The father and son duo also detailed that organized expressions of physical activity help to keep things under control. Unlike recess, where kids are permitted to scream and run wild, Taekwondo provides a more structured approach.
All of these can be applied while studying Torah. The study of the Torah requires, at times, intense concentration which can be difficult to maintain for extended periods of time. Practicing other types of self-control through an activity such as Taekwondo can help individuals get more out of their study sessions. Both father and son pointed out that it isn't just their observations, but that parents have called, sometimes years later, to tell them that the training their children received help them to better concentrate at school.
If you found this content meaningful and want to help further our mission through our Keter, Makom, and Tikun branches, please consider becoming a Change Maker today.