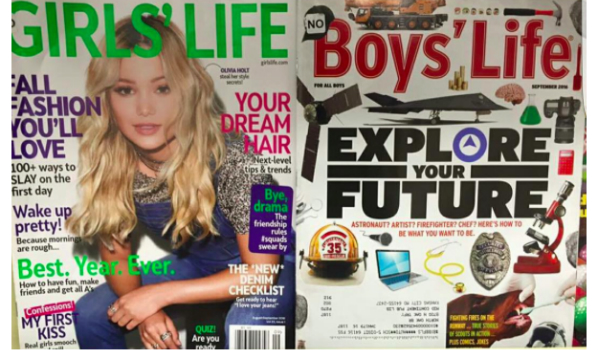 There is a viral internet conversation about gender equality happening right now which has been shared by celebs like Katie Holmes, Blake Lively, and Amy Schumer and media outlets including: Yahoo, Today.com, Us Weekly, Daily Telegraph, Huffington Post and Refinery 29. The post, which is noteworthy in its own right, is even more fascinating when you know more about the individual who sparked the firestorm – she's an Orthodox Jewish mother of five.
Shoshana Keats-Jaskoll didn't realize the stir she was about to cause on September 1 when she shared two images that Matt Frye had posted on Facebook comparing the covers of Girl's Life and Boy's Life magazines along with an open letter she penned to the publishers of Girls' Life. Keats-Jaskoll wrote,"Your cover has a lovely young lady with a full face of makeup and you invite your readers to 'steal her secrets. The Boys' Life cover has in bold letters: Explore Your Future surrounded by all kinds of awesome gear for different professions — doctor, explorer, pilot, chemist, engineer, etc., subheading — Here's How to Be What You Want to Be." Keats-Jaskoll wanted to know, "Could there possibly be two more divergent messages?" Within the first twenty-four hours, her post was shared four thousand times.
In the weeks that followed, Keats-Jaskoll's message garnered more and more social media and traditional media attention, but when Amy Schumer shared the post on Instagram last week with the simple caption "No," the number of people who joined the conversation reached stratospheric proportions.
For Keats-Jaskoll, who is one of three girls, feminism was not a word they used growing up, it was just expectation that boys and girls would be treated equally. In her hometown of Lakewood, New Jersey, both of her parents worked and both of her parents took turns making dinner and folding laundry. Though Keats-Jaskoll was not always fully observant, she did grow up in a kosher home, going to Jewish day school and spent plenty of time with her Orthodox relatives.
As the granddaughter of Holocaust survivors, Keats-Jaskoll was raised with the idea that when people are silent bystanders, the worst atrocities can occur. Empowered to be a doer, at eighteen she chose to embrace her Jewish faith in a more committed way and became an Orthodox Jew. She continues to live by the "never be a silent bystander" approach.
That's why Keats-Jaskoll is known to speak out against extremism in the Jewish world, including the trend in parts of the ultra-Charedi world to erase women's pictures and even their names from publications. On the other side of extremism towards women is the way parts of the secular world speak to and treat women as evidenced by these divergent magazine covers.
When asked why her post struck such a nerve with people, Jaskoll-Keats says, "When people are surrounded by something long enough it becomes normal." Because Keats-Jaskoll lives in a moderate religious community in Israel where women are not objectified like this, seeing such double standards was shocking, so she took the opportunity to speak out against it. She hopes this conversation that she started will only be the beginning and that as a society, we'll consider how much we talk to girls about their appearance and make it less of a focus.
As to her own appearance and dress, Keats-Jaskoll says that while she would never tell another woman what to wear, dressing modestly is important to her. It means dressing in a  way that makes you look and feel good, but that doesn't make the focus your appearance. Balance is key, but Keats-Jaskoll hopes that what people will always notice first about her are her thoughts and ideas.
If you found this content meaningful and want to help further our mission through our Keter, Makom, and Tikun branches, please consider becoming a Change Maker today.