---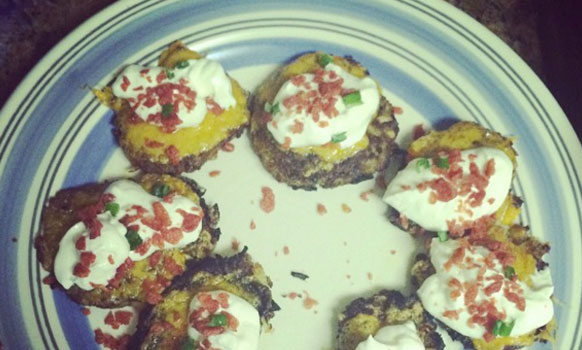 Loaded "Potato Skins" Latke Recipe
As Chanukah shines on and you begin to have latke ennui or at least latke leftovers, here's a fun way to mix things up. Whip up a batch of loaded "potato skins" latkes. Loaded potato skins are a throwback from my non-kosher days: crispy potato skins topped with melted cheddar cheese, a dollop of sour cream and garnished with Bacon Bits and chives. If you think that it's tref for a kosher gal to longingly remember her favorite non-kosher foods, Maimonides tells us that we should not say, "I don't want to eat meat and milk, I don't want to wear shaatnez, and I do not want to have illicit relations." Rather he should say, "I want to do these things but what can I do when my Father in Heaven has forbidden me from doing so?" Fortunately, the Talmud tells us "for everything forbidden, something similar is permitted." (Chulin 109b). And Bacon Bits are a great stand in for the non-kosher version.
Ingredients:
your favorite latke recipe -mine is Susie Fishbein's Kosher By Design recipe (scroll down for recipe)*
cheddar cheese to taste
sour cream
Bacon Bits
two fresh chives (or scallions) finally chopped
Directions:
On a tin foil lined baking sheet, arrange latkes and sprinkle on cheddar cheese to taste. (I recommend a LOT). Place under the broiler and broil until the cheese is melted and bubbling, about 4 to 5 minutes. Remove from broiler and top each latke with 1 tablespoon of sour cream and a sprinkling of Bacon Bits and chives. Serve immediately.
*Kosher By Design Latke Recipe
Want more great content like this delivered to your inbox? Sign up for our weekly newsletter here: