Dalia Stelzer, a young modern Orthodox mother living in Teaneck, New Jersey discovered something troubling shortly after her first child was born. Year after year as her child grew, clothing that was once loved would go unworn. She knew there had to be many more people with the same problem: changing seasons and growing kids leading to accumulations of unused wardrobes. Dalia was also aware that there were families in her community who struggled to afford to clothe their children. Having grown up observant, attending yeshiva schools her whole life, Dalia was raised to value acts of loving-kindness and avoid wasting. So four and a half years ago she and her friend, Chana Shields, decided they would find a way to turn one family's excess into a needy family's hope.
They put out a message to their neighborhood, asking anyone who had a surplus of children's clothing to donate. They weren't sure if they'd have to charge or would need to limit the number of clothes per family. Much to their delight, those questions quickly became moot as the community flooded them with a huge stock of beautiful wares. With the donated ballroom of their local Orthodox synagogue (Keter Torah), the two women created a shopping experience like an actual children's clothing store, but without registers.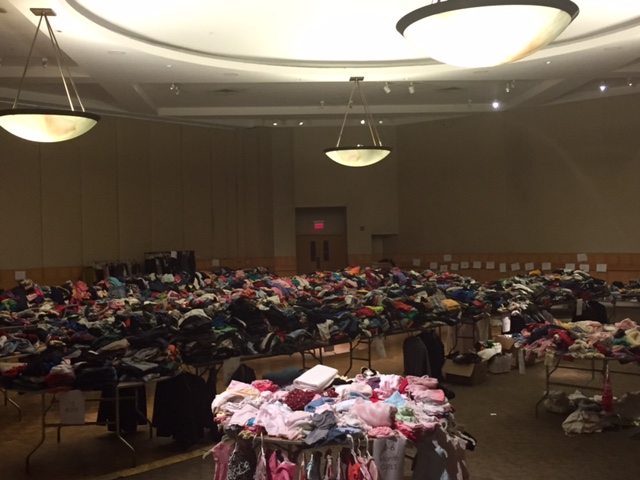 To make shoppers feel as comfortable and dignified as possible, they set up an online sign-up system where each "customer" would use only her initials and indicate whether she would like to shop with others or preferred a private shopping experience. Private shoppers would get the store all to themselves save for a single volunteer. How did these efforts help those who were struggling? As one woman wrote: "It was our first time. We got whatever we needed, many clothes in great conditions. It was a blessing."
This past year (the fourth year) they set up a rummage sale on the last day that was open to the public. Every item cost just one dollar. This allowed for even more people who needed help, but wouldn't consider accepting charity, feel comfortable shopping at the drive.
While the drive and rummage sale distributed around two hundred Costco-sized garbage bags worth of clothing to families in need (they never kept track of how exactly many individuals came through), a staggering one hundred fifty bags of clothing lay unclaimed after both events! These extra clothes were sent through Yad Leah to Israel and to the Vietnam Veterans of America.
Just when they thought their work was done this past year, something unexpected happened: a woman visiting from Houston, which was ravaged by massive floods before the summer, wished out loud that the clothing drive could help her community back home. While all the regular clothing had been distributed or earmarked for distribution, Dalia and Chana, once again not knowing how it would come together, decided to take on the task.
A large number of school uniforms had been donated by the Yeshivat Noam uniform gemach as well as Brooklyn's clothing store. There was just one small problem. The entire project had been accomplished with no funds and there was no budget for shipping. The two posted a request on the Orthodox Jewish synagogue list serve of Teaneck and within hours, offers to help started pouring in. First a man, who goes to Houston for work regularly, graciously agreed to bring back duffles with him on each trip. But then a couple, Zev and Sarah Schreiber emailed next and offered to have UPS pick up all twenty boxes and ship them. Houston had the uniforms within a few days of the original wish!
This clothing drive was hosted in an Orthodox shul in Houston and was opened up to Jews and non-Jews alike. What type of feedback came from this event?
There were tears of joy when people stepped into the uniform room during our clothing, uniform, underwear, school supply and household item giveaway this Sunday.
There were so many families of all backgrounds who cried because they were able to send their children back to school with NEW uniforms!!  They were stunned and the children were excited!  I heard "Momma –  I can have a new shirt and skirt for my first day of school??" Along with their new undies from Undies for Everyone, these kids were feeling proud.
 The Jewish Community is amazing. I am so thankful for what the entire Jewish Community has done for the entire affected community.
I cannot thank you and your community enough for donating and shipping all the uniforms and clothing.  Helping to get these families whole again, at least for school, was an incredible experience. Tikkun Olam at its very best and a great way to start Elul.  🙂
Whether it's the families going through a rough patch, or those enduring long-lasting financial hardships who count on the drive to get them from year to year, with a big dream, some hard work, and a team of committed volunteers, two women have changed, and will continue to change, the lives of countless people all around the world.
If you found this content meaningful and want to help further our mission through our Keter, Makom, and Tikun branches, please consider becoming a Change Maker today.