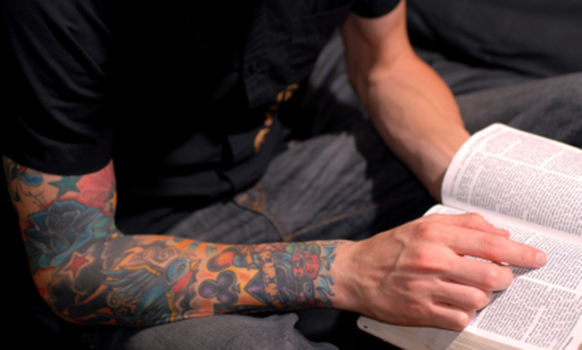 Dear Jew in the City,
I am 17 years of age and like some teens, I currently have an interest in tattoos. I know under Jewish law it is forbidden to get one, but how did this come to be and why?
Thanks,
Katie
Dear Katie:
Thank you for your question. Tattooing is specifically prohibited by the Torah (Leviticus 19:28), so the reason, ultimately, is because G-d said so. Our job is to try to understand the underlying rationale and the lessons we can derive from this mitzvah.
My understanding of this mitzvah is that it is based on the idea that we are not our bodies. We are our souls; our bodies are just vehicles that G-d gave us to get around. And, just like when you borrow a car, you have to take care of the loaner vehicle.
When you borrow a car, you fill the tires, change the oil, fill up the tank. Maybe the car gets a ding here and there, but that's normal wear and tear. You don't give the car back and tell the owner, "Thanks for the use of your car – I had flames painted on it!"
Similarly, we have to take care of our bodies with proper diet and exercise. Sometimes parts of us get damaged and need work or even replacement. But that's no excuse to take bodies that are ultimately not ours and to mark them up with graffiti.
As popular as tattooing is in our society, there's still plenty of tattoo regret. Tattoo removal is a big business. It's expensive and painful and it never looks the same as a never-tattooed patch. Also, there isn't an adult who doesn't look back at pictures from their youth and think, "What was I thinking?" If our judgment regarding fashion and hairstyles seems dubious 20 years later, why should our judgment when it comes to skin art be any better?
There is a persistent myth that a Jew with a tattoo cannot be buried in a Jewish cemetery. This is completely untrue but it underscores how completely taboo tattooing is in traditional Jewish culture. One can easily start (or resume) keeping Shabbos or kosher, but a tattoo is pretty much forever.
Please feel free to get back to me with any questions you may have.
Sincerely yours,
Rabbi Jack Abramowitz
Jack Abramowitz is the JITC Educational Correspondent, the editor of OU Torah, and the author of five books, including The Tzniyus Book and The Taryag Companion.