David Barman didn't intend to go viral on TikTok and Instagram, but that's exactly what happened when the Orthodox Jewish Business Law professor decided to make Zoom classes a little more interesting for his students at Florida International University's College of Business. Barman's use of different backgrounds, coupled with a few timely costume changes over his usual wardrobe of a suit, tie and black velvet kippah have led to students staying invested in the classes, when they would otherwise have tuned out. He says, "Believe me when I tell you, there is a LOT more to being a successful teacher online than merely speaking into a camera."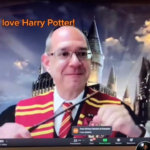 This extra care and thoughtfulness was not lost on his students, who "appreciate his efforts…to make the classes more entertaining for [them.]" For Barman, it's just part of how he is adapting to the new landscape of teaching during COVID.
Barman grew up in Charlotte, North Carolina. "It was a home with much Jewish awareness and could be described as a typical Conservative Jewish household." He became interested in Judaism as an undergrad at UNC Chapel Hill, which led him to the Durham Orthodox Kehilla. "It was a very small place with southern hospitality. I learned to read and understand the Torah portion using a grammar book and dictionary and ultimately used grammar books to learn Talmud (there were no ArtScroll Talmud translations at this time)."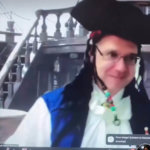 When Barman had become observant enough to decide to start wearing a kippah on the UNC campus, he was called to a meeting with the lay leader of the Durham Kehilla. "Mr. Leon Dworsky, A'H, was a Shomer Shabbat native of Durham, and the heart and soul of the kehilla." Dworsky told Barman, "'You want to wear a kippah? Great! Never forget, you are now the living embodiment for many of what they will know of a Jew. You curse in public, Jews curse. You cut off someone while driving, the Jew cut me off. Wear the kippah, but do not ever forget that not only is Hashem watching you, so is everyone else!'" Barman says, "I always tried to conduct myself by Mr. Dworsky's words."
After attending Yeshiva for a number of years after graduation, Barman began teaching at the university level. While one of his undergraduate degrees is in music performance, his students are now his audience. "Every time I step in front of a class, I remember, I might be the first Orthodox Jew some of the students have ever seen. Even for some Jewish students, they have told me they never met someone Orthodox."
FIU has more than 50,000 students, and while many of the students recognized Barman in his suit and tie on campus, he is now better-recognized as Harry Potter, Mister Rodgers, Captain Jack Sparrow and more. "The material [I teach] is difficult. [When COVID hit,] I started doing a lot of reading about online learning (quickly)." Barman also started receiving many emails with students having pandemic related personal problems, and since he teaches 300-350 students each semester, he knew something needed to be done. "I decided, a "remote" class can be "remote" from just about anywhere. My first "remote" location, using a Zoom virtual background, came from Hogwarts." Barman then got creative, and it evolved into backgrounds, introduction music, and costumes. "We have had class from the bridge of the Millennium Falcon and the Black Pearl; from the living room of Mister Rogers and the living room of Blue's Clues."
The effect was immediate. "I received hundreds of emails from students suffering terrible situations due to Covid, and many of the students tell me, 'The only thing in my entire life that makes me smile is your class.'" This was meaningful to Barman for multiple reasons. "Not only do I view my teaching as a tremendous honor and responsibility, but also I view it as the chance to maybe change the stereotype or prejudice [against Jews] of at least one person."
But Barman's care has extended beyond the reach of his students, as they reposted recordings of his classes to Instagram and Tik Tok. With over 200,000 Instagram views and 600,000 TikTok ones, his reach is beyond what he thought was possible.
Barman had no idea how much he reached his students until this past November, when his father passed away from Covid. "When I logged on for class, two hours after he passed, with no music or costume, I told them my Dad had died and I couldn't deliver the class that they deserved. I told them that I would be in touch by email, and logged off." Barman received more than 1000 emails from current and past students, extending their condolences.
"I do not know how many recognize me as Orthodox," Barman says. "It is blessing from Hashem that I have found this career path. It does not matter if I am online or in the classroom. I remember the kippah on my head and the responsibility that goes with wearing it." For Barman's students, they will remember how much he cared.
If you found this content meaningful and want to help further our mission through our Keter, Makom, and Tikun branches, please consider becoming a Change Maker today.
If you found this content meaningful and want to help further our mission through our Keter, Makom, and Tikun branches, please consider becoming a Change Maker today.