---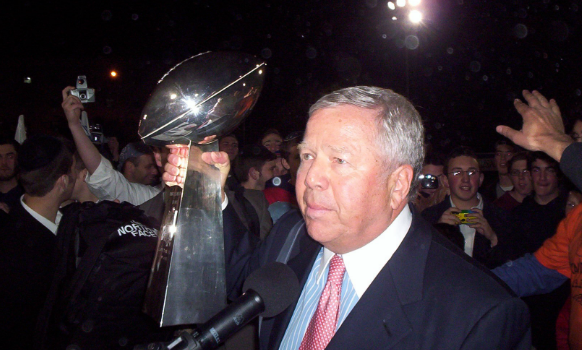 When Robert Kraft's Words Of Torah Changed My Life
Football has always been my favorite sport because of how much it requires of the player both physically and mentally, but I never dreamed that it would one day impact me spiritually. In 2004, when I spent the year studying in yeshiva in Jerusalem, on Saturday nights, I would play flag football in the American Football Israel (AFI) league. Many of those games were played in Kraft Stadium, located near the Malcha Mall. When I first started playing, I was told that the NFL's New England Patriots' owner Robert Kraft, had donated the field. I thought it was a cute story but did not really believe it. Then when the Patriots went to the Super Bowl, the rumor was that Robert Kraft would renovate the field if they won. It all sounded made up, so I thought nothing of it.
When the New England Patriots defeated the Philadelphia Eagles 24-21 to win Super Bowl XXXIX, something remarkable happened. A little more than a week later, Kraft Stadium closed for renovations. An AFI All-Star game was scheduled to take place and double as a grand re-opening of the Stadium that spring. When the big day arrived, a few hundred students, league staff, and family showed up to see the stadium with fresh new AstroTurf fields and upgraded seating. Of course, there was a new, beautiful Patriots Logo in the middle of the field. But the craziest sight was when Robert Kraft himself showed up with an entourage of players and staff from the Patriots organization, and Robert Kraft got up to address the dumbfounded and amazed crowd.
He began by declaring it no coincidence that the Patriots won 3 Super Bowls in 4 years since he donated the stadium. He was proud of all the support he could give to the State of Israel and especially to athletic future of the people of Israel. He finished by stating, "I love Israel, I love America, and I love football!" All of us students felt the immediate rush of patriotism for both America and Israel and the euphoric feeling of being part of something bigger than ourselves. We were already on an incredible high, but then Robert Kraft took the inspiration to the next level.
There was a bag in front of him, a gym bag. We assumed it had footballs that he would throw out to begin the All Star game. Instead, Mr. Kraft opened the bag, reached inside, and pulled out the Vince Lombardi Trophy! The pinnacle of American sports and arguably American achievement. Like flies to a bright light, we arose from our seats and mobbed him trying to get one hand on the idol of our adolescence, for when else would we ever have the chance to connect with that glorious trophy? As he held the American Dream high above his head in his right hand, Robert Kraft said the most surprising thing:
"אם אשכחך ירושלים, תשכח ימיני!", "if I forget Jerusalem, let my right hand be lost.."
Hundreds of us stood there entranced, filled with awe. We had been so distracted by allure of something so materialistic, yet here was Robert Kraft reciting those famous words from Psalms, reminding us that we are nothing without our faith. With one verse, Robert Kraft gave the single most inspiring speech I have heard in my life. Here was a guy that had the complete package – wealth, fame, success, but in the midst of it all, he reminded us publicly that the only thing that matters is our heritage and our tradition and our glorious homeland. Everything else, including the mountaintop on which he stood holding the Lombardi Trophy, paled in comparison. If we ever had a doubt about what we might want to chase after in life Mr. Kraft put those doubts to bed. Our mission as Jews, is the greatest most fruitful endeavor anyone could dream of.
Want more great content like this delivered to your inbox? Sign up for our weekly newsletter here: