---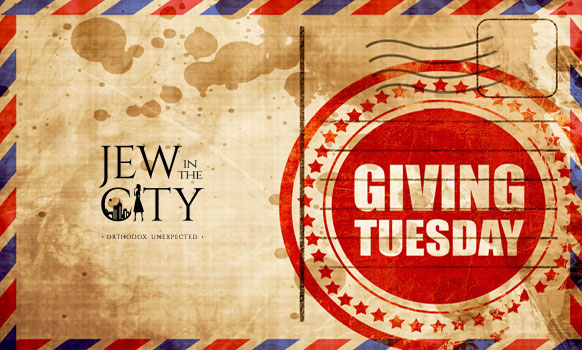 Giving Tuesday at Jew in the City and Project Makom
After years of increasingly turbulent Black Fridays, Cyber Monday was instituted as a way to extend sales into the following week and for websites to get in on the spending of the holiday season. But since 2012, this trend turned benevolent with the advent of Giving Tuesday, a global day of giving fueled by social media and collaboration – which falls out on today, Tuesday November 29th. Last year, over $116 million was raised towards charities, as spenders around the world turned their attention on worthwhile causes.
At Jew in the City and Project Makom, we rely on donations to be able to bring the world funny and meaningful content  which breaks down myths and stereotypes about Orthodox Jews and Judaism not only to people from outside the community, but also to people from within. In fact, JITC's approach to explaining Orthodoxy is so unique and compelling, Project Makom (which helps former and questioning charedi Jews find their place in Orthodoxy) organically grew out of it, as people who were unhappy with the Judaism they were raised with came to us looking for a chance to reconnect.
As our organization continues to grow in terms of staff, content, and programming, now more than ever, we need your support. What exactly does funny, meaningful content which breaks down stereotypes about Orthodox Jews and Judaism do for the world? Scroll down to see just a handful of the tens of thousands of lives we're touching, then click here to make a tax deductible donation. Please share this post with anyone who has or could enjoy our videos, articles, events, services and more…we are relying on you to help make it happen!
All the best,
Allison and the Entire JITC Team
"A year or two ago you had a post on Buzzfeed that I accidentally stumbled upon in my search for Gd. I…looked into JITC and Judaism with the intention of finding out why this WASN'T the religion for me. To my surprise, all I learned was why Judaism was beautiful, brilliant, and exactly what I needed. This past Friday, I completed the conversion requirements, impressed the Bet Din, and immersed in the mikvah to become a "certified Jew". How do I describe the feeling? I am now working as a rabbi's educational assistant and embracing my faith with a devotion I didn't know was possible. This is largely due to YOU appearing on my computer that day and I can't thank you enough for helping me find a purpose my life had always been lacking." Shira
"Thank you for your videos. They are fantastic. I went to the synagogue for the first time in my life last evening for Shabbat, and it was fantastic. I'm going to continue to go, and practice the faith of my forefathers. Thank you for educating me and making me laugh with your videos!" -R.M.
"I'm the guy who (anonymously) donated $1,000 yesterday. Just wanted to tell you why. I am an FFB with a full yeshiva background. It has bothered me terribly the horrible stories and comments about Orthodox Jews online…even though I know the commenters are generally trolls and I shouldn't be reading it or letting it bother me, it has regretfully taken a real toll on my personal relationship with Judaism. I didn't sign on to be a target of mockers and the butt of jokes, nobody told me that this was part of being a Jew. We're supposed to be "a light unto the nations," not a disgrace. Therefore, your campaign to raise awareness to the general public of the positive news stories of Orthodox Jews is especially meaningful to me. I hope you have continued success with your mission. Orthodox Jewry needs a Public Relations director and you stepped up." –A.S.
I'm fifteen years old and about 6 months ago I was online and I was searching along the lines of what Judaism is about. I was raised reform so I knew nothing really about Judaism. Anyways, I came across JITC thanks to Hashem, and I stayed up all night watched all of them went on your website, etc. I was starting to get really interested in our faith and realized how extremely beautiful it is and how finding G-d can change your life. I just started on my spiritual journey, and my life has changed so much. I go to a secular school, live in a non-kosher home, I keep shabbos by myself, been starting to dress modestly. My family is noticing a change and I think they think I am someone who is weird and has lost their mind, when really I am just a girl who is finally happy because I found purpose to life. Thank you for all you do, its amazing.
-Sarah
Being off the derech (having left the fold) I have my own issues with orthodoxy, but I very much appreciate what you are doing… just wanted you to know even our OTD community thinks youre pretty great I'll be honest, there have been posts that made me rethink my inobservance.-R.S.
"I am so happy I found JITC, not only is it hilarious, it has also sincerely strengthened the relationship between me and my mother. I have recently become observant. Its been difficult to explain to my parents why I love Judaism & why I choose to follow certain laws now, however, JITC has been a great medium of explaining the Jewish faith that we never truly understood. JITC, you're doing a great mitzvah!" -Will
"I live near a large Hasidic Jewish community and have had a lot of questions and misjudgments about them. I just love watching your videos because they help answer my questions! God bless!" -Molly
"I am a 21 year old, Christian girl, from Canada. I just wanted to thank you for writing such wonderful articles! I enjoy reading about your devotion and commitment to your faith! I may not be Jewish, but seeing your faith has encouraged me in areas of modesty, reverence, and boldness in my own faith journey. God Bless" -Rachel
"JITC gave me chizuk because the videos and the way you describe yiddishkeit is so clear and beautiful! The way you explain it is unbelievable because a frum yid can understand it at the same time a Yid that has no connection can also. And even as a frum Jew I needed to hear about our beautiful religion and I have never heard anyone do a better job than JITC." – Yaakov
"You're right! Non-Orthodox Jews (Reform Judaism) like me hear all sorts of bizarre stereotypical jokes about the Orthodox – but lately I've been leaning in your direction. Thanks for the informative website." – Samuel
Want more great content like this delivered to your inbox? Sign up for our weekly newsletter here: