---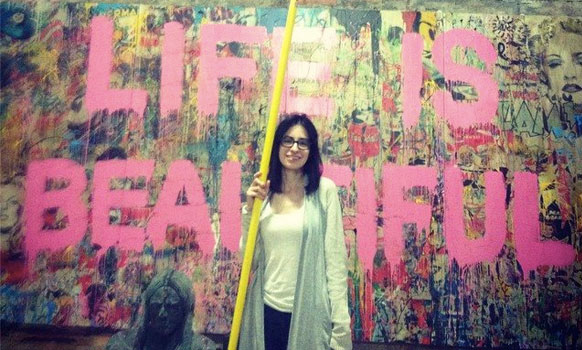 The Kindness of Strangers After Faigy Mayer's Suicide
Late Monday night, a 30 year old ex-Chasidic woman named Faigy Mayer tragically jumped to her death off a rooftop bar in midtown Manhattan. I didn't know of Faigy until I read the horrible news yesterday morning, but we share some common friends. From what I've heard, she was kind and compassionate, creative and entrepreneurial – my kind of gal.
There is lots of talk about the anguish that caused Faigy to take her life. (Some of my ex-Chasidic friends have surprisingly expressed extreme frustration with the way the Charedi community is being solely blamed for this, and these are NOT fans of the Charedi community.) But there is nothing good which can come out of conjecturing about a stranger's most personal struggles, so we need to move this conversation away from one woman and figure out what we as a community can do to alleviate the types of pain that could push any person to such desperation. What these awful suicides coming out of the ex-Chasidic community seem to show – this is the seventh one in recent years – is that there is a mixture of factors which could cause such distress, ranging from mental illness, to feelings of isolation, to community backlash. I believe we are making strides on all fronts, but we must do more.
We at Jew in the City are trying to do our part to fill the void in an area that we heard exists with Project Makom. Project Makom is an initiative to help former and questioning Charedim find their place in Orthodoxy and came about because people in this exact position told us they were feeling unwelcomed as they tried to explore other parts of the Orthodox world after leaving their Charedi community of origin. They came to us specifically because the type of Orthodoxy we publicize appealed to them. Project Makom is not only about religion though – we are offering support for secular education, career advice, friendship, and general support.
It is uplifting to see how many of our fans here at Jew in the City are aching to be part of the solution and to be there before the next Faigy, Rivky or Shloimie is pushed too far. You are writing in asking how you can help, and so if you are available to learn Jewish or secular subjects over the phone or in person, or open up your home and heart, or simply fund the programming we are putting together, please fill out this form.
As we are a religious organization, the one thing we are not touching is serious mental health issues as we do not believe a person who is emotionally unstable should be exploring religion. When one of our Orthodox readers heard that we are not offering mental health support, he sent us an incredible message:
I am not a wealthy person by any means, but if your organization identifies someone in this class who needs help of this nature, I will pay for 1-2 emergency sessions with an appropriate mental health professional. I understand and appreciate that Project Makom cannot and is not equipped to deal with mental health issues–but it might be where someone ends up that is in need of help. I hope to be of help, and hope even more that this assistance is never needed. With best wishes for your continued success.
I think I can speak for many people when I say "We are so sorry we failed you, Faigy. But we thank you for helping us get just a little bit closer as a community to the kind of kindness and compassion that you stood for. May your memory be for a blessing."
Want more great content like this delivered to your inbox? Sign up for our weekly newsletter here: