---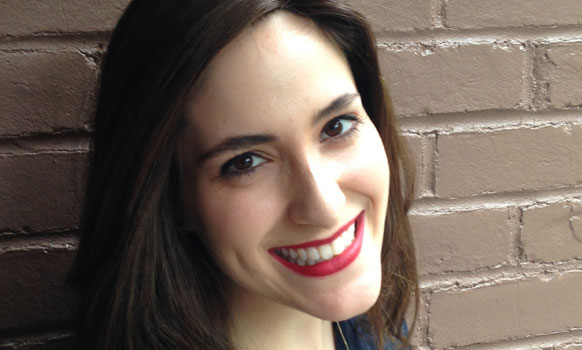 Meet Our New Hire & Here's Your Chance to be Featured on JITC!
Hi! My name is Rikki Katz. I grew up in Chicago, the second oldest of six and currently live in Riverdale with my husband and nine month old son. As a kid, I was your standard goody-goody who enjoyed school and was hardly ever embarrassed by my parents. I was lucky enough to go to religious schools all my life, but one of my formative moments in Judaism came at 11 years old when I went away to camp. My best friend, Jamie, was going to a sleep-away camp where she had to wear skirts and knee socks every day. While that idea didn't quite appeal to me, spending the summer away from my best friend was even less appealing, so the two of us stocked up on white cotton knee socks and Old Navy stretchy skirts. It was worth it. Summer camp was great and the clothes weren't so bad. Granted, I ditched the knee socks, but the skirts stayed. The decision was natural and somewhat easy for me, being that I had just bought a whole new wardrobe, but when my mom saw I was going to dress this way full time, she decided to do it too. My mom's ability and willingness to change is something I have always admired, and is one of my favorite things about being a Jew. I'm happy to always be moving forward and feel like Jew in the City is giving me my next big step.
I'm proud to be part of an organization that knows who they are and what they stand for. I feel privileged to be part of a team that produces quality Torah content that is as fun as it is factual. I'm happy to get to represent a brand that is so true to who I am. In what other line of work would my skill of "talking to the guy sitting next to me on the plane about shomer negiyah" be considered valuable? As director of marketing and operations, I look forward to executing new and exciting marketing campaigns, working with and overseeing our dedicated interns and volunteers, and hopefully getting to screen and edit submissions from you, our readers! On that note…
Call for Submissions!
Did you ever dream of contributing content for Jew in the City? Well now's your chance! We're looking for original content (from our JITC fans and readers) that captures our brand. Did you experience something that broke down a religious stereotype or taught you an unexpected Torah lesson? Can you explain a hard to understand mitzvah in a meaningful way? Do you have ideas or stories that highlight a Kiddush Hashem or showcase Orthodoxy in a unexpected manner? Are you known for funny Tumblr gifs or do you have a hilarious Jewish-themed quiz you'd love to create? Do you have a story about how you incorporate halacha into fitness, fashion or your career? Written essays should be from 500-1000 words and should be told in your voice…with a little added humor and nuance. E-mail your submission to me at rikki@jewinthecity.com for a chance to be featured on our website.
Want more great content like this delivered to your inbox? Sign up for our weekly newsletter here: