---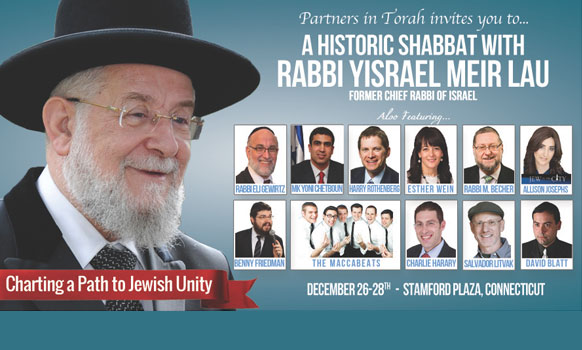 "Rabbi Eli Gewirtz of Partners in Torah ," Ep. 7 JITC Speaks
Listen to the full radio interview above or here.
Rabbi Eli Gewirtz is the Founder and Director of Partners in Torah, an organization which connects Jews of different denominations through the medium of Torah study. Individuals are matched up and provided with personal partners via phone, Skype, or in person, where they can learn about any aspect of Judaism that interests them. "Jew in the City Speaks" Host, Allison Josephs, has a history with Partners in Torah, having worked for them fresh out of college and having sent her curious parents their way after she became more observant.
Rabbi Gewirtz explains that Partners in Torah evolved over a long period of time. What began in Twin Rivers, New Jersey, as a small chavrusa program in the shul where he was the rabbi, steadily grew into a national outreach organization. Back in the 80's, Rabbi Gewirtz launched an initiative to bring together the less knowledgable members of his shul with those who were more versed in Torah. At first, people were driven in from Lakewood to be partnered with members of the shul. Eventually a few vans turned into two full busloads of people, the project gaining momentum and proving to be a great success. A few years later, Rabbi Gewirtz set up a program with a similar framework under the auspices of Torah U'Mesorah (the national day school organization), which eventually was named "Partners in Torah."
What started out as a small initiative in one shul has reached over 62,000 people to date and is active in thirteen hundred cities. Though it used to be a strictly face-to-face set up, it now pairs chavrusas via phone or Skype. The upgrade is owed to an Alaskan man who called Partners in Torah many years ago seeking a mentor. After discovering that the man's nearest Jewish community was 100 miles from his home town of Ketchikan, Rabbi Gewirtz suggested setting up phone conferences with a partner in Elizabeth, New Jersey. Back in the era before Skype and cells Rabbi Gewirtz was careful to reimburse the participants. However, this Alaskan call didn't remain an isolated event, and as it kept reoccurring, it became clear that Partners in Torah was having a lot of impact. "I think we have an opportunity here to make Partners in Torah accessible to Jews all over the world," Rabbi Gewirtz  recalls thinking.
Partners in Torah upholds a mission for Jewish unity. Like Jew in the City, it seeks to create a safe space to dialogue and break down stereotypes. "It's a two way street, breaking down misperceptions," Rabbi Gewirtz says, "The stereotypes exist in both the less observant communities and the strictly observant communities. People believe that they cannot relate to more observant Jews, and Orthodox Jews believe that about secular people." The communities often find it difficult to believe that there can be any similarities between the two communities and stubbornly insist that their value systems are at odds.  Partners in Torah combats this by matching  people from all along the spectrum, nurturing the relationship between the study pair until it is strong. Often, the bonds that form are almost communal and familial, partners supporting one another and attending each other's simchas. Students often become mentors, and many go on to do wonderful things for the community.
When asked about partnerships that stuck out, Rabbi Gewirtz recalls that years ago a man who was learning through Partners in Torah decided he wanted to start sending his kids to Jewish day school. When he approached his wife with the idea, she was dead set against it. Feeling torn between his desires and his wife's, he approached his Partner in Torah mentor, looking for advice. His mentor explained that while Jewish education is very important, shalom bayis (peace in the home) is one of the greatest priorities in Judaism, and that if his wife didn't want day school, the husband should drop it. When the husband reported his mentor's advice to his wife, she was so touched by the idea that peace in the home was such a central tenant in Judaism she decided that SHE wanted her children to go to day school to learn more about their Jewish heritage.
Partners in Torah will be hosting a major event at the Stamford Plaza Hotel in Stamford, Connecticut honoring Allison Josephs (aka Jew in the City) and her Partner in Torah Mayim Bialik – who have been named "Partners of the Decade." Celebrate with them at this shabbaton, taking place December 26th- 28th, with incredible programming and inspirational speakers including Allison Josephs, Rabbi Yisrael Meir Lau, former Chief Rabbi of Israel, and Yoni Shedbun, Israeli Member of Knesset and more. The Maccabeats and Benny Friedman will be performing throughout the weekend.
Want more great content like this delivered to your inbox? Sign up for our weekly newsletter here: