---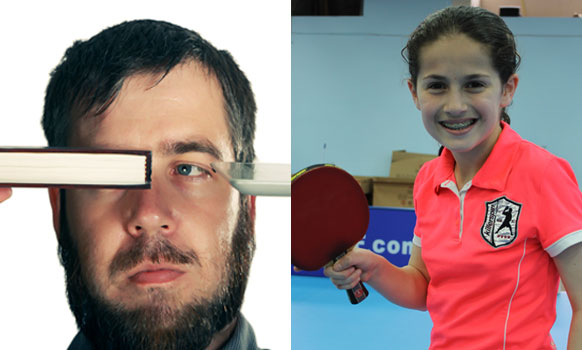 "Kosher App & Orthodox Ping Pong Star," JITC Speaks Ep.3
Listen to the full radio interview above or here.

Misha Beshkin is the creator of the popular application "Isitkosher?" aimed at helping the confounded consumer when they're in a kosher quandary at the supermarket. The application, available on the Android or iPhone, can scan over fifty databases in over thirty-five countries to verify the validity of a kosher hechsher on all products and items. Useful on an international scope, the app innovatively includes all the big kosher authorities, and is constantly updated or notified for changes. "Isitkosher?" is just the most recent Jewish related web software Beshkin has developed, alongside "Simple Luach," a Jewish calendar for your phone that lists all holidays, zmanim and can even tell you where the nearest minyan is.

Beshkin arrived at the idea for the mobile application when one of his friends decided to keep kosher, and frequently called him up, requesting that he check all the European kosher lists online in order to determine a food product's kosher status.  Based in Tallinn, Estonia, Beshkin admits that, "Kosher food is not easy to come by [here], like it is in the States or Israel." Feeling like a "call person at a call center," Beshkin used to hold the line with many curious callers and search through the European kosher lists on their behalf. As a self-taught web developer, Beshkin saw an opportunity for a far-reaching solution, creating "KosherDev," Jewish related software which included small plug ins and web solutions. The "Simple Luach" app, which began as a convenient tool for himself, had become so popular, that Beshkin decided to develop a kosher app to facilitate the kashrut dilemmas of Tallinn's growing Jewish community.  The app is now being used in countries across the world, even in places like Kuwait and Saudi Arabia, where Jewish servicemen are stationed in army bases or in diplomatic posts.
Beshkin's story gives context to his knack for Jewish innovation. He was originally born in nearby Latvia, in a city called Daugavpils. Both his grandfather's served in the Soviet Army during the Second World War. His grandmother, who was from an observant home in Belarus, escaped to Southern Siberia right before the Nazi occupation. After the war, when they settled in Latvia, it was his grandmother who did her utmost to keep the traditions alive. Despite the threat of punitive measures by the Communist regime towards any outward religious observance, she still managed take work off for Shabbos and keep the high holidays. Beshkin's parents were like many Soviet Jews who secretly observed iconic Jewish traditions like the chuppah ceremony, but who were otherwise not observant. As Beshkin laments, "It wasn't convenient, or easy to be outspokenly Jewish." It wasn't until Beshkin was twenty that he felt he needed more in his life and began to wonder about his identity and the meaning of being a Jew. Ironically it struck him during a kosher quandary. While eating out with his friends he suddenly held back at the thought of devouring the slices of meat on his cheesy pizza. Despite the easing of certain Soviet restrictions at the time, life as a Jew in Latvia was still difficult. Beshkin later moved to Estonia, the second Jewish observant family to settle there. The number of Observant Jewish families has risen to five, and the larger Jewish community to 2,000. Beshkin hopes for the future include adding ratings to the software, to help a user narrow in on a hechsher that is more useful to them.  For now, visit www.isitkosher.eu, scan a barcode or type in a product name, and you've got over fifty kosher authorities at your fingertips.
Jew in the City Speaks second guest, Estee Ackerman is a teenage table tennis champion from Long Island. She has ranked 6th in national tournaments, been featured on ABC, CBS, and the New York Post, and appeared on Rachel Ray's morning talk show, showing off her skills and soundly beating Bobby Flay in a match. The eighth grader began playing ping-pong when she was seven, introduced to the game by her father. When she joined local clubs her natural talent was quickly spotted and she was encouraged by the coaches to pursue a professional career. Though the commitment meant 3-4 hours of practice 4-5 days a week, including school and other activities, it never clashed with Estee's religious observance.
At the U.S nationals in Las Vegas, Estee encountered her first conflict of interest. While pounding her way through the events, she made it to the 16th round and found that she had been scheduled to play on a Friday after shabbos had already started. The referees were at a loss, considering the thousands of players they had to account for in their scheduling. "I was disappointed," Estee, says, "I had been training for six months. People said I could have made it the whole way. But I knew defaulting was better than breaking Shabbos." Estee's actions have given her role model status, showing others that her goals and her priorities need not clash. "No matter what you meet in life, keeping the Torah, kosher food, Shabbos- is our main priority," she says. Undeterred from her hopes of becoming a ping-pong pro, Estee is honored to be the youngest person to be granted the prestigious nomination to the Jew in the City All Star list, "congratulating the other nine individuals on their accomplishments."
Want more great content like this delivered to your inbox? Sign up for our weekly newsletter here: