---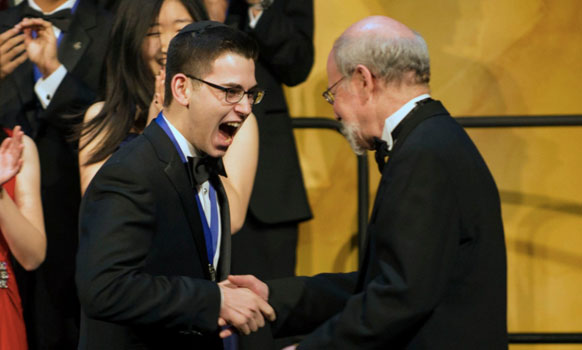 "Josh Meier: Orthodox Jew & Kid Genius," JITC Speaks, Ep. 4
Listen to the full radio interview above or here.
Joshua Meier, named one of CNN's "Eight Whiz Kids who are the Future of Medicine," is currently studying at Harvard University. Embodying the Jew in the City spirit of living the best of both worlds, his achievements involve the new frontiers of scientific research as well as making the incomparable wisdom of Hebrew text technologically available. He won first place and "Best of Category" at the Intel International Science and Engineering Fair in 2014, proposed new theories on stem cell research, and transcribed Rambam's (Maimonidies) Mishnei Torah into an easy to use, aesthetically pleasing app for smart phones. His love for computer science, scientific research, and Torah have been fused together and manifested in other ways,  Joshua devotedly pursuing each of his passions, creating iPhone software for physicians at Columbia University, as well as placing in the prestigious Chidon Hatanach.
Joshua grew up as a Modern orthodox Jew in Teaneck, New Jersey, as one of six siblings. The boy genius says he started noticing that he was bored at the age of four, when everyone else was learning what 1+2 signified and he was already crushing multiplication and long division. At the age of about 8-9 he got in trouble for attempting to do algebra during class time, his hidden book confiscated by the disapproving teacher. He humorously recalls "being so upset at that" and it was only then, as he progressed through middle school, that he realized he was the only one who was thirsting for more challenging work. Joshua attended a private Jewish day school, and encountered some difficulty when his parents considered removing him from the system. "Orthodox values are very important to me," he says, admitting there was concern from the community when he enrolled at Bergen County Academy. Undaunted, he continued to learn Judaic studies with a private tutor on a daily basis, covering Talmud, Tanach and Rambam. Being around extremely motivated and highly intelligent students during the day and studying with his tutor, Rabbi Meier, by night was a "phenomenal experience." Joshua describes the demanding scenario without regrets; "It was hard. Living both of those lives at once. But I really enjoyed it and I think I got a lot out of it." Conscious of the fact that he was an ambassador for the Jewish community, he found that the public school environment required him to live to a higher standard. "When I am the only person people know with this background, then I am a representative of the people. That's a burden and I feel uncomfortable with it sometimes, but I think the burden pushes you further," he candidly admits.
Joshua doesn't believe in sacrificing interests, constantly promoting the integration of different fields, and hoping that he will always have the opportunity to combine his passions.  Whether it's using biology and technology to analyze large gene sets, or using Judaics and his computer skills to develop the Mishnei Torah app, he loves it most "when the fields come together," and when his passions meet and overlap. Software development, as well as scientific research,  inarguably requires patience, focus and drive. It was only after finding a version of the text, getting information, compiling it together, building up databases and creating a software to interface all of that, that Joshua finally introduced the Mishnei Torah app to the mobile world. Speaking of it with pride, Joshua notes that it was an extremely rewarding project which allowed him to fuse together two of things he loved, his heritage and his computer science. Accrediting his pursuits to his role model, Maimonides, Joshua, explains what attracted him to turn that particular text into an  app saying, "Maimonides was a renaissance man." Torah scholar. Philosopher. Physician. Community leader. Rambam did not dilute his intellectual interests. "He worked hard…He was able to combine everything together in all of his writings. It's clear when you read the Mishnei Torah," Joshua explains, adding that he sincerely wants to emulate that lifestyle.
His cancer project and stem cell research took years and the careful guidance of teachers and collaborators to yield any relevant data. Central to the research is the question of how to utilize the aging process of cells to treat diseases. Cancer exists within the body as a rapid, unstoppable growth or maturation. If the aging process of the cells can be reversed, this could potentially stop their multiplying and lead to a cure. Joshua's research involved studying cells at their mitochondrial level, following their energy patterns and focusing on their DNA. Joshua noticed the intersection of his project with other fields of research. Genes involving the aging process were also related to diseases like Parkinson's and ALS. Joshua then realized that the research could in fact make an impact on a larger scale and have practical implications in medicine. The preliminary results are promising, the next stage requiring testing and trials, which he hopes to work on, collaborating with the bio-tech experts and labs at Harvard and MIT.
Joshua is very grateful for the opportunities he had which have enabled him to pursue this kind of groundbreaking work. Though he has heard people in the past warn him about becoming lax or apathetic in his religious observance, he never feels that he is threatened with such a fate. Being surrounded by a diverse group of people in fact causes him to feel the reverse. "People have a false perception of Orthodoxy. We can live by our principles but we can also live in the modern world. I think that is what Modern Orthodoxy is about. It's about sticking to your values but at the same time you can make advancements in the modern world, you can make innovations. I'm contributing to the world, trying to make it a better place. I believe Judaism believes in that."
Want to meet Joshua Meier? Get you tickets now for our All Stars awards party on Tuesday night, December 2! Limited number of tickets left! jewinthecity.com/ojallstars
Want more great content like this delivered to your inbox? Sign up for our weekly newsletter here: