---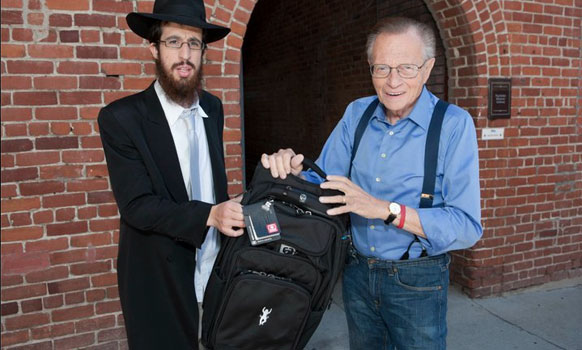 Mendy Pellin on "Jew in the City Speaks" Radio Show, Ep. 1
Listen to the full radio interview above or here.
The New York Times calls him "Stephen Colbert with a beard and a black hat." Mendy Pellin (one of JITC's 2012 Orthodox Jewish All Stars) is a young Hasidic comedian and filmmaker who has transformed the face of Jewish entertainment. His stand-up has been seen all over the world. From yeshivas in Brooklyn to the Tonight Show with Jay Leno. While juggling his entertainment career, he found time to attend yeshiva and became an ordained rabbi at age 21. More recently, he partnered with J Brand founder Jeff Rudes, to form Jewbellish.com – a comedy brand that embellishes Jewish culture. He's garnered millions of views on YouTube with his satirical take on current events. He has worked with a wide array of fellow celebrities – from Brad Pitt to Larry King.
Though Mendy Pellin is an experienced and seasoned filmmaker, he had a very humble start.  His first video, he explains, was created some ten or twelve years ago when he was working as a counselor, attempting to put smiles on the faces of the Jewish Ukrainian orphans in a summer camp program. "I wanted to make a silly video for them," he explains. Traveling around the Ukraine on a bike, behaving as a homeless man, trying to hitchhike, and entering public fountains in the center of town, he went all out trying to make the kids laugh. After posting it to the camp website at summer's end the video went "viral," which was impressive for those pre-YouTube days. So much so that when he produced the Chabad telethon for the first time, Rabbi Kunin kept mistakenly introducing him to the guest celebrities as "The founder of the website YouTube."
Mendy explains what motivates him to continue putting out videos and finding new ways to spread some laughs: People are often surprised to find a funny Hasid online. "People think Hasidic Jews don't have a sense of humor," he says. Part of what began as a way to make people laugh about life has become a conduit for spreading information and breaking down stereotypes. Hasidim laugh, and they have quite a lot of joie de vivre. It's part of their credo. "God has blessed us with our sense of humor," Mendy jokes, "and [given us] five books of really good material." Mendy admits he is into stereotype debunking. He likes to begin his videos playing to the viewers preconceived notions, getting into their mindset and then surprising them as he slowly deconstructs them (hopefully with lots of laughs along the way).
When asked about his stint on the Tonight Show Mendy humbly admits that Leno was desperate for material during the writer's strike and that they in fact contacted him (which he initially thought was a prank). Mendy remembers Leno being very hands on because of the scarcity of writers. He also recalls when he brought an old high school yearbook to show to Leno, property of Mendy's neighbor, who turned out to be an old classmate of  the famous comedian.
Mendy believes that in a world where people often separate the two, there is an opportunity for observant Jews to show the beautiful side of Judaism when they go into work.  Jewbellish, Mendy's new project, is part of his attempts to "rebrand" the Jewish world. It's a Jewish lifestyle website, embellishing and enhancing the Jewish life wherever it can. There's an app, a website, a satirical news series, "J-brand" jeans, and many people will recognize his hilarious video "Talk Yiddish to Me," a parody of a famous pop song. With all that productivity, embellishment and positivity in mind, Mendy comments that he lauds what the Jew in the City's All-Stars represent. "It's easy to get sucked in to work…and keep your Judaism private…I have immense respect for…everyone on your list…because of what they do, bringing the beautiful side of Judaism to work."
Meet Mendy on December 2, 2014 as he will emcee our Orthodox Jewish All Stars awards party. Get your tickets here!
Want more great content like this delivered to your inbox? Sign up for our weekly newsletter here: