---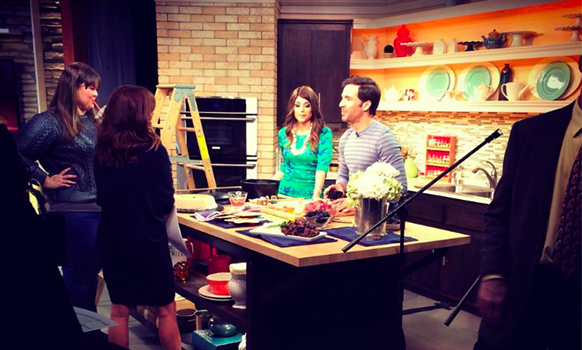 Jew in the City Helps Shape Passover Segment on National TV
Six and a half years ago, Jew in the City launched as a social media movement to rebrand Orthodox Jews and Judaism to the world. Over these last several years, we've expanded our reach through articles and interviews in traditional media, speaking engagements, and corporate diversity training seminars. And now JITC is moving into media consulting as well! Check out this wonderful Passover segment from "The Better Show" – a national daytime lifestyle show from the Hallmark Channel (which is broadcast in 200 cities around the U.S.) We helped find the talent (the lovely Orthodox Jewish kosher chef Reyna Simnegar) and write some of the content which includes discussing cleaning  before Passover and some symbolism of matza and cleaning. Check out the clip, then scroll down for the recipe!
Lamb with Prunes Stew recipe 
8-10 servings
Ingredients:
1 large onion, chopped
3 garlic cloves, pressed
3 tablespoons olive oil
4 pounds lamb stew or shoulder
1 cup water
1½ teaspoon salt
1¼ teaspoon pepper
1½ teaspoon ground saffron
1 teaspoon dried ginger
1¼ teaspoon nutmeg or allspice
2 cups pitted prunes
2 teaspoons cinnamon
1 tablespoon honey (optional)
Directions:
In a 6-quart saucepan, saute the onion and garlic in the olive oil until the onion starts to look translucent (about 1 minute). Add the lamb; cover and cook until it no longer looks red, stirring occasionally.
Add the water, salt, pepper, saffron, ginger, and nutmeg. Stir well. Return to a boil and simmer, covered, for 40 minutes.
Add the prunes, cinnamon, and honey, if using. Cover and simmer for 30 more minutes, stirring occasionally.
Serve with mashed potatoes, quinoa, (or if your Sephardic, rice).
Enjoy!
Want more great content like this delivered to your inbox? Sign up for our weekly newsletter here: