---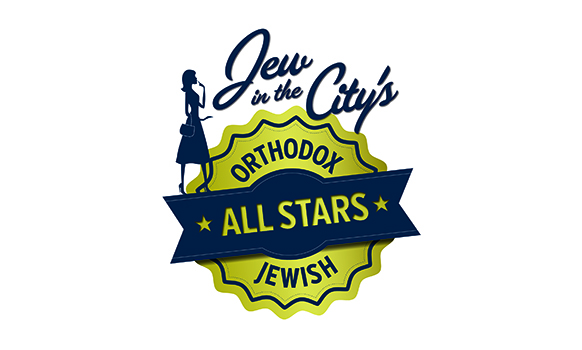 Orthodox Jewish All Stars 2013 Nominations Now Open
Last year, Jew in the City brought you the Orthodox Jewish All Stars which showcased some of the most professionally successful Orthodox Jews in the world today. Jew in the City is proud to announce that nominations are now open for the second annual Orthodox Jewish All Stars 2013 awards.
This year's general categories for nomination are:
• arts, sports, and entertainment
• science and medicine
• business and industry
• law and government
The goal of the OJAS awards, in line with Jew in the City's mission, is to break down the stereotypes that all Orthodox Jewish men are rabbis and women are homemakers. There is also a pervasive belief that you can't be religious and succeed in today's high-pressure, high-stakes world.
I've spoken to people from many walks of life who hold all kinds of false beliefs about Orthodox Jews. There was a woman who told me on the phone, "I'd like to be more religious, but having a career is very important to me. If I became Orthodox, I wouldn't be allowed to work." And a Daily Beast reporter who interviewed me and wouldn't concede that Orthodox women are allowed to work. A few years ago, Newsweek "ordained" writer Wendy Shalit's husband, likely assuming he's a rabbi because they're Orthodox (he works in computers, by the way). And I've heard of college professors who told their students that "you can't be religious and be fully successful in your career." And so many more.
Jew in the City wants to show the world another side of the story.
As last year's All Stars lineup proved, there are Orthodox Jews in many fields who achieve success without sacrificing their Judaism. Through these All Stars awards, we also celebrate the dedication and sacrifices of these exceptional Orthodox Jews.
The purpose of the Orthodox Jewish All Stars is NOT to brag about our accomplishments, but to let the world- and ourselves- know that it is possible to stay true to Jewish values while also succeeding in one's career.
At the same time, we recognize and value the contributions of the many Orthodox Jews who engage in remarkable acts of kindness outside of the spotlight. If you want to nominate one of these unsung heroes, please write instead to khc@jewinthecity.com for our Kiddush Hashem Corner.
…..
And now, the nominations!
Rules and Conditions:
Nominations will be accepted from September 1, 2013, through October 1, 2013 11:59 EST.
Self-nominations are allowed.
You can nominate more than one person but please do not submit more than 5. This is not a popularity contest, or in other words many nominations of the same person will not improve his or her chances of winning. The more unique or accomplished the nominee is in his or her field, the greater the chance of winning.
The nominee does not have to be currently active in the field or hold this position, you can nominate someone for past accomplishments.
Note:
This is not an opportunity for marketing or self-promotion. Please only nominate people who are inspiring to others because of the way they uphold their Jewish values while rising to high levels of professional success and achievements. We're looking specifically for accomplishments that are universally recognized. Not just a "great" doctor, but a doctor at a top hospital with a leadership role. Not just a "great" writer, but a writer who has won an award(s) that is considered prestigious in the larger world.
Success is a subjective term and our panel of judges will do its best to feature some of the best examples of Orthodox Jewish All Stars out there.
This year's awardees will be profiled on our website and other media. The awards will be presented at an Orthodox Jewish All Stars Chanukah (Awards) party to the winners and other guests.
If you have any questions about the nomination process email info@jewinthecity.com.
~~~~~~~~~~~~~~~~~
The nominations have now been closed. Thank you to everyone who submitted a nomination.
~~~~~~~~~~~~~~~~~
Want more great content like this delivered to your inbox? Sign up for our weekly newsletter here: