---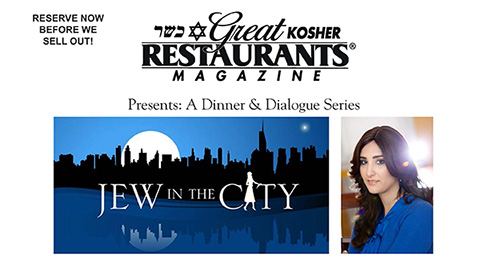 Jew in the City and Great Kosher Restaurants Magazine's Dinner and Dialogue Series
Great Kosher Restaurants Magazine and I are teaming up for a Dinner and Dialogue Series which will start on May 20th in three kosher restaurants in the New York area: J Soho (FKA Jezebel) in Manhattan, T-Fusion in Brooklyn, and Prime Bistro in Five Towns. At each event, there will be a three course speciality menu followed by one of my talks (there will be a different topic at each event).
Dinner will begin at 7:30pm, my talk will begin at 9:30pm. All tickets can be purchased exclusively at www.GreatKosherDeals.com or at 718-336-4201 Note: there is limited space for each event, so to guarantee seatings, please book in advance.
Hope to see you there!
Want more great content like this delivered to your inbox? Sign up for our weekly newsletter here: