---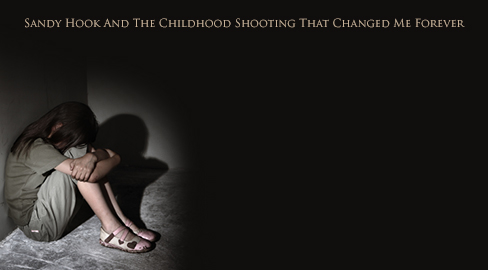 Sandy Hook And The Childhood Shooting That Changed Me Forever
On Friday, December 14, 2012, a man entered Sandy Hook Elementary school and gunned down twenty six people, including twenty children. When I learned of the horrific news, I couldn't help but notice that this mass murder took place on nearly the twenty-fourth anniversary of a tragedy that changed my life forever, which also involved the murder of small children, albeit on a smaller scale.
I grew up in a quiet, suburban town in Northern New Jersey, probably not so much different than Newtown, Connecticut.  But on a cold, grey Monday morning on December 13, 1988, I knew that something was wrong the moment I entered my fourth grade homeroom. My classmates were huddled around their desks – whispering, quietly crying.
"What's going on?" I asked, as I put down my bag.
"Angela was shot," a boy named Tommy explained.
My heart started pounding as I heard those surreal words. They didn't make any sense. Angela (there was only one in our school) was  in the grade above me, my best friend's next door neighbor – a girl my older sister was friendly with. She had been over our house a few months earlier for my sister's tenth birthday party. I looked up to her; she was beautiful and popular and nice to the less popular kids like me. Children aren't supposed to get shot, certainly not children like Angela.
"Oh, my God!" I exclaimed, "Is she OK?"
"She's dead," my teacher muttered, as I felt the room begin to spin.
Angela's father had apparently been suffering from severe depression. He kept telling his wife that he was going to die – that she could survive without him, but that their kids wouldn't be able to. And so the night before that fateful Monday morning, while his wife was at her brother's birthday party, Angela's father shot her and her younger brother, then turned the gun on himself.
Angela's triple funeral was the first funeral that I had ever been to – I was only eight years old. I couldn't help but think of her lifeless body as the tiny white coffin passed by and wonder where the stuff that made her living had gone. This tragedy ripped our town apart for quite some time – it was right before the holidays, just like it is now – but it changed me forever.
Although Angela was not a close friend, her murder affected me so deeply because it burst the bubble of stability that my parents had provided  up until that point. The safety and security that a child feels growing up in a loving, upper middle class family can be destroyed in an instant when you see that there are things that your mother and father can't protect you from. I realized that there were no guarantees in life, that nothing in this world was going to last, and that whenever I died it was going to be forever. I was terrified when I thought of eternity.
I also realized that before I met my end, I needed to figure out what it was I was living for. I was certain my parents knew the answer – they were the ones who had brought me into the world! But when I asked them (shortly after the funeral) why we're here, they had nothing to offer me. And neither did anyone else I asked.
So I spent eight years after this tragedy searching and struggling. I was such a happy person as long as I was distracted, but the moment that my mind would go back to the place where it remembered that nothing here lasts or comes with, that death could get me when I least expected it – lasting for all of eternity – I was overwhelmed.
Through all those years of suffering, little did I know that within my very own heritage there was talk not only about "the meaning of life" but a detailed  plan about how to fulfill it. Although my parents raised us to be proud Jews and valued secular education, there was no priority when it came to Jewish education. When I began discovering the wisdom and depth of the Torah at sixteen years old, I was relieved to finally have profound answers, but I also felt somewhat betrayed. Why had no one ever exposed me to these beautiful teachings, to this meaningful way of life? Why did I have to suffer for so many years when the smartest people around me were so clueless in terms of providing me with spiritual direction?
It is this feeling that pushes me every day to not stop until all Jews have access to what is theirs. There is so much pain in the world and a Torah life has provided me so much comfort and humanity needs comfort now more than ever. When something horrible happens – we want to DO something. With Hurricane Sandy, people donated money, cleaned up debris, opened up their homes. There is very little to do in the wake of the Sandy Hook murders and the one from my childhood – there's not even a culprit to bring to justice.
People are talking about gun laws and the mental health care system and while we should certainly work to make the world as safe as possible, that is not *the* answer in my opinion. Spreading knowledge that there is more to life than what we see, that trusting in God can provide tremendous strength in the darkest of times, that Judaism believes that this painful exile we're in can be repaired – these have become my responses to the tragedy I faced in my formative years. And I hope more light is being brought into the world than was taken out of it.
May God comfort the survivors of the Sandy Hook massacre and all the other suffering people in the world, and may we remove ourselves from life's distractions and commit to a more spiritual, purposeful existence. And may the redemption come speedily in our days.
Want more great content like this delivered to your inbox? Sign up for our weekly newsletter here: