---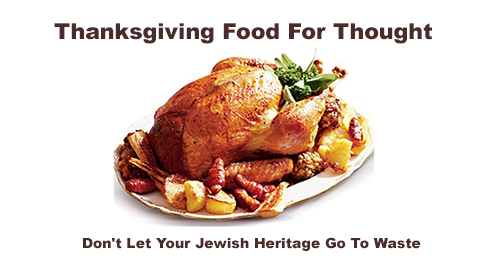 Thanksgiving Food for Thought: Don't Let Your Jewish Heritage Go to Waste
To say that my six-year-old daughter is a picky eater would be an understatement of gastric proportions. If you wanted to count all the known foods in the universe she consumes you'd need only two hands and a couple of toes. One of the reasons this persnickety child eats such little variety is her unwillingness to try new things.
But how many of us grown ups are afraid of the unfamiliar? We get so used to our routines, our beliefs, our ways of life, we often have a hard time opening ourselves up to foreign ideas or practices. Indeed, most Jews in the world today feel more comfortable with their current (and relatively new) societies than with their own 3000 year old heritage – a heritage that many of our ancestors gave up their lives to hold on to.
So many societies throughout history forbade us to be openly Jewish – the Greeks of Antiochus's day, the Spaniards of the Spanish Inquisition, the Russians of the former Soviet Union, just to name a few. Yet today, when so many countries in the world – the United States of America, in particular – have granted Jews historical freedoms for us "learn Jewish," "look Jewish," and "live Jewish," so many of us have taken this freedom for granted.
The only thing stopping us from exploring our heritage nowadays is our own apathy. Let's be thankful for these freedoms while we have them and make sure they don't go to waste – like all the great Thanksgiving food my finicky daughter missed out on.
Want more great content like this delivered to your inbox? Sign up for our weekly newsletter here: