---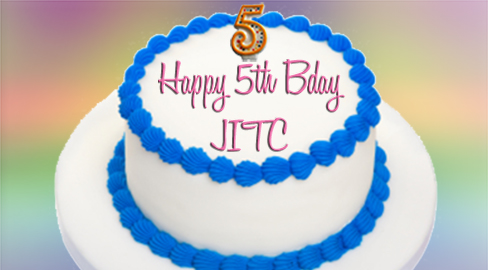 Happy 5th Birthday, Jew in the City!
Just before the five year anniversary of that fateful day I decided to quit both of my jobs in order to chase a dream I called "Jew in the City," I got an amazing "birthday" present in my message box:
allison! I just got back yesterday from Israel! I can say without a doubt it was the best summer and trip and experience of my entire life! I've never had more fun and i've actually become semi religious! i pray everyday! i keep shabbat! im trying to keep kosher.
Now for the background information: the author of this message is a teenage girl whom I've never met, but who wrote the following comment on a JITC YouTube video nearly two years ago.
wow, you're like the coolest Orthodox Jew I've ever seen, but isn't it so hard to keep kosher?
YouTube wouldn't let me post a response to her comment, so I replied to her privately and thus we began an online friendship, which switched over to Facebook. She would ask me Jewish questions from time to time which I would answer, and one day she wrote:
Honestly you have changed the way I look at orthodox people, I used to think they were so much different weirdly enough ! And I kinda secretly, like no one knows this but I feel like I'd want to be more religious when grow up.
I told her to keep learning and maybe try out a summer program in Israel. Feelings are one thing, but if they're not coupled with learning and experiences, then they can easily dissipate. I recommended the Israel program a couple times over the years – but again, we had never met, and teens get busy and distracted with all sorts of things. This girl had no one in her real-life to support such a decision and many people to dissuade her from going.
And then, bam! She sent me that message that she'd given the Israel program a try and delving into Torah learning and observance for just a few weeks was life changing for her. I cautioned her to take things slowly – observance isn't added overnight. I reminded her about her feelings regarding Orthodox Jews when we had first connected and she agreed how much her perspective had changed. "I used to think they were so scary and that they all hated me, when in fact, ive never met nicer people than the orthodox."
I don't write any of this in order to toot my own horn, but rather to highlight the power of mitzvos and Torah wisdom. Orthodox Jews have a bad rap – plain and simple. Some of it's deserved, I'm sorry to say, but most of us are pretty nice people, trying to live purposeful lives connecting to our Creator and our beautiful heritage.
But as we can see with this one teen, when the negative stereotypes about Orthodoxy are removed, the pintele yid (the spark of Jewishness within the soul) wants to return home. Jew in the City has had some exciting breakthroughs of late in terms of publicity, sponsorships, and a speaking career for me that is actually starting to make this endeavor make some financial sense. But as I take stock of what we've accomplished in these last five years, it's the stories like this one that come to mind first when I ask myself are we succeeding.
Want more great content like this delivered to your inbox? Sign up for our weekly newsletter here: