---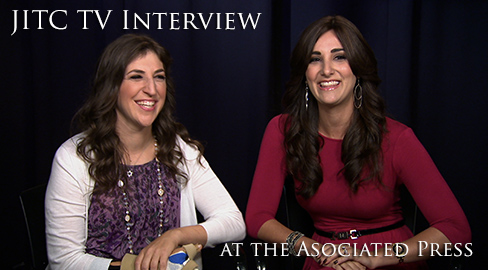 JITC TV Interview at the Associated Press

You know how they say "good things come to those who wait?" Well, impatient people like me never want to wait long enough to find out if that's actually true, but sometimes we're forced to! It took over a year, but finally, finally an interview with AP television happened, and because it took so long to schedule, and it ended up in NYC, I was able to be in part of it!
The interview was set up really to focus on Mayim Bialik, as she's the real celebrity, (I just play one on YouTube!) and the division that interviewed us was entertainment, but they were interested in an angle that touched on Mayim's involvement with Jew in the City and her spiritual growth as well. For a woman trying to spearhead a world wide PR campaign (who, let's face it, doesn't actually have any formal training in how one does PR!) getting interest from the AP – the largest distributor of news in the world – was a huge coup!
At this point, we're waiting for footage to be edited. Something will appear on TV – either Mayim talking about JITC by herself or the segment with us together. I don't know how many places will pick it up. The possibilities are quite large, so in the meantime, I am doing lots of praying! But no matter what is picked up where, I will be getting some footage of Mayim and me to post online. There is still much work to be done, but thanks to some amazing people who helped make this interview happen, JITC's message will, God willing, be reaching a lot more people very soon….
Want more great content like this delivered to your inbox? Sign up for our weekly newsletter here: