---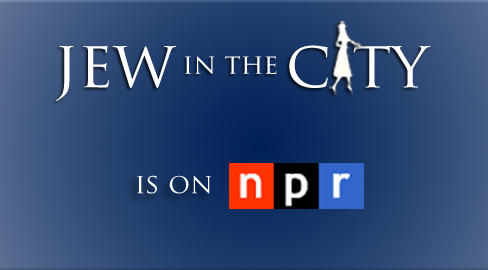 Jew in the City Is On NPR

After many months of email tag, interview rescheduling, and plain old waiting for the air date, my interview on NPR's "Interfaith Voices" (and Mayim's, which follows mine and touches on our relationship) is finally on the air! This is the largest audience we've ever reached at JITC (100,000 listeners on 76 stations in the US and Canada, including nationwide on XM satellite radio) and we're very excited and hope that this will only be the beginning of more and more positive exposure for Orthodox Jews and Orthodox Judaism.
Just a couple things to note: I never called myself "modern Orthodox" in the interview. It seems to me that although the media generally likes to vilify Orthodoxy, the one thing that they can maybe handle is a little bit of Modern Orthodoxy. I like to make Jew in the City as inclusive as possible, but if I had to label myself, I consider myself Centrist Orthodox or right-wing Modern Orthodox. The answers I gave, though, apply to Orthodoxy across the board, and every community within the Orthodox world has its pluses and its minuses. Though I may not personally be ultra-Orthodox, there are still many things that I respect about that community and I wish the interview didn't depict my positive portrayal of Orthodoxy as simply a "modern" thing.
The other thing I wanted to note was that my answer on Orthodox women rabbis was edited and did not come out how I said it. When I answered the question, I started off by telling the host that there's no simple way to answer "why don't we have women rabbis" in the amount of time I was allotted. In an age when everybody wants a sound bite, it's a real challenge to not be able to properly answer something in less than a minute, and yet, that is the nature of complex issues. I then went on to give one reason as to why we don't have Orthodox women rabbis, but the way they cut things, it made it sound like what I said was the reason. Without further ado, you can hear the interview by clicking here.
Want more great content like this delivered to your inbox? Sign up for our weekly newsletter here: