---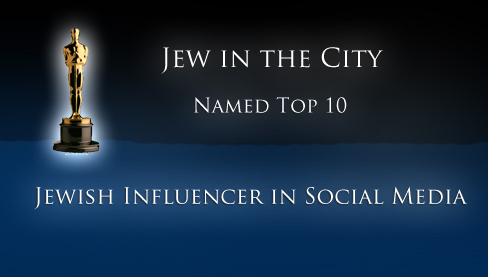 Jew in the City Is A Top Ten Jewish Influencer in Social Media

How exactly do you measure success for a world wide Orthodox image makeover campaign? Number of YouTube hits? Facebook fans? Emails with beautiful feedback that people's minds are changing? We've been getting more and more of these as we go along, but it's still pretty hard to know how well we're doing. This week, however, we learned some exciting news about Jew in the City's impact. National Jewish Outreach Project (NJOP) named me (through my work with Jew in the City) as one of the Top Ten Jewish Influencers in Social Media.
It's an exciting accomplishment, because frankly, I don't really know anything about social media. I kind of just make stuff up as I go along and mostly daven (pray) that Hashem will make our efforts successful. But to be recognized by a respected outside party that we're leading the way in Jewish social media is an honor and a big encouragement.
The award also brought some recognition in the mainstream media, namely The Huffington Post and Yahoo News (articles you can see if you check out our press page). With God's help, as we grow bigger and bigger in the world of social media, the mainstream media will start to take note.
Anyone who's been reading the news lately knows that the mainstream media has been having a field day when it comes to anti-Orthodox stories between a recent expose on Orthodox pedophiles, major coverage of the extremists in Israel, tons of attention for an ex-Hasidic woman and her tell-all memoir about how she "escaped" from Hasidic life.
Dirt, especially anti-Orthodox Jewish dirt, sells, but if we keep up what we're doing, with you're support, sharing our content (videos, aritcles, Q&A's) and being active on our social media platforms (YouTube, Facebook, and twitter), and with God's help, we'll get this campaign so big, the mainstream media will have to take note whether they like it or not. And then together, we might just start a revolution!
Want more great content like this delivered to your inbox? Sign up for our weekly newsletter here: