---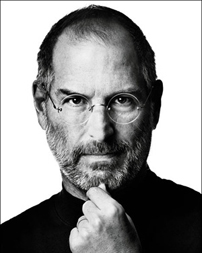 The Legacy of Steve Jobs: Is it Jewish to "Think Different?"
In the days since Steve Jobs passed away, media outlets and social networking sites have been buzzing about his life, his legacy, and why he touched so many  people. Quotes from his now almost legendary commencement speech at Standford University in 2005 have popped up on my Facebook page and twitter feed repeatedly.
This man's contributions to the world and the philosophies he lived by clearly inspired the masses, but I began to wonder: was Steve Jobs's approach to life in accordance with Jewish thinking? (I'm not expert on the life of Jobs, therefore I'll only speak to the quotes that people keep mentioning.)
1) Think Different This was a famous Apple ad campaign that started in 1997 which said, "Here's to the crazy ones. The misfits. The rebels. The troublemakers. The round pegs in the square holes. The ones who see things differently. They're not fond of rules. And they have no respect for the status quo. You can quote them, disagree with them, glorify or vilify them. About the only thing you can't do is ignore them. Because they change things. They push the human race forward. And while some may see them as the crazy ones, we see genius. Because the people who are crazy enough to think they can change the world, are the ones who do."
Other than "they're not fond of rules" (Torah living is full of rules!) this "think different" concept is quite in line with Jewish philosophy. We had a guy who thought different and changed the world, known as Avraham Avinu (Abraham our forefather). When the rest of the world was worshiping idols and sacrificing children to the gods, Avraham was the "trouble maker" who as the midrash tells us, smashed all the idols in his father's idol shop and blamed it on one of the gods.
Since Avraham, Jews have continued to "rebel" against mainstream society, maintaining a commitment to Judaism as Christianity and then Islam spread through the world. And nowadays, in our post-modern era, Torah Jews continue to "think different." The true counter-culture of today is made of up those who value tradition and ancient wisdom. Sometimes Jewish principles do not jive with mainstream, secular society, but committed Jews cling to these ideals nonetheless.
In Jobs's commencement speech at Standford, he tells three stories, each with a lesson. The first lesson is:
2) Connect the dots. He tells a circuitous story of how his parents had him out of wedlock, put him up for adoption, and would only give him away to people who promised to send him to college. He explains that he had to drop out of college for financial reasons, but because he dropped out and was no longer working towards a degree, he took classes that interested him instead of ones he would have been required to take. This led him to a calligraphy class, which at the time seemed like it would never have any practical application to his life; but then ten years later, his knowledge of fonts and beautiful typography from this class were used in the first Macintosh computer (which Mircosoft subsequently copied). If Jobs had never dropped in on that single course, chances are computers today would not have multiple typefaces or proportionally spaced fonts.
Jobs explains the lesson in this story. You can't connect the dots looking forward; you can only connect them looking backwards.  He advises the graduates to trust that the dots will somehow connect in their futures. Why do dots connect, according to Jobs? He's not exactly sure. He chalks it up to "one's gut, destiny, life, karma, whatever." He explains that trusting has never let him down and has made all the difference in his life.
We're big believers in connecting the dots and trusting, in Judaism. But the Thing we trust in, is the most important part of the equation for us. We believe that trusting in God is not done in order for life to work out well. The trusting we do is meant to build a closeness to Almighty which we believe is the most basic purpose of existence. To simply "trust" but not know what you're trusting in falls short, according to Jewish thought.
3) Greatness is achieved through failure. Steve explains that he was fortunate because he found what he loved to do early in life. He and his friend started Apple in his parents' garage when he was 20. After ten years of hard work, the company was worth $2 billion. And then Jobs got fired. Although he started the company, the board was able to fire him after he had a falling out with another executive at Apple.
Jobs considered running away, but instead decided to start over. He then entered one of the most creative periods of his life and made a historic comeback to Apple many years later. Jobs explains that "sometimes life hits you in the head with a brick," but that a person shouldn't lose faith. (Again, we have to ask – faith in what?) Jobs's explanation for why he succeeded is because he loved what he did and while I won't deny that being passionate about something is connected to being successful at it, I'd like to add a Jewish spin to the message: greatness is achieved when you fall but continually pick yourself up, or as the Talmud says, "sheva yipol tzadik v'kam." (Seven times a righteous person falls and gets up.) Loving what you do certainly helps a person to keep trying, which is why we believe that mitzvos should be done b'simcha (with joy). However, the key to succeeding is not staying down once you've been knocked down.
4) Your time here is limited, so follow your heart and intuition. Steve explains that when we was seventeen he read a quote that went something like: "If you live each day as if it was your last, someday you'll most certainly be right." This idea resonated so deeply in him that he thought of it every morning as he looked in the mirror and asked himself if he loved what he was doing. If too many days went by where the answer was "no" he made the necessary changes.
The Rabbis talk of a similar concept. They tell us " do teshuva (repent, improve yourself) on the day you die." But since no one knows when that day will be, they exhort us to "do teshuva every day – for it may be your last."  We agree with Jobs, that one must make the most of his time here, as this world is fleeting.  The conclusion that Jobs comes to, though, falls short according to Jewish thought. There's a Jewish concept that every person has a unique mission in the world (beyond the observance of Torah and mitzvos) and that each person should examine the talents and strengths he was endowed with, in order to fulfill that unique mission; but simply filling your days with what you love has an emptiness to it.
No where in Jobs' s words of wisdom were recommendations to live with morality, values, or even to help those less fortunate. What is the most important thing in life, according to Jobs? Having "the courage to follow your heart and intuition. Everything else is secondary." Although it sounds quite poetic to "have the courage to follow your heart and intuition" there's something dangerous about such an idea if it doesn't come along with a moral frame work.
One famous man's heart and intuition told him to stick Jews into ovens. Another's told him to use chemical warfare against his own people. Simply following one's heart and intuition cannot be the essence of life as too many people have done too many bad things listening to that inner voice.
While Steve makes no recommendations to live morally, he is very against learning from other people's thinking. "Don't be trapped by dogma — which is living with the results of other people's thinking," he advises the graduates. "Don't let the noise of others' opinions drown out your own inner voice. " But what if someone's inner voice says, "That woman over there is beautiful and I want to take her against her will." What if another person's inner voice says, "I like that man's coat, I want to steal it from him."
There ARE certain inner voices that SHOULD be drowned out. But how do we know which voices are valid and which ones are problematic? In a world where all we have is "gut, or karma, or whatever" it's actually pretty hard to know. Judaism believes that the values and the ideals that we live with are from God and were given to man in order to fulfill his purpose here.
Everyone wants to make a mark in the short time we have on earth. Steve Jobs certainly made his in the pages of history and in the technologies that will likely be used for generations to come, but nothing physical lasts forever. Eventually Steve Jobs memory will get lost in the annals of history and his products will become obsolete.
The only true way to make one's mark in this lifetime is to live a life that taps into the transcendent. Steve Jobs's body – which lived doing what  it loved – will be returned to the ground in a couple of days, just as our bodies will return to the ground at their appropriate times. But until then, let's not only live doing what we love, let's live being spiritually aware that our souls have much to accomplish before they return to their Source.
Want more great content like this delivered to your inbox? Sign up for our weekly newsletter here: