---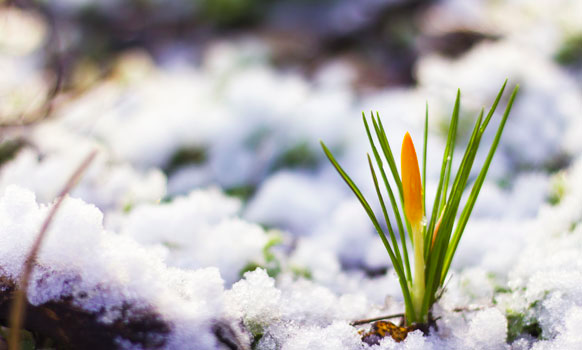 It's All About Perspective: Why Spring Came for a Moment in the Middle of Winter
At eleven o'clock last night, I stared at the computer screen in disbelief.  One of my Facebook friends had just posted that more snow was coming. Incredulous, I checked the weather myself, and sure enough, they were predicting two more days of snow, which was to start at midnight.
"But it was almost gone!" I whined to my husband. After a mild week ending with an amazingly beautiful Friday, the snow had just about melted, revealing the pavements and grassy parts of my neighborhood that I had almost forgotten existed. Friday's weather was so intoxicating, it was hard to imagine that it might soon be nothing more than a memory.
Sure enough, when I woke up this morning, the world was once again covered with that white stuff. It was almost as if this past week had never happened. Back to dreariness and digging out, I thought. What a tease!  What a taunt! What a cruel thing to give us a glimpse of happiness only to rip it away a moment later.
And then I realized that maybe the peek into spring was not cruelty at all, but rather one of the greatest cheseds (kindnesses) Hashem (how the Jewy Jews say "God") could do for us. For whatever reason, this winter was meant to be a harsh one. Perhaps the people who make shovels and salt and my friends who invented Heattrak were supposed to make a lot of money this year!
This winter is playing out like it's supposed to, but as so many of us were getting to the end of our ropes, desperate to see sunshine, feel warmth, signs of life, Hashem paused the harshness. Not because winter was really over, but instead to give us hope so we'd have the strength to go on enduring the cold. Spring is not too much further away, dear children, and it will be wonderful when it gets here.
A cruelty or a kindness? Like most things in life the way you see it is up to you. It may be bitter cold outside, but my disposition, at the moment, is nothing short of sunny.
Want more great content like this delivered to your inbox? Sign up for our weekly newsletter here: