---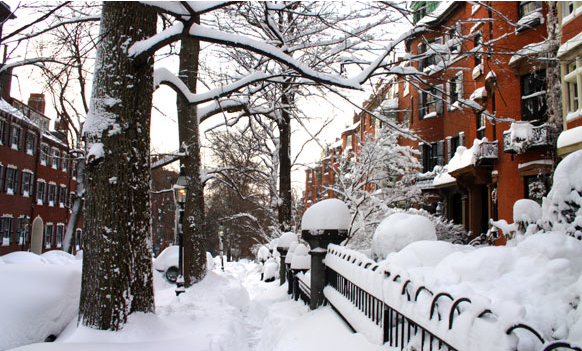 I Am SO Over The Snow, But There Is One Reason I Like It
In January of 1996 – back when blizzards were simply called "blizzards," not Athena, Euclid, and Pax(!) – I remember watching on television how devastated New York City was after the storm. The city that never sleeps had no choice but to as it was buried under two feet of snow. Kind of like it is right now.
Schools, businesses, subways closed, closed, and closed. There was so much white stuff that they were literally filling up trucks with it and dumping it into the Hudson river – an exercise in futility if I ever saw one.
Then, just a couple days later, the weather warmed up,  it rained, and the three foot pile of snow on my front lawn was suddenly two inches. NYC had never been paralysed in such a way in my lifetime, but unlike with any type of havoc that man could wreak (like 9/11), the aftermath of the '96 blizzard cleared up just as quickly as it came. Pretty incredible, if you think about it.
All extreme weather is pretty awe-inspiring, actually, and should make us feel rather puny in comparison. Such thoughts could even lead to contemplating the Source of that power. Unfortunately, we often don't get to that point because the  minute inclement weather appears so does talk of "Mother Nature."
Who is Mother Nature exactly? She's nothing more than mankind's way of taking God out of the equation. Why, even a headline from this current blizzard reads "Mother Nature on Call to Help Get Rid of Snow." Really? We'd rather call upon a knowingly made up entity then trying our luck out with God?
Many people would, because with God comes responsibility. Mother Nature doesn't care if you lie, but your Creator does. Mother Nature isn't capable of hearing your prayers, but the Master of the Universe is.
In Judaism, we see extreme weather as a perfect opportunity to remember the Almighty. In fact, there are blessings we say upon seeing lightening and hearing thunder so the chance to internalize God's power and awesomeness doesn't pass us by. Blessed are You King of the Universe Whose Strength and Mightiness fill the world.
Although it's true that a relationship with God demands responsibility, a connection with the Almighty can also provide something Mother Nature never could – a sense of comfort and solace that enables man to weather any storm.
Want more great content like this delivered to your inbox? Sign up for our weekly newsletter here: