---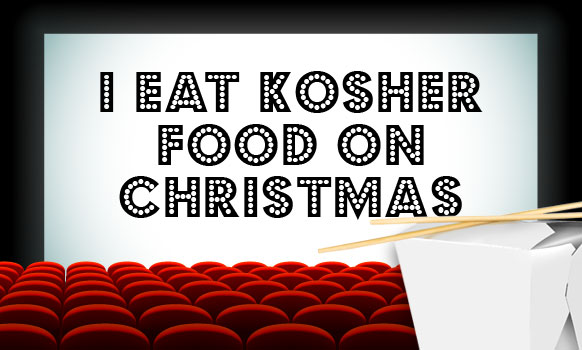 I Eat Kosher Food on Christmas
One of my readers recently sent me the You Tube video "Chinese Food on Christmas" (embedded below), complaining that although he'd received it from several Jewish friends, he found it to be anti-Semitic and figured that it must have been made by a self-hating Jew. He wanted to know what I thought.
Besides the main theme of the video – the "tradition" of Jews eating Chinese food and going to the movies on Christmas (and then complaining that there's nothing else to do) – the video shows a number of arguably anti-Semitic images, such as a Jewish guy picking a penny up off the street, and a group of Jewish friends sneaking food into a movie theater. But as I explained to the reader, even though the Jews in the video are portrayed as being cheap, I personally didn't find it offensive; on the contrary, I think this was done out of Jewish pride and self-confidence, in order to reclaim the attacks that anti-Semites make. Basically, we'll make fun of ourselves before they do.
And I get the humor: Growing up unobservant, I too ate Chinese food and went to the movies on Christmas and joked about it with my friends.
But despite the joking, I actually found the video to be a little sad. That's because it reminded me that the average American Jew doesn't know enough to feel anything particularly deep or meaningful regarding his Judaism. Some Jews feel pride related to taking back stereotypes from anti-Semites; others take pride in Jewish culture, language, and food. My mom tried to instill Jewish pride in us kids by always mentioning the contributions that Jews have made to the world in areas like science, medicine, and the arts.
And while there's nothing wrong with feeling Jewishly proud for any of these reasons, these reasons alone are rather superficial. If more Jews only got the chance to experience our rich, beautiful traditions, wisdom, and way of life for themselves, they would gain a tremendous sense of meaning and purpose, and experience a deeper, more transcendent Jewish pride than they had ever known.
And no one would be left whining about how boring it is to be a Jew on Christmas because we'd all be plenty busy just being Jewish.
Want more great content like this delivered to your inbox? Sign up for our weekly newsletter here: