Would you like to bring Jew in the City to your city?
To inquire about or schedule a speaking engagement with JITC please fill out the form here. See below for a list of talks and topics, and for a list of upcoming and previous events.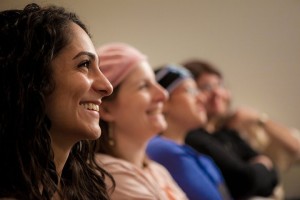 "You spoke with such charisma and magnetism! You had the audience mesmerized by your presence! Thank you." -Naomi

"I really liked how Jew in the City shares her experience in such an honest and relatable way." -S.
"You are an amazing speaker. I loved you and so did my friend. You can really hold a crowd in tune to your talking the whole time!!! Wow!" – Lisa
I wanted to write to you to tell you what a pleasure it was to hear you speak last Sunday at our synagogue… I became an instant fan. You explained things in an amusing and memorable way, and I was able to get my questions answered. I was excited to attend the event, okay I was a bit star struck, and to actually meet you in person was wonderful. I loved that you were able to tell stories about your personal journey that not only I, a 40 something mom/Hebrew School teacher, could relate to, but also made the older woman at the table find a connection.
I didn't feel like I was listening to " a speaker who came to talk about Judaism", but rather, I felt as if you were a friend who could guide me to look at my spirituality and connection with HaShem in a new way.
By encouraging women to explore their Judaism and spirituality in "baby steps", you made the challenges that becoming more observant require something all of us should be able to strive to meet. You explained things in a non judgmental way, so that we all felt embraced by our Judaism. Thank you for coming to visit our synagogue. I hope if you are in the Boston area again, I can hear some of your other topics.

B'Shalom, Your Conservadoxaform fan
"Allison Josephs came to speak at our school, RJJ in Staten Island, for the girls grades 7 and 8. Not only were the girls focused and entertained by the way Allison gave over her story, they found the talk inspiring and spiritually uplifting. The eighth grade could not get enough of her, they kept her for almost an extra hour asking deeper questions to get a full understanding of how Allison found Hashem and the beautiful love she has towards Torah and mitzvoth. I have received calls and messages from parents thanking me for organizing the talk by Allison Josephs." -Mindy R.
"Allison's message was deep and meaningful. The girls and all the adults, myself included, who came to hear Mrs. Josephs speak are all FFB's, we were and still are totally blown away by her story and have all been able to see a sunnier side of Jewish life."

Allison speaks on a variety of topics and uses humor and personal anecdotes to entertain as she inspires. She can also tailor a talk to fit your community's needs. Some of her topics include:
Finding God in Hawaii (This is Allison's signature talk about a triple murder in her childhood which led to an existential crisis, a search for meaning, and the life-changing answers she found in a tropical rain forest).
Extreme Makeover: Orthodox Edition (the story of how Jew in the City was born)
She Said, She Said: A Journey Through Learning and Friendship (this is a joint talk with Mayim Bialik and Allison which traces the topics they learned together and explores Mayim's spiritual growth and the growth of their friendship)
Hollywood Chavruta: A journey of learning and friendship with Mayim Bialik
Top Ten Myths and Misconceptions About Orthodox Jews
Explaining the Most Controversial Issues Within Orthodoxy (including homosexuality, the Orthodox view on conversion and more!)
Frum and Fabulous! (New Insights into Jewish modesty. This talk is for women only.)
You Don't Gotta Flaunt It Even If You've Got It (a TED-style talk on how modesty and female body image connect)
Leap and the Net Will Appear: Why Judaism Believes in Taking Big Risks
Is Belief Enough? (This talk is geared to the Sephardic community.)
Leveraging Your Personal Brand into a Business:  The Art of Creating Engaging, Sharable Content

Emek Beracha
Palo Alto
Shabbos, January 20-21, 2017
Jewish Discovery Day
Amsterdam, NE
Sunday, January 29, 2017
Limmud
Toronto, ON
Sunday, March 19, 2017

Yeshiva University 
New York, NY
Wednesday, December 26, 2016
Beth Aaron
Teaneck, NJ
Sunday, December 11, 2016
Charleston Jewish Community Center Without Walls 
Charleston, SC
Monday, September 12, 2016
The Katie & Irwin Kahn Jewish Community Center
Columbia, SC
Sunday, September 11, 2016
Yeshivat Noam
Paramus, NJ
Wednesday, June 15, 2016
Chabad of Tennasee
Memphis, TN
Tuesday, March 1, 2016
Beth Tfiloh
Baltimore, MD
Shabbos, December 4-5, 2015
Stern College for Women
New York, NY
Shabbos, October 30-31, 2015
City College
New York, NY
Thursday, October 22, 2015
Meor
Baltimore, MD
Tuesday and Wednesday, October 13-14, 2015
Kushner High School
Livingston, NJ
Thursday, September 17, 2015
Jewish Federation of Ottowa
Ottowa, CA
Wednesday, September 9, 2015
J Inspire, Queens
Kew Garden Hills, NY
Tuesday, September 8, 2015
Majestic Retreats
Fort Lauderdale, FL
April 3-11, 2015
MEOR at Temple University
Philadelphia, PA
Monday, March 23, 2015
Aish HaTorah Philadelphia
Philadelphia, PA
Monday, Mach. 23, 2015
Mikveh Chaya Mushka
Melbourne, Australia
Wednesday, Feb. 25, 2015
Women in Unity
Sydney, Australia
Tuesday, Feb. 24, 2015
Phoenix Kollel
Phoenix, AZ
Monday, February 9, 2015
Shearim Torah High School for Girls
Phoenix, AZ
February 9, 2015
Limmud Arizona
Sunday, February 8, 2015
Phoenix, AZ
Partners in Torah Winter Retreat
Friday-Saturday, December 26-28, 2014
Stamford Plaza Hotel
Monmouth Torah Links, scholar in residence
Friday-Saturday, December 5-6, 2014
Marlboro, NJ
Bnai Israel
Friday-Sunday, November 8-10, 2014
Norfolk, VA
NYU Meor
New York, NY
Tuesday, October 21, 2014
Temple Beth Abraham
Canton, MA
Sunday, November 2, 2014
Aish Brooklyn
Wednesday, September 10, 2014
Brooklyn, NY
JAKE TV TED Talk
New York, NY
Tuesday, August 26, 2014
Lido Beach Synagogue
Lido Beach, NY
Thursday, July 10, 2014
Beth Jacob, scholar in residence
Waterloo, ON
Friday-Saturday, June 13-14, 2014
Jewish Women's Conference – Bensalem Outreach Center
Bensalem, PA
Sunday, May 4, 2014
Meor at Brown University
Providence, RI
Thursday, April 24, 2014
Legendary Destinations Pesach Program
Cape Coral, FL
April 13-23, 2014
Mayanot Girls High School
Teaneck, NJ
Tuesday, April 8, 2014
Manhattan Day School
New York, NY
Wedsday, April 2, 2014

Manhattan Jewish Experience
New York, NY
Friday-Saturday, March 21-22, 2014

Tribefest
New Orleans, LO
Tuesday, March 18, 2014

Jewish United Fund/Jewish Federation of Metropolitan Chicago
Skokie, IL
Sunday, March 9, 2014

NCSY and Friends of the Hebrew Academy
St. Louis, MO
Sunday, March 9, 2014

The Women's Circle of Chabad of North Fulton
Atlanta, GA
Tuesday, February 11, 2014

Chabad of Georgia
Atlanta, GA
Wednesday, February 12, 2014

Mommy Talks
Toronto, ON
Sunday, January 12, 2014

The JOI (Jewish Outreach Initiative) at Aish
Denver, CO
Sunday, December 15, 2013

Yeshiva Merkaz HaTorah
Staten Island, NY
Tuesday, October 15th, 2013

Sarah's Place, keynote speaker
Cincinnati, OH
Sunday, November 3, 2013

The Fertility Center at NYU Langone Medical Center, Cultural Diversity Training
New York, NY
Tuesday, September 17, 2013

Orange and Rockland Corporate Cultural Diversity Training
Forestburgh, NY
Thursday, August 29, 2013

Country Vues Summer Concert Series
Fallsburg, NY
Wednesday, August 7, 2013

con-Ed, Corporate Cultural Diversity Training
Monroe, NY
Wednesday, July 24, 2013

Neshama Women – Soul Sisters of Suburban Alliance for Jewish Education
Buffalo Grove, Il
Sunday, July 21, 2013

ROI Community Summit, Advanced Social Media Training Session
Jerusalem, Israel
June 11, 2013

GKRM Dinner and Dialogue Series
Tuesday, May 28, 2013
T-Fusion Steakhouse,
Brooklyn, NY

GKRM Dinner and Dialogue Series
Monday, May 20, 2013
J Soho
New York, N

Amit
Sunday, May 19, 2013
Teaneck, NJ
amitchildren.org

Yeshiva Merkaz HaTorah
Thursday, May 9, 2013
Staten Island, NY

Beth Zion, Scholar in Residence
Friday-Saturday, May 3-4, 2013
Montreal, QC

Columbus Community Mikvah
Sunday, April 21, 2013
Columbus, OH

Ramaz Senior Shabbaton, guest speaker
Friday-Saturday, March 15-16, 2013
Stamford, CT
Eim Chai
Sunday, March 10, 2013
Boston, MA

SUNY College Rockland
Tuesday, February 26, 2013
Suffern, NY

Web Yeshiva
Thursday, January 31, 2013

Aish Center
Wednesday, January 16, 2013
New York, NY

Jewish Family Experience (JFX)
Sunday, January 6, 2013
Cleveland, OH

Shaarei Shomayim, Scholar in Residence
Friday-Saturday, December 7-8, 2012
Toronto, ON

Young Israel of West Hempstead
Sunday, November 25th, 2012
West Hempstead, NY

Westmount Shul
November 11, 2012
Toronto, ON

Women's Benefit Brunch for Matilda Goldflies Mikveh
Sunday, October 21, 2012
Elizabeth, NJ

University of Wisconsin Hillel/MAJOR
Wednesday, September 12, 2012
Milwaukee, WI

Young Israel of Stamford and Congregation Agudath Sholom
Friday-Saturday, August 24-25, 2012
Stamford, CT

Sweet Up: A Shmoozefest for Bloggers and Brands, panelist
Sunday, August 5, 2012
New York, NY

WebYeshiva Class
Thursday, July 26, 2012
webyeshiva.org

Women's Summer Learning Program, keynote speaker
Sunday, July 15, 2012
Pittsburgh, PA

Congregation Beth Tefilla, Shavuos Guest Speaker
Friday-Monday, May 25-28, 2012
Paramus, NJ

RO (RAJEon) – Russian American Jewish Experience Alumni
Tuesday, May 22, 2012
Brooklyn, NY

Spa for the Body and Soul, guest speaker
Palm Beach Synagogue
Sunday, March 18, 2012
Palm Beach, FL

HANC High School
Thursday, March 1, 2012
Uniondale, NY

Jewish Education Center of South Florida
Sunday, January 29, 2012
Boca Raton, FL

Boca Raton Synagogue with actress Mayim Bialik, as Scholars in Residence,
Friday & Saturday, January 27-28, 2012
Boca Raton, FL

Young Israel of  Greater Miami
Sunday, January 22, 2012
North Miami Beach, FL

Women's Rush Aish HaTorah
January 3, 2012
Passaic, NJ